Toronto native Tyler Delaney was practically born wearing his blue and white Toronto sports colours like a badge of honour as a die-hard Maple Leafs and Blue Jays fan. Ever the optimist, Tyler brings his positive energy to sporting events and his work alike.
Tyler graduated with an Honours Bachelor of Science from the University of Toronto in 2008, where he majored in Psychology and Biology. Focusing his efforts on life-long learning he's able to bring nearly a decade of expertise in real estate, along with his personal experience as a buyer of both personal and investment properties, to help his clients.
Tyler has a keen entrepreneurial spirit and dedication towards his clients that has helped him turn his work in real estate into a career of helping others reach their personal goals of home ownership.

What inspired you to pursue a career in real estate?
I got into real estate early in my life at 27, a few years after I'd graduated from university. As someone who had run a few small businesses, including my time as a franchisee for College Pro Window Cleaning (something that Julie Kinnear and I have in common from our time in school), I knew I loved being my own boss, creating something from nothing, building a business, managing people, and serving others. Since my franchise was a residential cleaning business I was exposed to a variety of homes and neighbourhoods, and I gained my appreciation for different types of architecture, so the leap into real estate was a natural progression. When I was growing up, my mother spent some time working in real estate, so I had somewhat of an understanding of what it entailed. After College Pro, I asked myself "what's next" and jumped into real estate with both feet and completed my courses.
What is the most rewarding/challenging thing about working in real estate?
I get a real sense of accomplishment and pride in designing my life and being responsible for my future and the success of my business. The most rewarding part of this business is working with clients, who come to me with a goal in mind or a wish list and aren't quite sure how to turn that into reality. I consider myself a consultant and a problem solver. It's so rewarding to use my skills and experience to help them transition into the next stage of their lives. There is no better feeling than when a young couple buys their first home, and to know you were a small part of that. I love hearing from clients who get married or have children shortly after moving into their new home. I believe having a home is a key piece of the life puzzle that opens so many more doors for people.
In terms of challenges, the flip side of being in control of your own business is that there are no definitive answers to how things should be done. There can be a lot of doubt as to how you should be making decisions that impact your business, and since there is no one archetype on how to be successful in real estate, every day you need to figure out your priorities. The challenge is having the confidence in knowing what you're focusing on is the path that is going to lead to your and your client's success.


Tyler with Happy Clients Craig, Kristen | and Kathleen during the Halloween Matinee
You own an investment property; how do you apply your personal experience with investment properties to helping your clients?
People always appreciate the personal experience. Being able to say I've been through something and wanted the same things, and faced the same challenges and emotions helps my clients visualize their own path. I've been through the trials and tribulations. I've dealt with maintenance repairs, tenancy issues, ups and downs in the market, and I share my experience with my clients. There are a lot of emotions that go with buying a property, investment or otherwise. So, I think it helps them to know that I can empathize with them.
Specific to investment properties, I'm habitually running the numbers on any properties I come across, to see if they would make good cash flowing investments for my clients. And when I find a good opportunity, I think about who I know who might be able to benefit from it.
What's the best way for someone to explore a potential neighbourhood?
Most people start exploring before they meet a realtor. Things you can do without the help of an agent are just spending time there, visiting the restaurants, travelling there by transit, and visiting during different times of day, night, weekdays, and weekends. Check out the parks and spend some time there on your own and interact with the people who live there. I tell clients to knock on neighbours' doors to get an idea of what the locals like and don't like about the area. Not only is it helpful to learn more about the neighbourhood, but it also allows you to find out who the neighbours are and what they're like.
What can/should we do to help improve Toronto?
In real estate, we're seeing a huge rush of new condo development going on right now, due to a rapidly growing population. This growth is great to see, but what worries me is that the infrastructure is not keeping up. Increasing the density of areas that weren't originally designed with the infrastructure to sustain all of these people is leading to overcrowded roads, long commute times and a lack of green space. With all this new construction, we also need to make space for parks, commuting lanes, transit, shopping, and other amenities people need.


Always happy in the company of dogs - Tyler with his pug Mogli | Volunteering at Toronto Humane Society
What inspired you to start to learn to paint and draw? What have you learned about yourself since starting this process?
This has been a recent development that is important to me as I feel like now that I'm in my 30's I'm starting to learn so much more about myself. I've always been a logical, left-brained type of person growing up, and I'm only now beginning to explore my creative side. Most recently, this has translated into an appreciation of visual art. I'm far from an expert, but I'm excited to learn more about myself through this creative outlet. I've learned that with focused effort, anyone can learn to do anything they like. I've learned so much about my own patience and perseverance. Drawing is definitely more difficult for me because there is a lot of learning to be done in how to form structures and anatomy and utilize perspective - but painting I look at more abstractly. I can put colours together in a way that makes sense in my mind, and there are no wrong answers, however it turns out.
As a self-proclaimed "Gamer", what important lessons have you learned from gaming? What are some of your favourite games?
My whole life I've been into gaming of all types: video games, board games, sports (watching and playing). I think I just have a natural inclination towards strategy and friendly competition. This has had a large influence on me and how I look at problems and solve them. It activates a part of my mind that I really enjoy exploring; seeing a problem and figuring it out through practice and trial-and-error. I believe the skills I've developed in gaming have had a big impact on my business and life in so many ways. It's also a very social hobby, which has created some strong bonds with people in my life.
I've been a gamer since I was little, and I have a soft spot for nostalgia. I started with Nintendo, playing Super Mario Brothers, and so that game holds a special place in my heart. I love going back to those old games whenever I can. In board games, I'm leaning more toward enjoying accessible games that I can play with more casual gamer friends, like Settlers of Catan and Qwirkle. In Sports, hockey is my favourite sport, but I'm also big into baseball.
As a fan of personal growth and self-improvement, what are your favourite books/podcasts/or speakers to recommend for others on a self-improvement journey?
In the past year, a book I've read that stuck with me was High Performance Habits by Brendon Burchard. That book continues to be a huge influence for me in my life and business and has led me to Podcasts by Brendon and others. His podcast HPX Podcast (High Performance Experience), shares interviews with leading experts in health and personal growth, like Tony Robbins and Deepak Chopra. When I take the dogs for a walk or drive in my car I like to listen and it keeps me in the right mind space to lead a fulfilling life, and it's been helpful to me in maintaining an overall healthy lifestyle.
Can you share something about yourself that most people don't know?
When I was younger, I spent a summer playing in the stage production of Joseph and The Amazing Technicolor Dreamcoat starring Donny Osmond at the Elgin Theatre. My roles included playing a vulture, a tourist, and "Pink #1" in the children's choir!
What are you currently working on improving in your life?
Self-awareness and mindfulness through meditation. I've been reading and learning a lot lately, and it's probably one of the toughest things I've ever studied. I'm learning so much about myself and it's having a significant impact on my thoughts and how I respond to them.


Tyler's positive energy is contagious!
What is your favourite Toronto sports memory of all time?
Back in 1992 and 1993 when the Toronto Blue Jays were in the World Series, I was just starting to get into sports and becoming a Jays fan. When they won the World Series in Game 6 in Atlanta in 92, I was lucky enough to have the opportunity to watch the game at the SkyDome on the Jumbotron. When they won in extra innings, everyone rushed onto the field, and that's a memory that will always stick out for me.
What personal and professional accomplishments are you most proud of?
Personally, buying our first home was an exciting and proud moment. Then moving out of that house into our current home and maintaining that one as an investment property, that was a big moment for us.
Professionally speaking, and this may sound cheesy, but I'm most proud of my decision to join The Julie Kinnear Team. I had worked in real estate on my own for a year, and I had the opportunity to host a few open houses for the team. I guess they noticed my abilities when I brought them offers on their listings, so when they decided to expand their team in 2011, I was invited to interview with them. I was lucky enough to get a position on the team and was smart enough to take that leap of faith. My growth since joining the team has been exponential, and the values of Julie and the team have been a huge inspiration and greatly influenced how I live my life.
---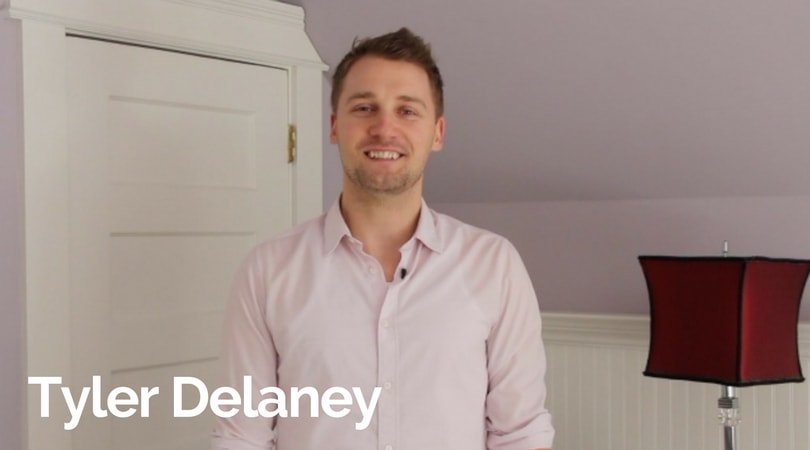 00:23
Tyler Delaney works with our buyers and sellers primarily in the West End. If you're thinking about buying or selling a home in Toronto, or if you have any real estate questions, reach out to Tyler at 416-602-5620 or
SM00LR