"Antique stores by nature tend to be pretty eclectic, but I think more than most we really have a bit of everything."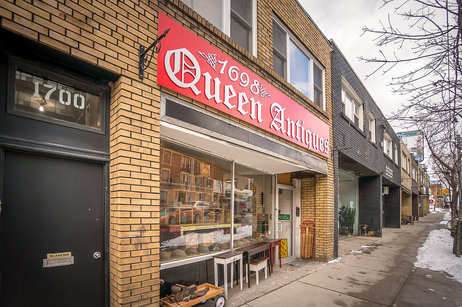 Queen Antiques Exterior
This was the answer given by Palmer Jarvis, manager of 1698 Queen Antiques, when I asked him what made his store stand out from the many others. A blowtorch made out of brass can share store space with a coffee table made from a eighteenth-century grain threshing board, along with a rotary knife sharpener and what Jarvis described as "the usual 1960s and 70s teak furniture."
On the inside, 1698 Queen Antiques feels a bit like a somewhat tidy attic; large, and crammed with interesting and often unrelated odds and ends. There's even a basement room with more of the same (which is to say, nothing similar). The place isn't exactly cluttered, but there was a pleasantly jungle-like feel when I was there. It's safe to say that of the three stores I visited, this one has by far the most stuff - furniture and otherwise - and seems the least driven by any particular theme. Variety, after all, is what they're known for, possibly aided by the fact that the owner also runs a moving business.
Jarvis told me that customers often ask him where 1698 Queen's varied inventory comes from, and the answer to that question seems to be "here and there" or "all over the place." Jarvis explains,
"A lot of our items are sourced locally, but we have been known to get stock from as far away as Romania. The truth is that Canada is a pretty interesting place for finding antiques. A history of immigration has resulted in a lot of things being deposited here over the years from a wide range of origins."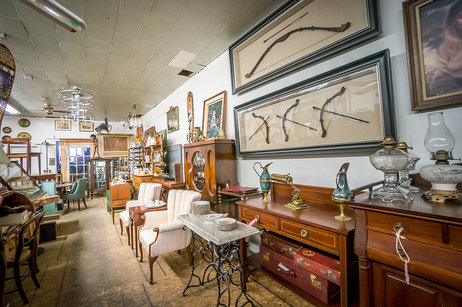 Queen Antiques Interior
Speaking of origins, it's probably wise to point out here that the physical address of 1698 Queen St. West used to belong to Pickwick's Choice Antiques, a source of confusion you can still find online. The current establishment has been up and running since the autumn of 2012 under the ownership of Mike Khudir, who is also responsible for finding all of the stock and is thus the man behind the store's reputation for diversity.
"Even working here,"
said Jarvis,
"I never really know what to expect."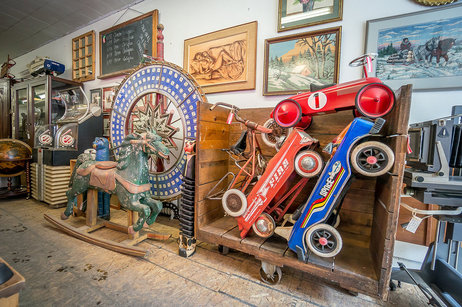 Queen Antiques Full Of Decorations
Click here for the full photo essay about 1689 Queen Antiques.
It's highly unlikely that you'd ever find a blowtorch or a reborn threshing board at Chatelet. Owner Teresa Wiwchar (pronounced "wicher") told me that she aims for "a sort of girlie aesthetic, sort of French." Wiwchar's establishment is small and white, stuffed with little things that sparkle and larger stuff that's, well, white. You can find scarves, cushions, jewellery, and other assorted pretty things along with the furniture. When I was there, the place boasted an impressive assortment of small chandeliers of various colours (including pink, of course) as well as a few faux bird cages.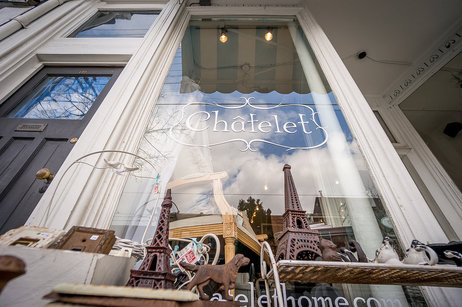 Chatelet Exterior
In its current position at 699 Queen West, Chatelet is Wiwchar's third store on Queen, the current phase of a progression that began around 16 years ago. This last location has been open for less than two years, and the Internet can still mislead you and send you off to 717 Queen — which is where Wiwchar was last. As it is now, her store is a cheerful place — though cramped. The nature of vintage furniture sales means the floor space fluctuates to some degree, but on my visit, I walked gingerly along narrow paths through the displays and worried that my backpack would cause havoc with a careless turn.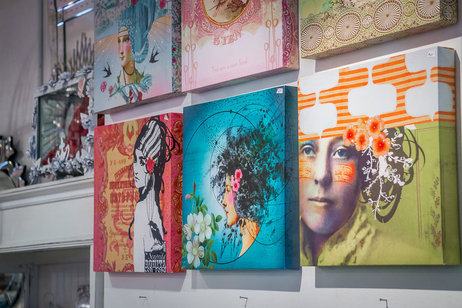 Colourful Pictures
Wiwchar didn't become an antique store owner over night, and nor did she, in fact, start out selling furniture or vintage items at all.
"I started out by sewing,"
she told me.
"I sewed cushions and drapes for people, and then I got a location to run the sewing room. Later I started carrying some giftware and... it just kind of grew out of the sewing. And the interest in home decor."
While she doesn't do commercial sewing herself anymore, Wiwchar's employees do. Along with the gifts and antiques, Chatelet offers custom-made bedding, slipcovers, pillows, roman sheets, and drapery.

The goal of Chatelet seems to be to provide a sort of home decor version of comfort food.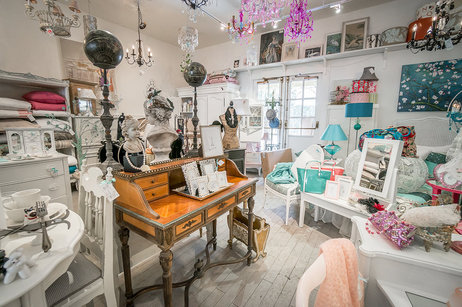 Interior With Decorations
"I just like the ladies who walk into a pretty environment and want to take something home that is going to make them happy,"
said Wiwchar, and she seems to be succeeding. She said that "I want everything in my house to look like this" is a common comment from Chatelet customers, as is "I want to buy everything in here." Then there are those who say they'd just like to move in...
Click here for the full photo essay about Chatelet.
As its somewhat manly name suggests, MachineAgeModern is the antithesis of Chatelete in a lot of ways. While inviting (and dog-friendly), you could hardly call it cosy, and while many of the pieces on display may be elegant, most of them are emphatically not pretty. The space itself is also vastly different (and for an antique store, rather distinctive), being spacious and incredibly well lit. Owner Jake Keck told me that he wanted his store to be "more gallery-like" than most, and that mentality is evident in the almost stark displays and lack of clutter.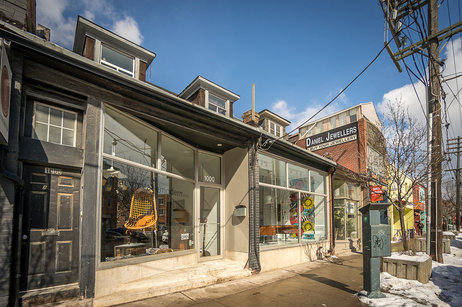 MachineAgeModern Exterior
The place also smells particularly pleasant — a sort of dusty wood smell that Keck attributed to the teak oil used to treat many of his wares. He deals with a lot of teak, since he estimates that his stock is generally "a good 50, 60 per cent Scandinavian modern." His period of choice is mid-century.
"I love stuff from the 1930s to the 1980s,"
he told me, but he's not absolutely wedded to that era alone. Some of the culinary odds and ends in his store's little kitchen nook are not exactly mid-century, although they are entertaining in a "what on Earth is this?' kind of way. Keck himself said that figuring out what all of them do is a reoccurring amusement of his. He estimated that about 2 per cent of the gadgets are still a bit of a mystery, even to him.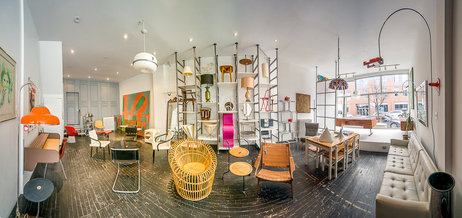 MachineAgeModern Interior
MachineAgeModern has been around since 1999, but Keck's fondness for antiques goes back further. He told me of visiting a
"really high-end" vintage store in the West End and pining after "one little liquor decanter pump bottle that I loved, and it was $185. And one day I walked into a Goodwill store and there was one there for five dollars. So I was hooked after that."
Keck opened his first store in 1994.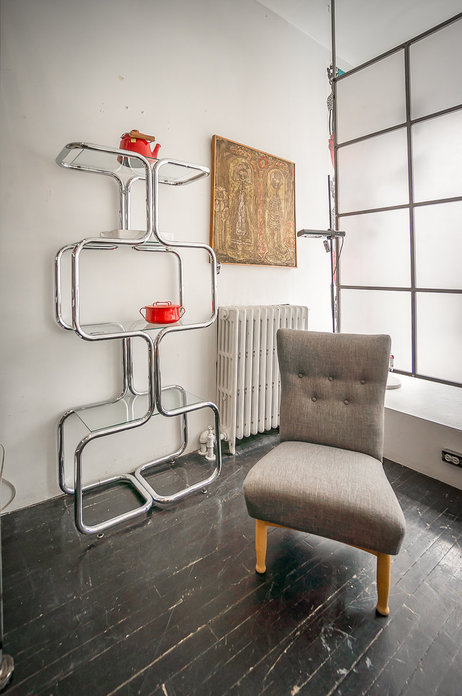 MachineAgeModern Details
Like so many other areas of our culture, the antique business has its trends. Mid-century pieces, for instance, really hit their stride in the 1990s, at least in Mr. Keck's opinion. But even now, they cost a lot more in New York than in Toronto. There was a time — not that long ago, but before the Internet really took off — when MachineAgeModern did a lot of rental work with the film industry, as well as for various advertising and fashion photo shoots. Renting is still a part of Keck's business — an arrangement he says is common for antique dealers — but not as large a part as it used to be, and he spent some time lamenting today's throwaway culture that seems to value the new and cheap over the old and lasting. Even new and lasting has its drawbacks.
"You can buy all-new Eames pieces, and stuff like that from Herman Miller,"
claims Keck.
"They're the real deal, and they're really expensive. But they don't have patina to them. They don't have soul. I feel like vintage has some soul. Like a lot of times, I want it to have a little watermark on it, or a scratch or two."
Click here for the full photo essay about MachineAgeModern.
Read more of our stories about vintage furniture stores in Toronto.
JNSKMC
MEET THE PHOTOGRAPHER: CARLOS BOLIVAR

Carlos Bolivar
Colombian photographer based in Toronto, started with analog Photography in 2003, then jumping to the digital world in 2005. His photographic areas are mainly street, landscapes, portrait and beauty.