As a buyer, you have to make sure to know how the market works before you step in, or you risk missing out on the property of your dreams when you find it. Here are the core questions most buyers have. Feel free to send us one of your own.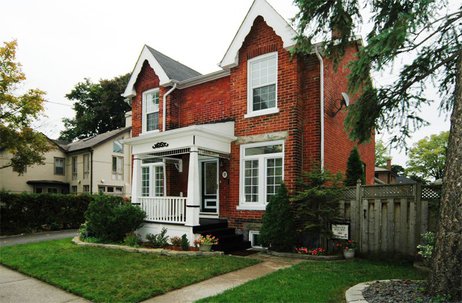 See below for all your answers!
What is a building permit, and when do I need to obtain a building permit?

A building permit is formal permission from the City of Toronto to begin construction, demolition, addition or renovation on your property. Toronto Building staff must review your plans to ensure that they comply with the Ontario Building Code, local Zoning By-laws, and other applicable regulations. Here's when you need one:
Construct a new building or put on an addition, make structural alterations, some reno's, demolish or remove all or a portion of a building, change a building's use, install, change, or remove partitions and load bearing walls, make new openings for, or change the size of, doors and windows, build a garage, balcony or deck, excavate a basement or construct a foundation, install or modify heating, plumbing or air-conditioning systems, install or reconstruct chimneys or fireplaces or wood burning stoves, create a new basement entrance or second suite...the list goes on - you can visit http://www.toronto.ca/building/building_permits.htm for more details!

What is HVAC?

That stands for Heating, Ventilation And Air Conditioning - those essential systems found in your home.

My insurance company is asking a lot of questions about the house I bought, can you help?

Absolutely. Insurance companies will ask you such questions as the square footage of your new home, updates to major mechanical systems, type of construction materials used etc. We will contact the listing agent for your new home to get as many answers as possible from the sellers, who will know the most about the home. One caveat: insurance companies always ask for exact information (i.e. year roof was re-shingled) yet they too realize it may not be possible to get exact information, so approximate values usually suffice.

Can I evict the tenants that came with the house I bought, and get my own tenants in there?

The short answer is no - according to the Tenant Protection Act, they must agree to go upon proper notice given to them. If they do not wish to leave, they do not have to, though a homeowner facing this problem should definitely seek legal advice. One exception: If the homeowner's immediate family is to use the currently tenanted space, a homeowner may give proper legal notice to vacate to the tenants, which must be complied with.

Am I allowed to rent out my finished basement?

That depends! Before putting up the For Rent sign, it would be wise to check that the basement apartment complies with the Ontario Building Code, Ontario Fire Code, local Zoning By-laws, and other applicable regulations. That will give you the real scoop on what reno's might need to be done (such as adding another exit) to bring your finished basement into compliance as a secondary unit.

If I change my mind about certain details after I have signed an agreement of purchase & sale, can I still change anything?

That depends! If the firm (no conditions) offer has been accepted by the seller, and is not a special circumstance (as in with new condo construction for example, where you may be allowed a cooling-off period) you can try to negotiate changes with the sellers - bearing in mind that if your offer is not conditional, the law is on their side. Eventually both lawyers may have to get involved. Ultimately your deposit, legal costs and the like are at stake if both parties cannot agree.

I'm looking for a great contractor, can you help?

Absolutely! Referrals are the backbone of our business, and we believe in sharing the love - so over the years we have compiled a list of trusted professionals who can care for your home. All our contractors & tradespeople have worked for us, our friends, family members and/or clients, and come highly recommended. Email us with what kind of help you are seeking, and we'll send you the appropriate names!

For Bloor West Village, how much more do houses with finished basements sell for compared to houses with an unfinished or partially finished basements.

Good question - that is of course based on alot of different scenarios. As a finished basement can range from dug out professionally done, with bathroom, maybe kitchen, fully wired for sound/stereo, gorgeous laundry, bedroom, separate side entrance... all the way to an old panelled room that is low ceiling height, potentially damp etc. Having a finished basement, even if not fabulous is a definite benefit, especially if appealing to a family, as Bloor West Village in Toronto is a family neighbourhood, as that is where the toys get put, or in-laws stay. There is a not an exact science or dollar value as it varies.

We're looking for someone who is experienced with installing a separate entrance into the basement. We'd have to move the front steps, gas meter, and central ac to dig, so we need someone who knows what they're doing!! Also who has a keen eye for design and is familiar with city regulations so the permit can be granted quickly. Thanks for your help. We're in Little Italy area, just one block west of Ossington.

We have a number of contractors that we recommend. We sell residential resale homes in the downtown core of Toronto, and we have many clients who have had work done. Feel free to call us for details.

Is it possible to rent out the unfinished basement ? does it break the law if I rent it out ?

There are a number of by-laws in the City of Toronto regarding retrofit status of a basement suite. That is based generally on the fire codes recommended by the fire department to ensure the safety of basement tenants. An unfinished basement would not quality for retrofit status. It seems there are a number of basements rented out in Toronto that also do not qualify. Not sure who enforces the situation. It may affect your home insurance policy as well if there was ever a problem.
J.

Hi Julie, I have an apartment (condo unit) 2BR in Scarborough. Can you give me the names of companies that will help to rent this out. I have heard that there are companies there that, for a small fee, will look after all details including collection of rent, upkeep of unit etc. Appreciate any help you can give me.

We recommend landlord.net it is not a cheap option, but it offers peace of mind and all the details are taken care of for you!
good luck!

My friends have put down first and last months rent, and a deposit on a loft- a rent to own deal (over a barbershop, I believe) that has yet to be finished. Very little has been done on it in the last 5 weeks, and the landlord keeps saying that because of a strike the government inspectors have yet to approve it. and the landlord is very cavalier about the whole situation. My friends gave their notice from their current apartment for a January 1, 2010 moveout to the supposed-to-be-finished loft (January 1 2010), but since the loft builder started blaming the lack of g'ment inspectors in early December my friends were able to pay an extra months rent to their current landlord to stay until the end of January, but new people are moving in February 1, 2010. I have serious doubts that the new loft will be ready/legal by Feb.1, 2010 What is their best course of action re landlord tenant act, zoning and smallclaims court (hotel bills damages, refunds etc)? Thanks, Brian

Hi Brian,
I hope your friends found their solution! In there contract it stipulates how an extension to the contract is handled.

Hi there, I'm looking for a contractor that can put in a basement entrance into my home so I can rent it out. do you have anyone you'd refer to me?

That seems to be a popular option for homeowners in Toronto to do these days. We do have trusted contractors that we recommend. Feel free to call our office for details. J.

I'm looking for a heating contractor in the area. I live at Annette and Runnymede. Thanks!

Hi there,
I always see Visic Brothers doing work around the neighbourhood and hear that they are quite good.
Here are the contact details:
Visic Brothers Heating & Air Conditioning Ltd?
3431 Dundas St W
York, ON M6S 2S4
(416) 763-2130
visicbros.com?

Hope you stay warm!
Holly

In Ontario, is there a cooling off period when signing a listing contract to sell your home?

Hi there,

There isn't a cooling off period when signing a listing contract to sell your home. A listing contract can be canceled before the expiry if both parties agree.

Hi Julie, I love your site - lots of great info. Can you tell me how long a building permit in Toronto is good for? Thanks! Tad

Hi Tad,
I'm so glad you love the site!
According to a contractor I just contacted, I think a building permit is good for a year.
Cheers

Hi Julie, My mom is looking to rent her apartment in a building, does she need a permit to do this? -stephanie

Hi Stephanie,

Depending on the building, your mom may need to get permission to rent her apartment. I suggest you consult the property management company to find out if there are any restrictions.

Holly

I would like to convert the garage in Little Italy into a studio apartment.Where do I learn about zoning laws, permits, etc.?

Hi Milada,

Here's a link to the city of Toronto Building Division where you'll find some helpful information.
http://www.toronto.ca/building/building_permits.htm

Half hour after signing a listing contract I texted the agent twice to cancell, because I need more time to think it over. I did not understand why he told me 3 months and put 120 days. Also, he promised to take 3% if he sells the property only to be told by his office that they do not take less than 5%. I told him my fear of agents not wanting to cancel after you sign, and not once did he tell me that he is the same way. After him trying, to get me to sign I signed on his third attempt. -- There ought to be a law. -- Lost control

Dear Lost control,

I'm sorry to hear you have had a poor experience with your agent. Unfortunately, while you are under contract with another agent, I'm prohibited from giving you advice.

As the seller can I change (up) the asking price that was entered on the R.E contract just 24hrs ago? Thanks, Harry

Hi Harry. As the seller you can increase the price on the listing contract. I hope this worked out!
Holly

I want to buy land or house for building or renovation how can i buy it and starting with my self financing

Hi there,

If you'd like some advice about building or renovating in Toronto, please contact our office. office@juliekinnear.com

do i need a building permit to demolish an existing old garage & build new one in same place. trinity bellwoods area.

Hi there,

I believe you do need a building permit to demolish an existing old garage and build a new one in the same place. For more information you can contact the City of Toronto Building Permits: 416-392-7522 or 416-392-7539

I would like to know if there is a cooling off period when buy a resale? Thanks, Paula

Hi Paula,

There isn't a cooling off period when you buy a resale, only if you are buying a new build. Are you considering buying something in the near future?

We want to renovate our basement, we need to start by digging down and underpinning the sides and benching the ends, where do we start? We are in Bloor West Village.

Hi Shirley,

The best place to start is to get a few contractors in to give you an estimate. If you need to be referred to some reliable contractors, please contact Holly Chandler on our team. holly@juliekinnear.com

Hi, I need to dig down and underpinning the sides and benching the ends of my basement. I live in Beasconfield village Toronto. Do you have any good contractors for recommendation. Thanks, Rob

Hi Rob,

Here are two contractors that I'd recommend:
Harvey Minuk- (helped me with my own basement and a fave of many clients) 416-489-4083, minuk@rogers.com
or
Alasdair Bates- (did a huge reno for me and also a fave of many clients) 6474533583, info@alasdairbates.ca

Let me know how it goes and if you have any questions! holly@juliekinnear.com
Send Julie your Toronto home ownership questions!


1 - optional, used to notify you when the question has been answered

Include your name at the bottom of your question if you would like to have your name published with your question.