Julie Kinnear Fur Family – Scout, Scooter, Murphy, Mickey

Julie with Murphy and Mickey

Murphy Mickey in the office

JK Scooter Scout

Scouty Wet Head Model
Jen Palacios' Fur Family – Nessy, Oscar and Nellie
This is Sukie, my first dog rescue. I had her for a wonderful 15 years.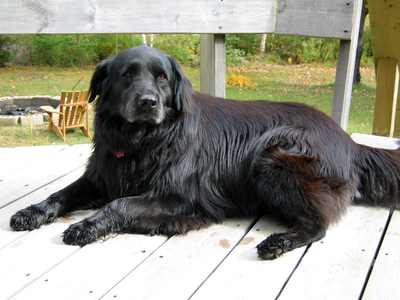 Jen Ness and Oscar
Nessy and Oscar have come into my life life thru the Northern Dog Project (see Charity Page). Nessy was rescued a few years ago. Oscar in 2010 after being tied up to the stairs of a house for years. They both have thrived under my care and love. Their favourite place in the world is running along the forks of Credit River in Belfountain.

Jens Horse Nessie
Nellie is the newest family member. I have been riding my whole life and for the last 10 years have been riding friend's horses. One of those friends decided to sell one her horses so I jumped on the opportunity (no pun intended) to own my very own horse. 

Sherman is the newest addition to my family!
Holly Chandler's Fur Kid – Porch

Porch the cat
Porch fondly gets his name from where I found him, on my porch!! He was very fond of hanging out at my house. He was a neighbour's cat but I took such great care of him the neighbours both agreed that he is happier with me. It's amazing how these loving creatures come into our lives.
Tyler's new puppy - Mowgli

Mowgli
Mowgli is the newest addition to our little family. He's a pure bred pug who loves to play and chew on everything in sight! Mowgli was a gift to Tyler's partner Ashley for her 30th birthday. He gets his name from the Disney movie, The Jungle Book, and is often referred to as their "little monkey".

Claire's pup - Teddy

Teddy
We picked her up on Valentine's Day and she has brought so much joy & happiness to us every day. At the same time a puppy's truly a lot of work! Holy moly! She is an adorable Bichon Poo, half toy poodle &half Bichon Frise = a whole lot of cuteness. I welcome the company of another bitch in our home!