One of the warmest Februarys on record in Toronto has people planning for even warmer months ahead. So whether you're a perpetual planner and already thinking about August, or if you're looking for some fantastic fun and active ways for your children to get the most out of their recreational time - here are some of the best spring and summer sporting programs conveniently located in one place! 
Canada First Academy for Soccer Excellence
Canada First Academy President Rene Kwol is passionate about program:
Soccer to me, has always been, and still is every day the greatest sport. It has always inspired me and rewarded me with countless moments of excitement, pleasure, and sense of achievement and self-development.
This is why Canada First Academy helps kids invest the hours of training necessary to develop long-term player development. 2012 founded Academy is a Toronto based not-for-profit organization that seeks to help develop future elite Canadian soccer players.

One of the unique aspects of attending Canada First Academy is how players are trained in the ability and development stages instead of ages to ensure the best possible results. Academy Team Programs include indoor and outdoor training several days per week for children aged 6 to 18. In addition to regular Canada First program, March Break camps are offered at Monarch Park Stadium with weekly, daily, and half-day rates available. Summer camp is located at Pantry Park from July 3 to August 11 with weekly, daily, and half-day rate options for campers.


Cirque-ability
Acrobatic kids can get their circus on at Junction Triangle's Cirque-Ability. Camps with acrobatic and aerial classes allow participants a fun way to be active, learn new skills, and gain confidence in their personal improvements throughout the programs. This positive and non-competitive environment allows kids to work on their own journey no matter what their skill level. The goal of the programs is to bring out the "Cirque-ability" in everyone with personalized instruction, small class sizes, and fantastic coaching.

Cirque-ability offers PA Day Camps, March Break Camps, Summer Camps, and Holiday Camps all year long for kids aged 4 to 12. March break camps are available for kids aged 4 to 6 and 6 to 12, with early and late supervision offered as an add on to the camp experience. Summer camp is a weekly experience offered all summer long.
Cirque-ability also offers a five percent sibling discount to those registering two or more kids from the same family. Remember, children don't need to be avid gymnasts to sign up, so if your child is interested now would be a great time to get them started. For adults who want to flex their acrobatic muscles, it's never too late, there are options for grown-ups too. Linda M. loves Cirque-ability:
Any place that can get me to enjoy exercising deserves a medal!


Jack of Sports
The motto at Jack of Sports is: "Play sports, make friends, have fun!" There isn't a much better way for active kids to enjoy their spring and summer than this! Full day co-ed multi-sport camp is available weekly throughout the summer for kids aged 4 to 13, with children participating in tennis, soccer, bike riding, swimming, and basketball each day. Camps are offered in west, east and central locations of Toronto. Kids looking for a more specialized interest based camp can sign up for swimming camp, rock climbing camp, golf camp, learn to bike camp or biking camp. Jack of Sports has swim lessons with a priority on family, ensuring that siblings swim during the same hour by using different parts of the pool for the various swim levels.

Shannon and Fred are both very happy with their daughter attending Jack of Sports classes:
Max has brought out the best in our daughter, challenged her, provided a high energy and engaging environment. She has made more progress this fall in swimming than she has done in years of city programs. Max is fantastic with the class and I can see he knows each one and provides the right challenge and support.


Toronto Athletic Camps
TAC Sports is geared towards kids aged 3 1/2 to 16. Older kids select one sport to focus on in the morning and another in the afternoon, while younger kids aged 3 ½ to 5 enjoy sports in the morning and arts and crafts in the afternoon. TAC has soccer, tennis, basketball, swimming, biking, mixed-martial arts, and provides an opportunity to work on French, robotics, and arts. With eight locations in Toronto and in the GTA parents can select from many options.
Campers are able to attend for half days, full days, and weekly programs; this adds flexibility for families who don't need to pay for a full week when they only need select days of camp. Weekend lessons for soccer, tennis, and basketball are available year-round, and some parents take lessons at the same time as their kids. There are two weeks of March Break program and some camps still have spaces! TAC sports is TDSB and the local school board approved, and they offer a multi-week leadership certificate program with volunteer experience for teens aged 12-16. TAC offers discounts for siblings, referrals, and those who sign up for more than five weeks of summer program.

Hani, Alex's mom is thrilled with how her son's been doing at the Soccer and Swim Camp:
Alex had a wonderful time at the World Cup Soccer & Swim Camp. He was excited to attend camp each day and came home talking about all the soccer plays they learned about at camp. The coaches are fantastic, with an abundance of energy and enthusiasm. Alex's favourite part of the camp was being able to bring his water gun for the water games and showing off his cool TAC Sports shades to his friends. I was amazed by the huge improvements in Alex's soccer skills in one week! To top it off the progress reports for soccer and swimming are greatly appreciated. Thank you for the abundance of beautiful pictures taken of Alex during the camp. They are deeply treasured.


True North Sports Camps
True North Sports Camps, believes that recreational sports are an important part of every child's development and they make it a top priority to deliver a truly memorable experience. Year-round sports program is offered for children ages 4 to 14 in Toronto and Etobicoke in areas including baseball, basketball, soccer, flag football and multi-sport with after-school and weekend clinics, and instructional leagues. This summer has baseball, basketball, soccer, flag football and multi-sport day camps for one week sessions in July and August. Whether you are new to a sport or an elite-level player, you can participate! Camps balance skill development (as each sport is taught by incredibly talented athletes and coaches) and a fun summer-camp environment.
For those looking for March Break program, True North Sports have added a Multi-Sport Camp at Branksome Hall to their program lineup for kids aged 4 to 14.

Rochelle C. says her son Ezra loved the camp:
Ezra learned so much and his skills improved greatly. But more importantly, he had a wonderful time, felt connected to and loved by his counselors, and was proud of his accomplishments. Ezra is small for his age and often has to work harder to keep up with kids that are bigger than him. He could shine and was even recognized for his hard work (MIP :)). It made him feel so special.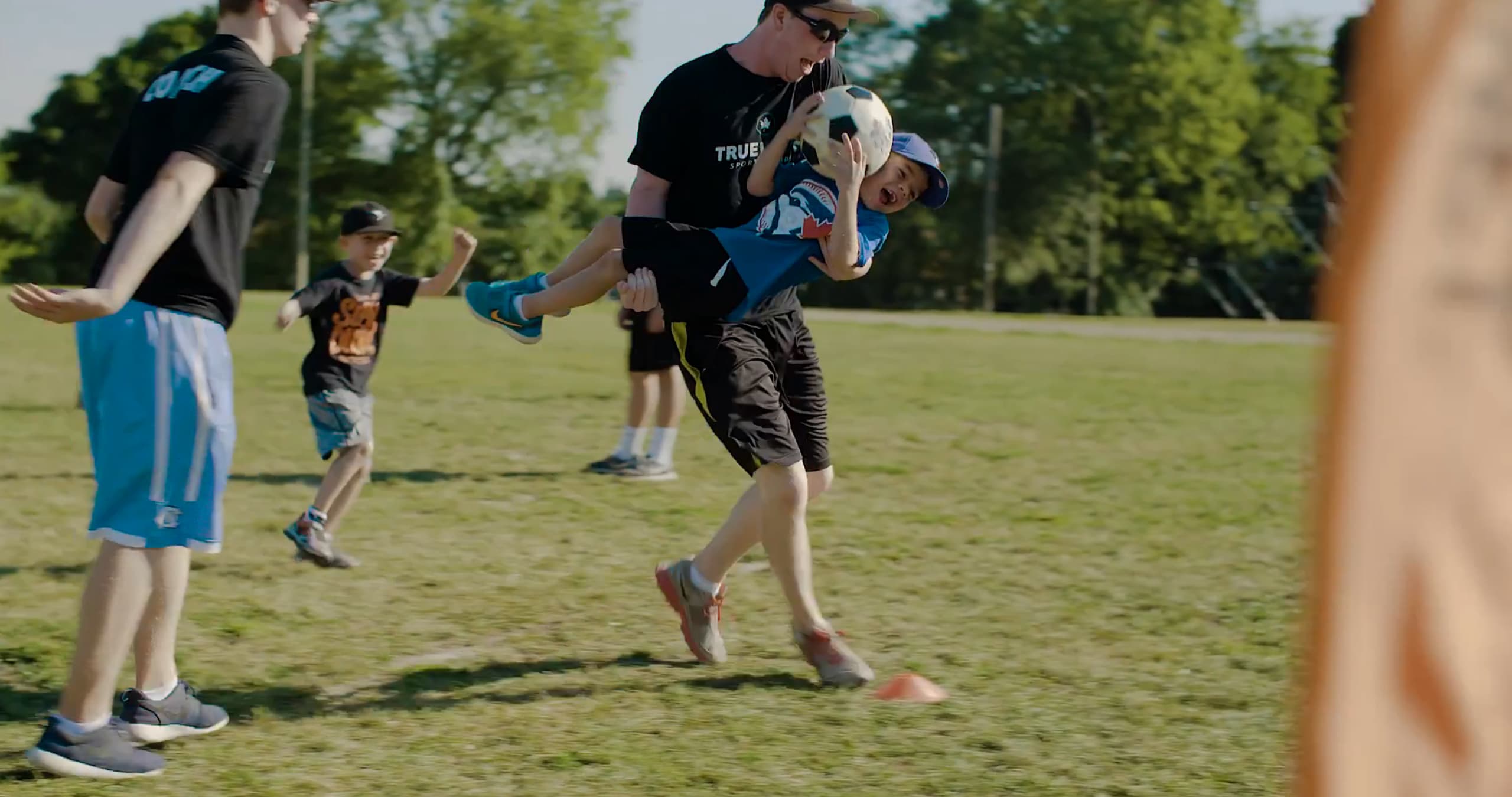 03:18