Be a part of this exciting online art auction & sale
and help a great cause while you're at it
This June marked the 50th anniversary of the Stonewall Riots in NYC. Since then, LGBTQ+ movements around the world (including Toronto!) have grown, celebrating the fundamental truth that Love is Love.
Julie has been out and proud her whole 26-year Real Estate career and feels blessed to live in a city like Toronto that is diverse and inclusive. Unfortunately, we still have a long way to go and there are many voices that need to be heard and accepted, and many stories that need to be told.
In recognition of the Stonewall Riots, along with the fact that certain provincial arts and culture funds (like Celebrate Ontario) are being cut, The Julie Kinnear Team of Real Estate consultants in Toronto and artist Mary McLorn Valle are collaborating to raise much needed funds for the Inside Out LGBT Film Festival.
We are featuring the exciting online art auction as well as selling limited edition framed prints, and packs of 5 greeting cards too!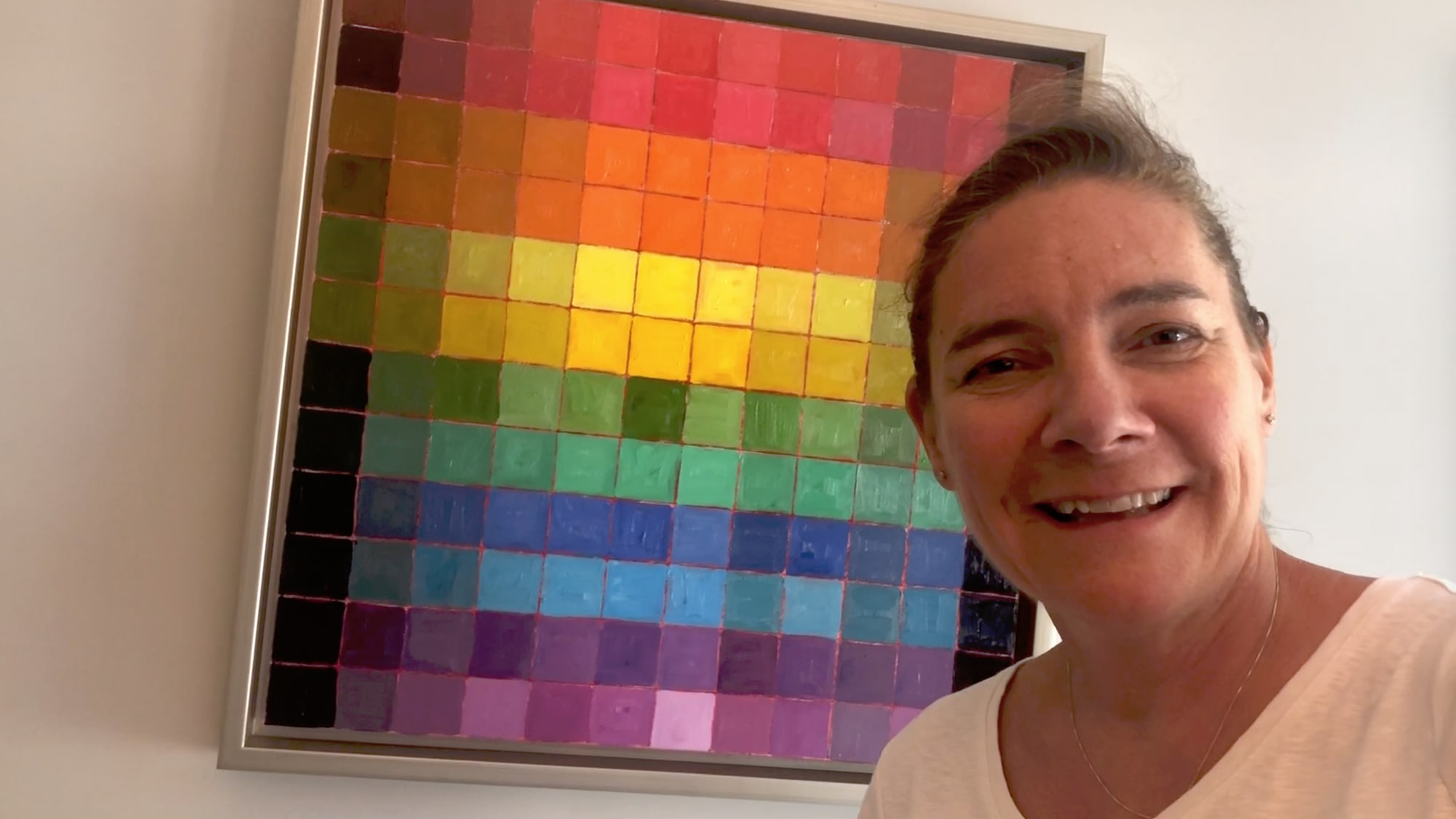 For more than two decades, the not-for-profit registered charity Inside Out has brought Toronto's LGBTQ community together in celebration of the best queer film from Canada and around the world.
Inside Out is engaged every day in challenging attitudes and changing lives through the promotion, production and exhibition of film made by and about lesbian, gay, bisexual and trans people of all ages, races and abilities.
About The Art
Mary McLorn Valle is a talented Toronto artist. The painting that we feature in this auction is based on a gridded colour study of all the colours of the Pride Flag. It is from a larger series of work called This Times That - the colours combine in an x and y grid that unite and create new colour combinations. These patterns are reminiscent of a quilt, pixels or a fan deck with endless possibilities.
This artistic rendering is clearly made by the human hand with many imperfections and evidence of the artist. Red represents life, orange is for healing, yellow is for sunlight, green is for nature, blue is for harmony, and purple is for spirit. (With a splash of pink for Pride!)
Read more about the artist Mary McLorn Valle at her website www.marymv.com or in our JKT Spotlight.
"Pride" painting details:

- part of a series called "This Times That"

- based on a gridded colour study of all the colours of the pride flag
- size: 24" x 24"

- technique: oil on canvas

- year: 2018

🏳️‍🌈 Support Inside Out's annual Festivals in Toronto and Ottawa, filmmaker initiatives, youth engagement and year-round events by donating directly on their website.

🏳️‍🌈 Support Inside Out by purchasing the limited edition (1 of 10) framed and signed by the artist print
- Available for $250
- Contact to reserve yours today!
🏳️‍🌈 Support Inside Out by purchasing the beautiful greeting cards
- Set of 5 available for $25
- Set of 10 available for $40
- Contact to reserve yours today!
🏳️‍🌈 Support Inside Out by bidding on the amazing "Pride" painting below
- The starting bid is $850, with a minimum bid increment of $25
- We end on July 24
- After the end of the auction, we will contact the highest bidder about the money transfer and pickup instructions.
Let's all come together for this great cause! We hope you will enjoy this beautiful art no matter who you love or how you identify.
Thank you for your purchase, all proceeds go to Inside Out.