The demand for condo living continues to soar sky-high within the city of Toronto. Canadian Mortgage and Housing Corporation released numbers showing that the ratio of the number of condos being constructed vs. the ratio of population growth is nearly three times larger than it was in the early 1990s.
Condos have become an increasingly popular way for people to get in on real estate investment on the ground floor. People committing to purchase a pre-build unit invest five percent of the cost of their condo and then over the course of the construction of their building, which is often two or three years long, follow a payment schedule that has them paying 20 percent of the price of their home as it is finished. Buyers like the idea of paying the price at the current market value and enjoying three years of appreciation on their home without having to pay a mortgage.
With new builds breaking ground all the time, purchasing a condo can be appealing to buyers, both for their personal use or as an investment property. Just the same, buying a pre-build condo comes with its own set of challenges. Thankfully, The Julie Kinnear Team's own Tyler Delaney has five important tips to help you make the best possible decisions when purchasing a pre-construction unit.

Investigate Pre-Construction & Resale Options
In recent years developers have been bullish on their pricing of pre-construction units, predicting that the market will continue to grow in line with recent historical trends. Since people are still buying, many will continue to price this way. Although it is a good sign to see so much growth and development in a world-class city like Toronto, Tyler cautions that it's risky to make predictions about where the market is moving. To get the best possible pricing and value Tyler suggests doing a little leg work:
First, go into the sales office and check out what they have. Take those floor plans and speak to your realtor and ask them what other opportunities there are in comparable pre-builds and in resale. Next, visit your other options and see how the prices compare between existing units and the pre-build you're considering. Due to the risk inherent in buying off plans versus an existing building, there should be a discount for the Buyer. If there is something nearby, already built, for a similar price tag, it's probably a better use of your money.
Additional Pro Tip: Life happens, and it's important to have a backdoor to get out of the contract should your financial needs change. Find out if the developer allows assignment of the contract, essentially whether someone can sell their rights to their unit before the project is completed. Some builders don't allow assignments and others charge assignment fees to sell your contract to another buyer.
How Your Real Estate Agent Can Help You With Your Purchase
A lot of people assume that when they're purchasing a pre-build condo, the only people they deal with are those in the condo sales office.
Even buyers who have their own representation will sometimes go into a pre-build office without their agent. Your agent can and should come with you to the sales office to help you ask the right questions. The agent at the sales office works for the developer, so it's important to bring your own representation to ask the right questions so you can make an informed decision about your purchase.
Remember that your agent has resources available to them to know what developments are upcoming and can help you locate potential investments before the public has access in some cases. Agents will be familiar with major developers so they can provide you with background on the reputation of the developer, their other completed projects, and assess the quality of construction since they see these buildings every day.
After you've purchased a unit, during the construction process your agent can still do the same supporting things to guide and protect you through the process, including getting updates from the builder, assisting you with choosing finishes, and performing the final inspection of the unit before closing.

Tips For Maintaining A View
Many condo dwellers love to enjoy the view from their space, but in a city like Toronto where new buildings are developed all the time, it can be hard to predict whether your fantastic view will remain intact or be replaced by another building. Tyler recommends buyers to:
Visualize the direction their unit is facing. Think about the height and look at what types of buildings exist on that side. If it's new construction or if there are existing residential homes in good repair, schools, or a thriving business, this is all a good sign that things will remain as they are. However, at the end of the day, none of that is set in stone. A lot can change in the years it takes to finish construction.
Additional Pro Tip: Tyler recommends having your Realtor look up the plans for specific locations to see if there are any permit applications for planned developments before you make a purchase.
Understand The Risks Associated With Pre-Builds
If you're someone who has a specific timeline that you aren't flexible to move, buying a pre-construction condo may not be the right choice for you.
Delays are very common and whatever date they have predicted you should push that out since often these dates are set well in advance of even breaking ground.
Tyler says that because many developers can't break ground until a certain percentage of units are sold, they can face an initial delay based on the time it takes for the minimum number of units to sell.
Another item Tyler cautions you to consider is that with a pre-construction purchase you can't see the final product until it's done. Tyler says that this can mean:
You can't quite predict the position or size of a pillar in the unit and how that will interfere with flow and sightlines in the space, or how the size or positioning of windows may limit natural light. There is an intangible feeling of flow and space that you can't get from a 2D floor plan or artist's rendering.
Another consideration with a pre-build condo is the maintenance fees. These fees are priced on a per square foot basis and are often, intentionally, set quite low to attract buyers. Tyler cautions to budget for a rise in condo fees as it's quite common to see these rates jump up during the infancy period (first three to four years) after construction is completed. These increases typically level off after a few years, once the costs of building contracts; like security, cleaning, and maintenance are firmly established.

Important Features & Adds Ons To Consider
Tyler recommends that if you're looking to make your pre-build condo purchase as a rental investment to focus on the bare bones features instead of all the bells and whistles. The biggest floor plans come at higher prices and maintenance fees but don't necessarily bring in significantly more rental income.
Buildings and units with unique features that make them stand out against the competition will provide the best resale value in an ever more crowded market of condo options. For example, consider looking for units and buildings with a great view, unique finishes, high ceilings, green spaces, parking garage elevators, to get the best value for your purchase. Tyler says that hard loft conversions generally tend to appreciate better than a standard apartment-style condo, due to their unique style and rarity. Also, a parking spot is a solid investment, so if you can afford it, buy it:
Parking is an important resale item to buy if you can afford it, as they're getting more expensive to buy in Toronto. Even if you or your tenant isn't using the spot, you can rent it out, and in terms of resale, your unit will sell faster and for more money compared to a unit without parking.
Additional Pro Tip: Tyler recommends buying a locker with your unit. People often overlook the importance of storage, which many condos units lack. A locker becomes an excellent value add to store offseason clothes, decorations, luggage, or seldom-used sporting equipment.
---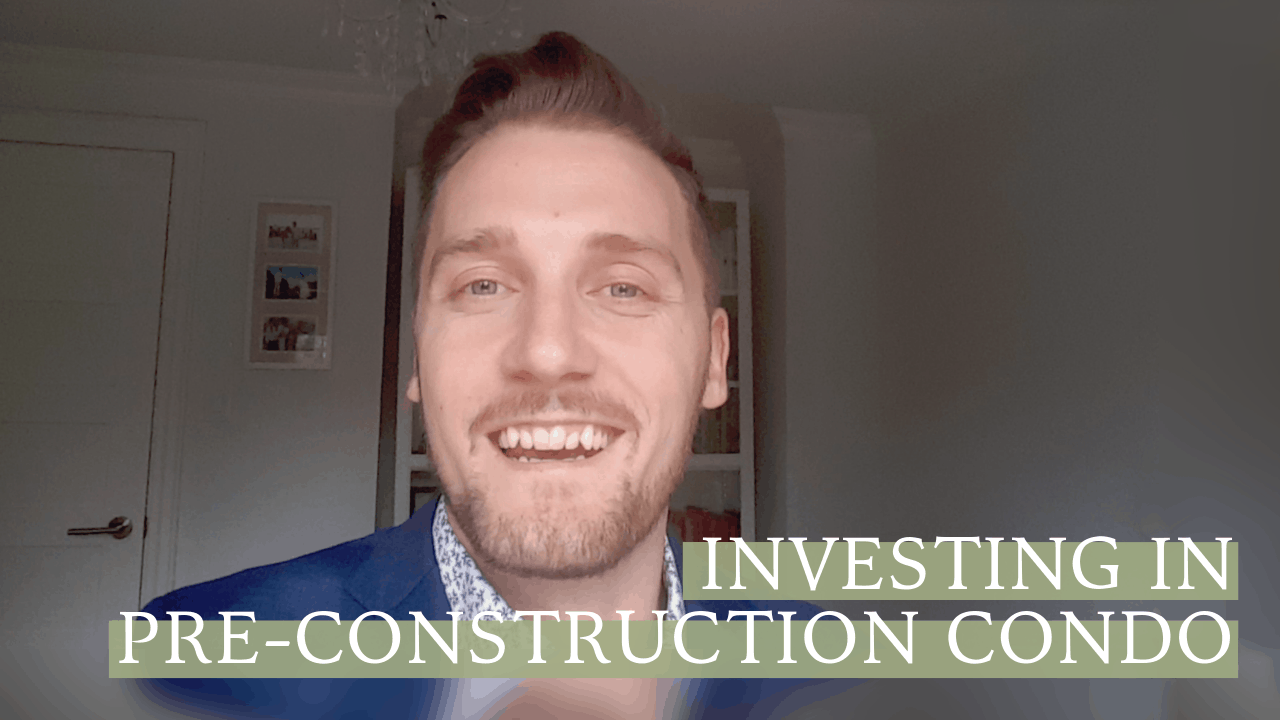 ---
If you're considering buying a pre-build condo in Toronto, reach out to Tyler Delaney today for additional tips and guidance – 416-602-5620 and