46 FERMANAGH AVE., TORONTO
ASKING PRICE $699,900
SELLING PRICE $852,777
PREVIOUS SELLING PRICES $551,000 (2006); $380,000 (2004); $82,800 (1985)
TAXES $3,863 (2012)
DAYS ON THE MARKET Nine
LISTING AGENT Julie Kinnear, Royal LePage Real Estate Services Ltd.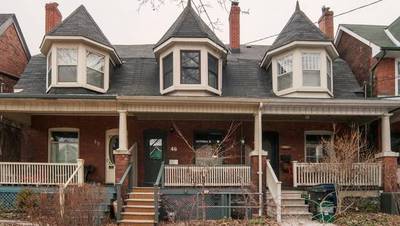 46 FERMANAGH AVE TORONTO
THE ACTION:
In the heart of Roncesvalles Village, this century-old, brick townhouse was the object of the affections of more than a dozen house hunters with enough conviction to write an offer, including one proposing $152,877 on top of the list price.
WHAT THEY GOT:
The last two owners of this 1,410-square-foot townhouse invested in various updates, from installing a new roof, mechanics and detached garage to renovating two bathrooms and open kitchen and family room with slate floors, granite counters, stainless steel appliances, tin ceiling and a patio door.
The balance of the house is traditional with classic wood floors in a fireside living room, dining area and two out of three bedrooms upstairs. The 700-square-foot basement was dug out and designed with a recreation area, storage and laundry facilities and two exits to the 15-by 125-foot grounds and rear laneway.
THE AGENT'S TAKE:
"Roncesvalles is really the hopping spot and this is halfway between Roncesvalles where all the restaurants are and ... where all the kids hang out, a dog park and farmer's market," says agent and local resident, Julie Kinnear, who rarely fields 14 offers in the area or other parts of the city.
"We hit the market at a good time when there wasn't a lot of inventory, and it was a very special house that spoke to people."
For instance, buyers appreciated old and new components equally.
"There are a number of row houses in groups of three, but this particular group has that cute turret-look, so that added great appeal because it was architecturally unique," Ms. Kinnear explains.
"It was really well renovated, it had an extra addition on the main floor and the basement had walkouts from the front and back."