Kinnear's Komments
Vol. 22, Issue 2, March 2014
Julie's Scoop
Happy Summer!
I am on my way out of town myself to visit my Mom & Jay and family in Vancouver as I write this. Hope everyone gets recharge and renewal time with family and friends. We have had such a lovely lush summer so far – lots of rain and sun! Glad we made it through the anniversary of that insane flooding last July. It's been fun watching the gardens grow, as with the late spring it seemed everything might stay sleeping! Nature is amazing.
As far as our team goes, Jen is looking forward to spending some solid time up at her "Hacienda" in Caledon with her horse Nessy and the dogs. Holly is now on what we lovingly refer to as "Hollydays" with her niece and nephew visiting from out west. Tyler is cottaging and getting away. He has been extremely excited about learning to build a fence around his yard. Steph is seeing one her oldest and dearest friends Andy Monteith who is home from South Korea for summer holidays. He has been living there for over 20 years! Claire is planning a trip to Antigua for 1 week this summer.
The JKT is also looking forward to taking a day later this July to play tourists in the city and on Lake Ontario together. Sometimes we take for granted our amazing culture and many attractions, so this will be fun to experience things first hand. And now we'll be even better consultants too!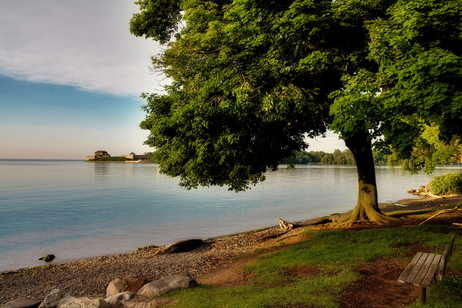 Lake Ontario by Artur Staszewski
Our team had a very exciting spring market. No doubt you heard about the unpredictable real estate market here in Toronto. We feel very blessed that so many clients trusted us with their largest asset when buying and selling. Its no slam dunk for clients to sell a property, despite some of the "bidding wars", as lots of effort goes in behind the scenes to preparing the properties and pin point pricing in a sometimes fickle market. It's true - lots of stress for buyers and sellers, although in the end, people are making decisions and positive changes in their lives – and we are grateful to be a part of that.
As far as the market goes, there continues to be a great deal of confidence in investing their money and future in real estate. Many people are choosing to stay in the city and putting value on less commute which perpetually has driven the market up. Now I hear of markets rising in many of the smaller communities outside of Toronto because of the action here. I guess that means the nasty traffic will continue too?
We also had lots of fun at our Blue Jays "thank you clients" night out. (Although we might have brought on some bad luck to the Jays, as they were rocking it out before that and since then have had a bit of rough go!)
The World Cup fever has fascinated me – on Facebook, TV and on the streets, there is an incredible common bond. I see friends and clients who live far away in different cities, countries and continents all focussed on the same thing. So cool!
Guiding you home,
Julie
P.S. Hope everyone has a safe and happy summer! Please let us know if we can help you or any friends or family that need a trusted advisor for any real estate decisions.
Quote of the Day:
"A lot of parents pack up their troubles and send them off to summer
camp."
Raymond Duncan
chit chat...
Carrie Davidson had a thrilling 2 week adventure in Spain and Budapest with her long time friend Viktoria in June. Sounds like it was an amazing vacation Carrie.
Brenda Kinnear & Jay Banks are saddened for the passing of their beloved dog Fleur but celebrate a long life well lived. A beautiful German Shephard and cherished member of the family.
Babies! Sincere Congratulations!!
Adrienne Farquhar and Aly Rahemtulla  are happy to announce the birth of their 2nd son Julian born on June 8th, 2014 weighing a healthy 9.4 lbs. Big brother Weston is thrilled.  
MARKET WATCH excerpts from Toronto Real Estate Board
July 4, 2014 - Stepping into his role as President of the Toronto Real Estate Board, Paul Etherington announced a strong increase in residential sales reported through the TorontoMLS system in June. Sales were up by 15.4 per cent year-over-year to 10,180 transactions.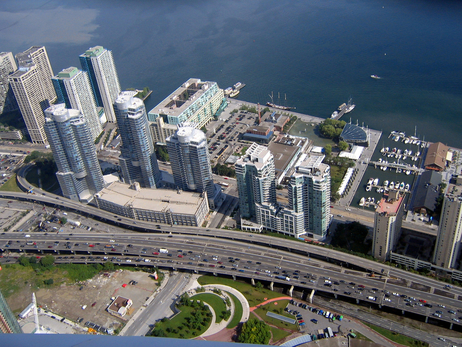 The average sale price for all home types in the City of Toronto year to date is $619,376. For the month of June alone the average sale price for a home in Toronto based on type was:

$921,127 – Detached
$672,725 – Semi-detached
$402,505 – Condo
Buyers are confident that home ownership is one of the best investments over the long term. This is why we continued to see increases in home sales in June for all major home types across the GTA. Given the degree of pent-up demand in the market today, I would expect to see sales growth continue throughout the summer months.
Strong price growth for these home types will continue through the remainder of 2014. Despite higher inventory levels, the condominium apartment market segment has benefitted from enough buyer interest to result in above-inflation price growth," said Jason Mercer, TREB's Senior Manager of Market Analysis.
Feeling like Giving Back?
Charity of the Month – CAMP OOCHIGEAS For Children with Cancer
In 1983 an ambitious group of board members & volunteers at Ronald McDonald House Toronto banded together to form a summer camp unlike any other in Canada.

Julie Jen at camp oochigeas
Exclusively serving children with cancer, it would be privately funded, staffed entirely by volunteers and completely free. A camp where every child, no matter how debilitating their illness, would be provided a opportunity to explore enriching, challenging, fun experiences through
what is fondly referred to today as the Magic of Ooch. Today they have
a year round camp at Sick Kids and many amazing opportunities for children and their families affected by cancer.
You can donate to this very special camp by:
Phone: 416-961-6624 ext 400 or go online: ooch.org
Participate in many fundraisers like the Sporting Life 10k.
Volunteer. All program volunteers start their volunteer role at an Ooch Summer Camp program, either Day Camp or Residential Camp at Ooch in Muskoka. Ask either Jen or Julie how much they loved volunteering there!
THE JKT ON YOUTUBE
Many of our clients have had their personal experiences with The JKT caught on video instead of the regular written word – they're even posted on YouTube! We so appreciate your kind testimonials. Our YouTube channel is growing exponentially and has had now over 165,200!
What they got!
What they got! More of our happy buyers have found their new home!!
A continuing column of the Julie Kinnear Team's sales…

194 Prince Edward Drive ~ Sunnylea
Asking Price: $1,278,000
Selling Price: $1,260,000

81 Pine Crest Road ~ High Park North
Asking Price: $899,000
Selling Price: $889,000

24 Fifth Street ~ New Toronto 
Asking Price: $679,000
Selling Price: $711,924

1 Palace Pier Court ~ Waterfront
Asking Price: $447,900
Selling Price: $440,000

30 Fashion Roseway #219E ~ Willowdale
Asking Price: $349,900
Selling Price: $349,900

250 Jarvis Street ~ Downtown Corridor
Asking Price: $314,900
Selling Price: $305,000
See a For Sale Sign/Sold you were wondering about? We are happy to let you know about houses in your neighbourhood - feel free to contact Steph at:
Our Purpose
Our purpose is for you to be so outrageously happy with the service we provide that you gladly refer us to your friends and family before you've even bought or sold with us!
Mortgage Rates

CURRENT VARIABLE RATE IS 2.40%
CURRENT PRIME RATE IS 3.00%
Some conditions may apply. Rates subject to change without notice. *O.A.C. E&O.E.
Courtesy of Carrie Davidson - Dominion Lending
Centres Mortgage Connection Inc.
www.carriedavidson.com
Phone: 416-693-6946 Fax: 416-693-4103
Smart Summer Savings
Editorial by JKT member Claire Hartviksen (information provided by Toronto Hydro)
Air conditioning can account for up to 50 per cent of your summer electricity bill. Try to use it only when necessary to remain comfortable.
As much as possible, use it during Off-Peak hours. 7 p.m. to 7 a.m. weekdays, and all day weekends & statutory holidays. The cost difference between On-Peak and Off-Peak is 44 per cent – that's a big saving for a little shift.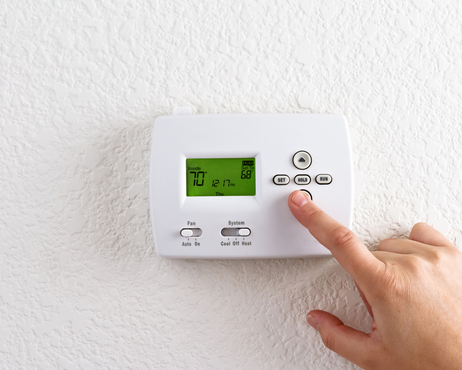 Use the following tips for further savings.
Install & use a programmable thermostat. Then you can automatically manage your air conditioning.
When you're not at home, turn your air conditioner off, but keep your ventilation fans running to circulate the cool air. You can program the thermostat to turn on just before you get home.
Run your air conditioner just a little warmer and save up to $16.60 a month. Set your thermostat at 25°C for eight hours a day. Then shift to 22°C during Off-Peak hours to save.
Try to install your air conditioner in a shaded area. An air conditioner that is exposed to direct sunlight will consume five per cent more energy than one that is shaded.
When you turn on air conditioning, do not switch your thermostat to a colder setting than you need. It will not cool the room any faster.
Reduce heat gain in your home. Drawing blinds or shades during the day on windows facing south or west can reduce your air conditioning costs by up to $13.10 a month.
Think fans before air conditioning. A ceiling fan can save you about $18.70 a month on cooling costs. Set your air conditioner 5°C higher, use an ENERGY STAR® qualified ceiling fan and you could reduce cooling costs by up to 30 per cent.
Studies have shown that during spring and fall, the cost to operate a fan is approximately $1.50 per month vs. $20 per month for air conditioners.
Proper maintenance of your air conditioner can increase its efficiency by about five per cent. You can clean the outside compressor yourself with a hose, removing debris that impedes airflow. On average, the savings will be $4 a month during the summer.
Shopping for an air conditioner? Pay attention to the Energy Efficient Ratio (EER). The higher the EER of the unit, the lower the cooling costs.
Replacing your old air conditioner (EER of 10) with a new unit (EER of 14) will typically save $25 a month during the summer.
The Julie Kinnear Team's GEMs (Genuine Evidence of Merit)
"We saw lots of signs for The Julie Kinnear Team in the High Park area and thought they could be a great agent for us. We were a bit skeptical that we needed to be referred by an existing client of Julie's to be taken on, but called and happily found out that wasn't the case! We got matched with Holly and had a GREAT first meeting. She understood exactly what we were looking for (and how picky we are!) and suggested we look for a home to renovate.

Our previous agent deterred us from even considering that possibility. Holly connected us with a contractor, who came to view houses with us. Holly knows the High Park & Bloor West Village Area inside and out! It was refreshing to talk with her about homes in the area and she knew exactly what we were talking about - something our realtor had no clue on! In total, we worked with Holly for 3 months, putting in 2 offers and getting our winning bid for under asking!

Holly always gave us honest advice and definitely wasn't in it to make the highest commission. She was concerned about finding us a great property to build a home that we would be happy with for the long term. She was always available to answer our questions and was fun to deal with. We don't have enough positive things to say - it was an incredible home buying proces!"
Lenore & Matt
The JKT - A few of our Favourite Things
Stephanie
The tradition of my friends dinner that I have mentioned before. This month was hosted by my two best friends Trae and Jacqueline. They came up with the Urban Clambake! Some dressed the part and we all ate and drank on a beautiful summer night with 11 of the most important people in my life. Ahhh the love!
Claire
My 2 new palm trees in my backyard. I love the tropical look! They give you a Caribbean feel even if it's a staycation and in the winter they make amazing indoor trees that you can dress up with lights. s BBQ's with friends
BBQ's with friends - I love hosting and going to many barbeques throughout the summer with my friends and family. Good food, drinks, nice weather and time together to catch up from the busy bustle of the winter season.
Tyler
Cottage Life! Just spent a week at the family cottage on Balsam Lake and it was such an amazing time! Mogli swam for the first time and loved it! We couldn't keep him out of the water. Several groups of friends came and stayed with us. We kept busy with bonfires, saunas, swimming, board games, bocce ball and of course tasty beverages!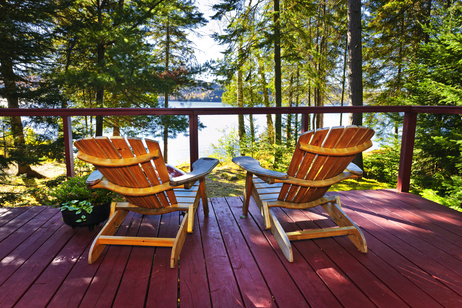 Julie
Perez Cruz Cabernet Sauvignon from Chile is tasty and amazing value for your al fresco barbeque dinners this summer!
World Pride! It was so exciting anticipating it for so long, celebrating with many old friends, witnessing the Grand Pride Wedding at Casa Loma and feeling the energy on Church Street.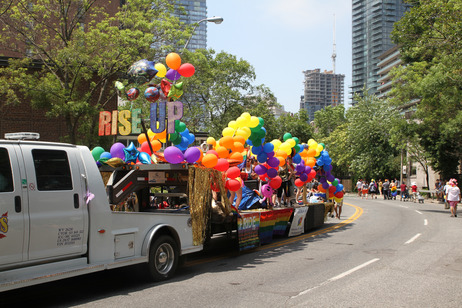 Jen
A fresh cut lawn! It is so satisfying and looks so good when a lawn is freshly cut, especially when it was ridiculously long and full of little flowers that aren't supposed to be there a.k.a. weeds!
Tennis. It was so exciting watching the tennis, especially having two Canadians go so far in the tournament. It is so exciting to watch, but I must
admit, I prefer to play!
Holly
Stockholm rug from Ikea. Great value for a stylish wool rug. Thanks to Alison Mercer our stager for the tip!
Lunch with my niece and nephew at the Ace in Roncesvalles. They raved about the food and service.