Kinnear's Komments
Vol. 23, Issue 3, May 2015
Julie's Scoop
Hellooooo,
Happy May 2-4 long weekend! Apparently this is the earliest in the year it can occur, so next year the cycle turns and it will in fact be on the 24th, but hey who's complaining?!

Julie at the Dovercourt Boys & Girls Clubhouse
Our team has been loving helping our clients during this very faced paced Spring market. An interesting issue that has arisen is the quite prevalent "pre-emptive offer" situation. An example of this is when we have our clients homes for sale, and the buyers don't want to wait until the set offer date. It is in hopes that the buyer will not be in competition with anyone else, or at least less bidders. An important example where it helps you to have a competent, experienced team to handle this stress, decision and potential opportunity (or not) for both buyers and sellers.
The pre-emptive offer situation has become more common in the hot areas of Toronto because it's not the easiest time for buyers as often homes are selling in competition, and for over market value. Not only are those real issues, so is the reality of having to then make sure the property appraises out. Our team has a lot of understanding of market value and expertise in handling this type of "turbulence" in the buy/sell process.

Ashley & Tyler
Aside from the dynamic real estate market, the big excitement around our team right now is Tyler's imminent wedding down in Mexico. May 19th is the big day. He is so thrilled to be marrying Ashley, that they are doing it twice:) Back in Toronto on June 6th they will be celebrating with their wider group of friends and family.
Our Team is honoured to be a part of such an amazing brokerage — Keller Williams — they have chosen one day in May every year that all 110,000 associates volunteer their time. Can you imagine the impact that makes in each and every single community that KW is in? Our office volunteered at the Dovercourt Boys & Girls Clubhouse painting some pretty funky vibrant colours to keep it cheery! You might have seen my pic on Facebook? Looked great. The kids loved the changes!

The team at the Clubhouse
Guiding you home,
Julie
P.S. Now more than ever there are all kinds of issues arising from this lightning fast Toronto real estate market. Call us today if you know of someone who needs our help!
Quote of the Day:
"You may have tangible wealth untold; Caskets of jewels and coffers of gold. Richer than I you can never be - I had a mother who read to me."
Strickland Gillilan. Happy belated Mother's Day!
Chit chat...
Electrician Matthew Biswas has shared some very important info RE: New Ontario Law that will impact many homeowners. Carbon Monoxide detectors are now mandatory in all Ontario homes that are: Heated with a fuel (natural gas, oil, propane) or have an attached garage or use fuel powered appliances e.g. fireplace, hot water tank, etc. Homes will need to have additional Carbon Monoxide detectors: 1 in the furnace/utility room/garage – where applicable & 1 near all sleeping areas. Failure to install the required detectors carries a fine of $235. For more info go to: news.ontario.ca.
Babies...

Baby Elise
Rob, Isabelle and Amanda welcomed a new addition to their family. Baby Elise Marie Blanchet was born on Feb 21st at home & everyone is over the moon with joy!
 
Daniela Del Rosso & Mike Boccia are so thrilled to welcome their first baby into the world! Sydney Faith Boccia born on Monday April 27th, 2015.


Moira Fogarty & Darren Chartier welcome their first bundle of joy as well Helen Moira Sigourney Chartier was born on May 3rd, 2015.
MARKET WATCH excerpts from Toronto Real Estate Board
May 5, 2015 - Toronto Real Estate Board President Paul Etherington announced that Greater Toronto Area REALTORS® reported a record # of sales ever and 17% over April 2014. New listings were up over the same period by a more moderate 5%.
The overall average selling price, which accounts for all homes reported sold by GTA REALTORS® in April 2015, was up by 10% year-over-year to $635,932. The MLS® Home Price Index (HPI) Composite Benchmark, which estimates the price of a benchmark home with the same attributes from one period to the next, was up by 8.4% over the same period. The fact that average price growth outpaced growth for the MLS® HPI Composite Benchmark, suggests that a greater share of higher-end homes changed hands this year compared to last.
Price growth in the GTA was strongest for low-rise home types. However, the better supplied condominium apartment segment also remained healthy with price growth above the rate of inflation.
"Demand for ownership housing was very high relative to the number of homes available for sale in April. This situation is not expected to change markedly as we move through the remainder of 2015. Until we experience a sustained period in which listings grow at a faster pace than sales, annual rates of home price growth will remain strong,"
said Jason Mercer, TREB's Director of Market Analysis.
For the month of April
Average sale price for a home in Toronto (416) areas based on type was:
$1,056,114 – Detached
$727,875 – Semi-detached
$551,231 – Townhouse
$407,612 – Condo 
Feeling like Giving Back?
Charity of the Month – Enbridge Ride to Conquer Cancer – The Proud Mary's
In 1983 an ambitious group of board members & volunteers at Ronald McDonald House Toronto banded together to form a summer camp unlike any other in Canada.
PMH (Princess Margaret Hospital) is where I was treated in 2000 for a year of chemo, radiation and different operations and procedures. I can't thank all the professionals enough who have given their life's devotion to helping people like me overcome this deadly disease.

Julie with the yellow flag at the finish line
The pamphlet for this 200km fundraising ride was in the waiting room at PMH when I was in for one of my check ups. It was calling out to me as a challenge and an opportunity.  I didn't even have a road bike at the time.  My how this has positively impacted my life in so many ways.  One of the silver linings through all this.
This is now my 7th year for the ride - despite the grueling training schedule & weekend ride it is a fantastic opportunity to go out and raise even more funds for my favourite hospital that saved my life.
Please donate TODAY to my ride! Go to: www.conquercancer.ca click on donate and enter "Julie Kinnear".
Many of our clients have had their personal experiences with The JKT caught on video instead of the regular written word – they're even posted on YouTube! We so appreciate your kind testimonials. Our YouTube channel is growing exponentially and has had over 225,846 hits!
6 Fun Facts About Our Very Own Jennifer Palacios
1. What's the furthest you've ever been on holiday?
I had to check the atlas for this one. It was a toss between Laos & Australia, but I'm pretty sure Australia is farther. I went to Sydney for the Olympics when I was working with Roots.
2. If you could breed two animals together to defy the laws of nature what new animal would you create?
I don't believe in genetically altering animals - they are all perfect as they are, BUT if I was, it would be a darrot - cross between a dog and parrot, with fur not feathers. A dog that could talk and fly!
3. What would be your dream sandwich?
Anything with fresh bread and cheese!
4. What was your favourite birthday?
I have enjoyed all my birthdays, however, I do have a great memory of one in particular. On a trip to Spain to visit my Father's family, our entire family was up-graded to first-class. I was about 7 & the flight attendants gave me a cake. I was allowed to take a piece of cake into the pilot. I was mesmerized by all the controls and seeing the view from the front window. The pilot was really nice too - I've loved men in uniform ever since!!
5. What's your most used word
Fantastic from what I am told!
6. What's your favourite Movie quote?
"Nobody puts Baby in the corner"
What they got!
What they got! More of our happy buyers have found their new home!!
A continuing column of the Julie Kinnear Team's sales… 

208 Ellis Avenue ~ Swansea
Sold for Full Asking Price

75 Laws Street ~ The Junction
Sold Over Asking

130 Hazelwood Avenue ~ Pape/Danforth
Sold Under Asking

139 Stanley Avenue ~ Mimico
Sold Over Asking

20 Elma Street ~ Mimico
Sold Over Asking

20 Southport Street #516 ~ High Park/Swansea
Sold Over Asking
See a For Sale Sign/Sold you were wondering about? We are happy to let you know about houses in your neighbourhood - feel free to contact Steph at: ' + '') /*]]>*/
Our Purpose
Our purpose is for you to be so outrageously happy with the service we provide that you gladly refer us to your friends and family before you've even bought or sold with us!
Mortgage Rates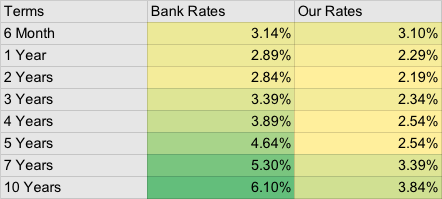 CURRENT VARIABLE RATE IS 2.20%
CURRENT PRIME RATE IS 2.85%
Some conditions may apply. Rates subject to change without notice. *O.A.C. E&O.E.
Courtesy of Carrie Davidson - Dominion Lending
Centres Service First Mortgages #12089
License #M08003121
www.carriedavidson.com
Phone: 416-693-6946 

The JKT - A few of our Favourite Things
Stephanie

Steph's pink boots
Nashville with my sister for her 50th bday! Sweet Tea Moonshine. Broadway. George Jones Museum. Adel's.
My brand new hot pink and black Lucchese cowboy boots I bought in Nashville.
Claire
Tyler
Yard work! Some might call me lame, but there's something therapeutic about getting outside & spending time in the dirt; raking, washing windows, cleaning out the garage, gardening, etc.  After a long winter spent mostly indoors, it feels invigorating to spend hours outside in the sunshine!
Sanremo

Bakery in Mimico - Ask any of my clients that I've ever shown houses to in Mimico, Sanremo's is the first thing I mention.  This traditional Italian family bakery has been a Mimico staple since 1969, and they're not just a bakery.  They serve cappuccino, gelato, fresh meats, hot lunches, baked breads and the best donuts!
Holly

"Good Enough" karaoke band: Do you love to sing in the shower but doing karaoke makes you shake with fear and your mouth go dry?  Check out the live karaoke band Good Enough; The band members make everyone feel comfortable, even absolute beginners and the tone deaf. They have a loyal following of fantastic singers, some of whom are worthy of a standing "O'. It doesn't matter however, what level you're at. You are good enough.
"The Life-Changing Magic of Tidying up" subtitled "the Japanese art of decluttering and organizing" by Marie Kondo. This is the best decluttering book I've ever read!  If you're preparing your house for sale or disheartened by homes with minimal storage space or you're downsizing or just overwhelmed by all your "stuff" read this. It will free your space, your mind and spirit. Thank you to our clients Claudio and Marcela Duran for introducing me to this book. Besos!
Jen

Oscar
The Veterinarians at VEC (Veterinary Emergency Clinic) at Yonge/Davenport. Although there was nothing further they could do for my sweet dog, Oscar, they were caring & compassionate. They gave me as much time as I needed to say good-bye, & spent time discussing & consoling me despite it being an incredibly busy clinic. The emergency vet who took my case also went that extra step & sent me a personal note giving her condolences. I don't ever want to have to go back there, but if I do, I know my pet will be in great hands.
A fantastic restaurant down on Queen East - Leslie Jones. Yes, you guessed it, it's between Leslie & Jones. Great food and vibe. They have a fantastic outdoor patio at the back - we didn't sit there but will next time!
Julie

Daily Word.com

– it is my little secret weapon – every morning the first thing I read is the day's word/short write up – it is a publication put out by Unity and has uplifting, positive, spiritual reminders that start my day in the best frame of mind. On-line or print.
My new Iphone 6. Gold colour too! It is much faster than my old 4S!