Kinnear's Komments
Volume 8 Issue 1
By Referral Only™
March 2000
---
Julie's Personal Challenge
In the last issue I was telling you about my great trip to Europe and Turkey and this issue I am telling you about my great trip within myself. I am practicing meditation and visualization.
Just before Christmas '99 I was diagnosed with Hodgkins Lymphoma, Stage 2B. This is a cancer of the lymphatic system and will require 6 months of chemotherapy on a biweekly basis and one month of radiation afterwards.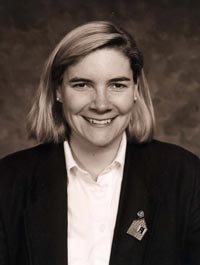 I am most fortunate in the prognosis of my condition as we expect it to go into long term remission at the end of the treatments. I just have to survive the treatments! I have been blessed in the medical team taking care of me at PMH and in all my dear ones who have rallied to my support.
My mother, Brenda Kinnear, has moved here from Vancouver to be with me and to become my business partner. She was a realtor for 12 years in Toronto before moving to Vancouver 10 years ago where she has been an active realtor and also Director of the Real Estate Board of Greater Vancouver. She left her business there with my stepfather Jay Banks and is here working with me now.
We work from my home office with all my files and computer programs and look forward to helping you with your real estate needs.
Even though I rest at home I am involved in the world around me and want to stay in touch with all of you. There are many of feelings to be processed over all of this, and now hopefully the physical fight is done. Now it is necessary for Julie to focus on her emotional wellbeing, as well as to continue to rest!
Update - Christmas CD E-mail Contest
I received many updated e-mail addresses, after creating a little bonus for you to send me your updated address!! As we all know this mode of communication is growing exponentially, so PLEASE, PLEASE, PLEASE, (did I HAVE to beg??!!) send me a quick e-mail if yours has changed, or if I don't have it!! Thanks to all who entered!!!
Many congratulations to the three winners of the Christmas CD - Nancy Mulroney, Sharmila Xavier, and Joyce Burnside.
---
Chit Chat Column
Wedding Bells
Congratulations to Jennifer Tassie & John Wyman, who tied the knot in August at their summer cottage among friends & family.
Many Babies to Welcome!
Ryan Thomas Hugh Koch - Born August 17, 2000. Andrea & Andreas are proud 1st time parents!
Sophie Mila Bannerman - Born August 10, 2000. Nicole, Brent & big brother Tristan are thrilled.
Academic Achievements!
Alison Ross - This summer successfully completed her exams and is now a member of the Royal College of Physicians & Surgeons of Canada. She is now working on a presitigious fellowship through the University of Toronto.
Welcome Home
Jennifer Eberts & her husband Gerard Geling moved back from Holland to Robert's Creek on the Sunshine Coast of British Columbia.
Running For Cancer
Joyce Burnside raised over $1100.00 for Princess Margaret Hospital Foundation when she completed the marathon on Sunday October 15th, 2000. Way to go!
Music's All Around Us
Watch out for Rolston Miller bassist with the band Vicky Von Vicky. They are getting air time on Breakfast Television, and played at the popular Horshoe Tavern recently! We knew you when…
Success is not measured by the position one has reached in life, rather by the obstacles overcome while trying to succeed.
Booker T. Washington
What They Got: A continuing column of our recent sales


70 Upper Canada Drive
Asking Price $???,000.
Sold Price $???,000.



154 Brentwood North
Asking Price $???,000.
Sold Price $???,000.
Neighbourhood Corner East York
East York (E-3) began the new millennium with prices up and sales at the same level as January 1999. Over all, prices of single-family dwellings rose 15 per cent, to $184,468 from last years $158,797, while sales declined slightly to 51 from 1999's figure of 52.
Within the detached home category, prices rose 7 per cent to $222,578 on the basis of 27 sales.
Condominium apartments also saw healthy gains, up 16 per cent to $113,529 from last year's $97,500, on the basis of 17 sales.
Toronto Housing Market Hot!
Everything is sizzling in every price range in every area. Some properties are selling 25% over their listing price! Demographics and good economy is the fuel. This would be considered a seller's market as there is still a shortage of listings on the market, which is carrying this market higher and higher.
Next issue: Improvements which Increase Your Home $$$
Referral Network
As most of you know, I work By Referral Only™. I appreciate the confidence that you show in my services. I would like to return the favour, and refer business to my clients and friends.
Here are some good people to do business with!
Suzie Addison
On The Move
(reg. charity, integrating young adults with physical & mental handicaps into society)
416-544-8781
Brian
New View Window Cleaning
(incl. eaves, roof clearing)
416 531-8439
Michelle Carrie
Real Estate Lawyer
416 486 9800
Kristi Herold
Toronto Central Sport & Social Club
(Intramural sports & special events)
416 781-4263
Rolston Miller
Trash Trucks
(removes trash to dump - any size)
416 784-JUNK
Albin Paradiuk
Handy man
416 762-9986
Angela Quigley
West Toronto Sport & Social Club
(416) 539-8828