Kinnear's Komments
Volume 9 Issue 3
By Referral Only™
December 2001
---
What an Amazing Mom I Have -
Time to say Goodbye
How can I put into words how much my Mother means to me? Every day I count my blessings for having such a special relationship with her. Brenda is returning to Vancouver on December 17th, 2001.
Brenda has been my inspiration & mentor throughout my life, but especially for my career in real estate. Fond memories for me are hanging out in her office after school in my teens, and wanting to be just like her.
There have been many blessings in my illness and recovery. One of the main ones was the opportunity to work alongside my Mom. She selflessly put the rest of her life on hold to come to Toronto to help look after me, our clients & the business almost 2 years ago. She was amazing at all of them. Many of our clients have told me how much they enjoyed Brenda & her expertise. Many thanks to my stepfather in Vancouver, Jay Banks, for his loving support of Brenda and me.
Mom, I admire you and respect you. You are my mentor & my friend. You continue to teach me many life skills. I will miss you immensely, as you resume your life & career in Vancouver. Thank you for everything.
My Health update - great mentally and physically. I have been working out with a personal trainer so I have a challenging program and am in better shape than two years ago before my illness. In October I celebrated my one year anniversary of being in remission from Hodgkins Lymphoma.
I fulfilled one of my lifelong dreams this year! Bella is my new puppy - and the most adorable (if I do say so myself) Cockapoo (looks like a mini golden retriever - 12 lbs - don't miss the pictures of Bella). She is a ton of fun, and very spirited. You can find us in High Park!
We are thinking of all of you this Holiday Season. We are grateful for your support and love. After 9-11 all of us are looking at our dear ones and giving thanks for our blessings. We include you among ours. May peace, love, laughter and health be yours in the coming year.
---
Housing Forecast By CMHC
Despite the North American economic slowdown, the Canadian housing market is expected to achieve levels of starts only slightly below 2001 levels. "Low mortgage rates, high immigration, record low inventories of newly completed and not occupied units, high sales to new listings ratios, and lower vacancy rates will all contribute to sustained housing starts," said Michel Laurence, Chief Economist at CMHC.
"Low mortgage rates will continue to power resales in 2002 although record levels attained in 2001 will not be repeated mainly due to a weaker job market in Quebec and Ontario.
---
Chit Chat Column
Wedding Bells
Sincere congratulations to:
Justine Ridgely & Doug Taylor married May 26, 2001
Stacy Nice & Chris Hoisak in Ottawa on July 14, 2001
Brenda Semotiuk-Diduck & Jim Snowdon in Scotland on July 28, 2001
Chris Jones & Christine Bradley on September 29, 2001
Jen Wright & Chris Denny on September 15, 2001
Erin Atkey & Bruce Tait on October 13, 2001
Katie Fisher & Chris Rollins on November 3, 2001
Julie Davies & Andrew Dreger in Tobago on November 5, 2001
Heidi Richter & Mark Girvan on November 10, 2001
Many Babies to Welcome!
Kai Xavier - Born to Sharmila & Bob on March 18, 2001. Little brother for Ishta & Jaya.
Jack Erlandson Ross - Born on July 6, 2001 – to Dianne Webster & Scott Ross, their first child.
Hannah Monette - Born on July 31, 2001 to first time parents Heather MacEachern & Chris Monette!
James William Atkinson - Born on November 4, 2001. The first baby for Cathy Lawson & Dominic Atkinson.
Abigail Daphne Belisle - Born November 5, 2001 to Joan Schatz & Geoffrey Belisle – their 2nd daughter!
---
What Can Duct Cleaning Do For You?
Don't look in the return air registers of your forced air furnace system! Scary accumulation of debris! Research shows that return air ducts, which are relatively big and have slow moving air, are generally far dirtier than the supply ducts.
Professional duct cleaning will remove dust and debris - pet hair, paper clips, children's toys, and whatever else might collect down there.
Duct cleaning may be justifiable to you personally for that very reason: you may not want to have your house air circulated through a duct passage that is not as clean as the rest of the house. However, duct cleaning will not usually change the quality of the air you breathe, nor will it significantly affect airflows or heating costs.
Three grand essentials to happiness in this life are something to do, something to love, and something to hope for.
Addison
What They Got
A continuing column of our recent sales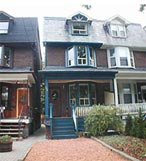 503 Brunswick Avenue
Annex Income Renovated
Asking Price $529,000.
Sold Price $550,000.



149 Leacrest Road
Leaside reno with family rm.
Asking Price $449,000.
Sold Price $480,000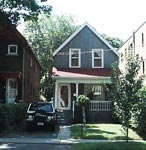 271 St. Clair Avenue East
Moore Park updated
Asking Price $299,900.
Sold Price $290,000.



140 Bowood Avenue
Wanless Park New Home
Asking Price $749,000.
Sold Price $755,000.
Neighbourhood Corner
Leaside
The Leaside area (between Laird and Bayview, Eglinton and the CN rail line) saw five sales of detached homes in August for an average of $432,900. These sales ranged from $300,000 to about $600,000 in price, and time-on-market averaged 20 days, less than half the city-wide average of 43 days.
Kingsway
Prices for detached homes in The Kingsway (from Prince Edward to Islington and from Bloor to about Leland) averaged $405,596 for the three-month period between May 1st and July 31st, up marginally from the $404,191 recorded during the same period in 2000. Prices ranged from about $270,000 to $650,000, and average time-on-market was 32 days. Nearly 20% of these houses sold for more than their asking price.
Rosedale
The Rosedale market has remained stable thus far in 2001. Over the June to September period, the average price of detached homes has been $1,424,026 on the basis of 19 sales, down 2% from the $1,449,915 recorded during the same time last year. Time-on-Market was 68 days, and the most expensive home in the area sold for just over $5,000,000.
Romantic Stories Contest
Another client story prize winner!
Once upon a time there was a handsome young man called Simon who travelled from Toronto to England. On this journey he took a sidetrip to a little village outside Bristol to visit his mother's elderly aunt. Looking for entertainment Simon wandered into the local pub. Once upon a time there was a beautiful Nordic princess called Hanne who travelled from her home in Norway to learn English. In her quest she became an au pair for a family in a small village outside Bristol. One night she was in the local pub when a young man from Canada came in. The rest is history. Simon & Hanne married and live in Toronto where they are proud homeowners and dog parents in Riverdale.