Kinnear's Komments
Volume 10 Issue 3
By Referral Only™
December 2002
---
Winter Wonderland
Well, the leaves finally fell, the snow arrived (albeit sporadically), Bella put on her woolly coat and the Christmas (or is it holiday) tree went up winter arrived in Toronto. It is amazing how quickly seasons fly by, and the daily routine of life catches you up. Be sure to force yourself to stop and take stock of your surroundings and remember how precious life really is.
It has been a great year for the property market, and no doubt it has been a sellers market. According to industry figures house prices in the GTA have climbed an amazing 9% but is it slowing down? On page 2 you can read what the forecast is for 2003 according to industry experts.
Hope 2002 has been a fantastic year for you. Let's all raise our beer bottles together for a healthy, happy & prosperous 2003. Have a wonderful and safe festive season and I will see you all next year! Remember DONT KEEP ME A SECRET!
---
Competition
Win a fab evening for 2 at the Movies!
Bella is the cutest dog in the world because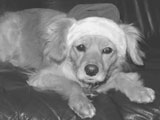 In 10 words or less tell me why your pet is the cutest in the world!! Can't wait to include the funniest & wittiest responses in the next edition of Kinnear's Komments. The best will win the movie night package! (For those without a pet, feel free to use your entry to describe why Bella is the cutest dog in the world, no exception! - see photo above.
All entries must be received by no later than January 10th 2003. To enter please e-mail .
---
Is the Housing Market Slowing Down?
According to Ted Tziakopoulos, senior market analyst at the Canada Mortgage and Housing Corp. there is no convincing evidence that the market is overheating. He declared that there didn't seem to be anything that would substantially slow the market down, therefore the market for 2003, although not as strong as this year, will remain healthy.
It has been reported that Toronto area homes should increase by 5.5% by the end of next year from an estimated $275,000 at the end of 2002 to $290,000 by the end of 2003.
Broader market indicators such as low mortgage rates, house prices, increased migration and decent job growth suggest that sales will remain firm.
Thousands of new homes will be completed next year and in the Toronto Condominium market 12,000 units are expected to be completed this year and another 12,000 next year.
Over the past year house prices in GTA have climbed by approximately 9%. In addition The Toronto Real Estate Board reports an all time one-year record for number of sales in 2002.
The number of new listings in Toronto is rising. It still remains a sellers market although at the lower end of the market there are fewer homes selling at or above the asking price and slower price growth. There is a current sales-to-listing ratio of 65%, with more than 6 sales for every 10 listings.
---
Chit Chat Column
New Babies to Welcome: Baby Boom!!
Congratulations to all…
Callum Braund

Born Oct 4th - First child of Karin Lunan & Tim Braund.

Matthew Peter Rukavina

- Born Oct 9th Thrilled parents Liz Pillon & Steve Rukavina and big sister Nadia.

Zachary Thomas Webster

Born Oct. 9th, to first time parents Michelle Lally & Craig Webster.

Emma Joy Kiss

Born Oct 16th, to first time parents Lisa Stuart & Dan Kiss.

Phineas James Tait

Born Oct 28th, to first time parents Erin Atkey & Bruce Tait.

Spencer Irwin Pennock

Born November 1st, to first time parents Michelle & Scott Pennock.

Baby Girl Smale

Born Nov 9th, to parents Leslie Morris & Ken Smale, and big sister Emily. (Soon to settle on her name!)

Benjamin Arden Dreger

Born Nov 12th the first for Julie Davies & Andrew Dreger.

Madeleine Elizabeth Kennedy

Born (on my birthday!) November 23th to parents Mattea & Nathaniel and big brother Benton.
---
Referral Network
As you all know, I work By Referral Only. I appreciate the confidence that you show in my services. I would like to return the favour, and refer business to my clients and friends.
This month I thought it might be helpful to refer a friend & client of mine who is in Landscaping Fausto Presta or Interior Design Jen Wright.
Although this can be a taboo subject, it is important to get a good referral if needed. Dont be shy to call Sandra Harris she works with adults, couples, adolescents and groups to help them meet their unique therapeutic goals. The process is considerate of ethnic origin, gender, age, and sexual orientation. She works with her clients to find healing and relief, in a warm, accepting and down to earth manner.
Call 416.925.5854 for an appointment. She is located at 37 Spadina Road.
Your memories of tomorrow depend on your attitudes of today.
What They Got
A continuing column of our recent sales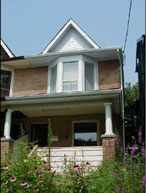 118 Ivy Avenue (E01)
Asking Price $259,900
Sold Price $253,000.


22 Southport Street #632 (W01)
Asking Price $179,900.
Sold Price $199,900


518 Millwood Road (C10)
Asking Price $389,000
Sold Price $412,100


15 McMurrich #902 (C02)
Asking Price $389,000
Sold Price $370,000
Neighbourhood Corner
Rosedale
The sales of multi-million dollar properties drove average prices in the Rosedale area (C-12) to $1,048,889 in November, a whopping 27% increase over the same month in 2001. Breaking down the total, the average price of detached homes in the area came in at $1,179,143 on the basis of 21 sales, up 20% from the same time last year. In addition, four condo-apartments sold for an average price of $714,500.
Great News for First-Time Buyers
For the first time in its history the CMHC Canada Mortgage and Housing Corp.) has raised the 5% price range from $250,000 to $300,000 in the Greater Toronto Area. This should help first time buyers find suitable homes!
Friends Re-united thru Julie Kinnear.com
How many old friends have you lost touch with over the years? Well it seems that the wonders of technology are bringing people back together!
Recently I received an e-mail through my website from a gentleman searching for an old friend he had lost touch with years ago. The old friend happened to be a client of mine Frances, and her comments are featured on my website. He had typed her name in a search engine and by good fortune her name popped up on juliekinnear.com! I forwarded the info for Frances to check on whether he was bone fide. She was delighted and the two friends are back in touch!