Kinnear's Komments
Volume 11 Issue 4
By Referral Only?
December 2003
---
Julie's Scoop
Don't you love the holiday season? It is truly a special time of year. People come together and give so generously, love so openly & express their gratitude to one another & the universe for a year well done. Seeing old friends and meeting new, it is an ideal time of year to reflect on the past year and rest up for another wonderful year ahead.
Since my last newsletter, I have had a terrific fall. One of the highlights was going to Stratford for the last weekend of the show season, with my partner Mary, her mother Sondra & her sister Jen to attend The King & I. You may want to think about attending in the early or late part of the season to take advantage of some of the specials. Another highlight was spending Thanksgiving with some dear friends up in cottage country. It was gorgeous, and we had fun experimenting with cooking a turkey on the bbq. (nice & juicy - but high maintenance!) November was a real milestone in my family on my father's side. This year I helped negotiate & sell the family home that he has owned for the past 29 years. It is now again full of children, as some old friends of mine have moved in. Also in November, my dad's father died. You may have read his obit in the paper, as my Papa was an amazingly accomplished businessman. When I had the honour of speaking on behalf of our family at his funeral, I realized that it was his personality and the difference he made in the life of his family & friends that was eulogized and remembered. Now that is a life well lived.
This year I am thrilled to be spending the Christmas season in Toronto for the first time in many years. I will be missing my Mother and family in Vancouver, but look forward to celebrating my Auntie Hilda's 90th birthday in January there.
"Nutcrackers, secret dreams, and faraway lands… May the sugarplum fairy dust your dreams with magic this year."
---
Forecast: Housing Market Stays Strong
December 4, 2003 -- With November continuing a record breaking streak for a sixth consecutive month, 2003 will be the best year ever for the Toronto real estate market, TREB President Cynthia Lai announced today. "With residential sales reaching 74,764, the 11 month total is already above the 74,759 sales recorded in all of 2002," the President said. "By the end of December, we should be up five per cent over last year's figure, and closing in on the 80,000 sale mark. It will be a truly remarkable end to a remarkable year." New home sales in the GTA so far are down this year by about 24% compared to 2002, but last year was one-of-a-kind. The largest drop in sales was in the high-rise sectors, as there were fewer sales to investors this year. Furthermore, experts are predicting that housing values will continue to rise at close to 5% yearly through 2006. The housing market continues to benefit from job growth that began in 1998 and translates into house sales today. That means home ownership is still the cornerstone of a lifetime financial plan.
---
Chit Chat Column
Babies Babies Babies
Congratulations to all...
Jeremiah and Victoria (Stikeman)

are delighted to announce the birth of their daughter Clara McCall Hudacin on June 24, 2003.

Double Trouble..

omenic & Cathy Atkinson welcomed their 2nd son, Benjamin Craig Atkinson, on October 4, 2003. Another client who lives about 3 doors down from them Trevor & Bree St. Arnault had a bouncing baby girl, Mackenzie, on the SAME DAY!! In the SAME HOSPITAL!!

Mathew and Sherri Himelfarb

are proud parents of their first child, Kaleb Jack. Born on Saturday, October 25th.

Bill & Jen Vlaad

are extremely surprised & happy to report the birth of William (Liam) Alexander ? the 5th - on November 28th (original due date Jan 26th, 2004, but in the neo natal unit & doing well).
Matthew McLean is doing major renovations to his house for only $10K. Stay tuned to find out how that's possible!
---
Around the house
TURN OFF AIR CONDITIONING POWER for Winter.
It's simple. In addition to flicking the little switch on the thermostat from "cool" to "heat." Shut off the power to the whole system. This is best done at the main electrical panel. Simply pull the fuses out or shut off the breakers marked "air conditioner". If they are not obvious, most air conditioning systems have an outdoor shut-off close to the outdoor unit.
There is a heater built into the outdoor component of your air conditioner. It's pointless and wasteful to leave it running all winter. You also risk burning out the heating element. It is costly to replace and critical for starting up your air conditioner next summer.
Avoid wet basements - clean gutters & eaves troughs to prevent flooding Now that all the colourful leaves have fallen, they have become sodden with all the rain, and now will clog your gutters and downspouts and cause yucky wet basements. Also, in winter the water that has collected in the downspouts will freeze, causing splitting and damage to the walls behind the downspouts. How to deal? Well, you could call a professional (try the friendly people at Home-Link at 1-866-410-LINK(5465)). Or, you can start by grabbing a ladder, rubber gloves and a bucket and going up there yourself. Things to check for: After cleaning, flood the gutters with a hose to check for low spots, leaks at joints, loose sections and rust holes (best handled by a pro). Check to see if you have enough downspouts. There should be one for every 35 feet of gutter. If your downspouts go below the ground, consider redirecting them to discharge six feet away from the house. Often, the below ground portions are clogged or broken, which inevitably causes a wet basement.
TURN OFF AND DRAIN YOUR OUTDOOR FAUCETS Last winter, a friend returned from a week of skiing to discover that his basement was badly water damaged. He forgot to turn off the water to an outdoor faucet. The pipe to the faucet froze and split where it poked through the foundation wall. A warm spell melted the ice in the pipe, and the water flowed for several days before he returned home. It was a huge and avoidable mess. Best case scenario is to do it before we have overnight lows dipping below -3?C (27?F). Locate all your exterior faucets. Don't forget the one in the attached garage if you have one. You will find the pipe that feeds each faucet in the basement. There will be a shutoff valve on this pipe. Close the valve and open the drain cap. Also open the outside faucet to let water drain from the pipe. If you have a faucet you'd like to use regularly in the winter (for a skating rink for example), then consider a frost-proof faucet. These faucets are very long and have an equally long valve stem. When you turn the handle on the outside of the house, you're actually operating a valve on the inside of the house, so you won't get frozen or burst pipes
Handyman Appeal! Have you had work done around your house lately? Perhaps you had plumbing fixed, tiles laid, or the fireplace & chimney cleaned. If so, we'd love to hear from you! Please refer your great handymen to us so we can help others get reliable, good quality repairs done to their homes.
I would rather have a mind opened by wonder than one closed by belief.
News Flash!!!
The Ontario New Home Warranty Program has introduced sweeping changes to its policies, all in the home-buyer's favour, effective October 1, 2003. Call me or visit www.tarion.com for details.
What They Got
A continuing column of
our recent sales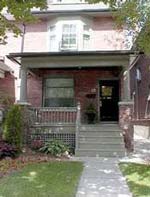 18 Radford
High Park area
Asking Price $449,000
Sold Price $446,500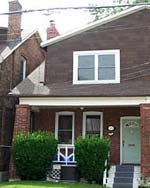 115 Helendale
North Toronto (Yonge & Eglinton)
Asking Price $389,000
Sold Price $382,500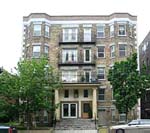 412 Jarvis Suite 206
Downtown area
Asking Price $179,000
Sold Price $178,000
Neighbourhood Corner
this month replaced by...
Did you know… When it comes to buying lofts in conversion projects there is no coverage from the Ontario New Home Warranty Program? That means there's no remedy for any deficiencies in your unit, except that which the builder might provide! Buyers have to check out these projects, and the people promoting them, with great care. (there are many examples, such as the Brewery Lofts on Sumach).
It was in the Stars...
My client Sylvia found out that the full lunar eclipse on November 8th was supposed to have a profound effect on home and family matters for her and it might even propel her to move or purchase a house. Sylvia signed an Agreement of Purchase and Sale for her new condo the very next day!
I rely on your referrals for my business to flourish. I currently have 2 open spaces for clients right now, so please tell your friends and colleagues who are looking to buy or sell a home, to get in touch with me right away!