Kinnear's Komments
Volume 11 Issue 2
By Referral Only™
June 2003
---
Julie's Scoop
Now that the arduous winter (and hopefully cold wet spring) are behind us, I hope to see more of you! Can't wait for some warm weather, especially since my partner Mary & I joined the Howard Park tennis club this year. It is amazing to think that the summer holidays are fast approaching. I am very excited about my summer plans - including volunteering for a week as a counsellor at Camp Oochigeas – a camp for children with cancer. Now that I am two-and-a-half years in remission I feel like I want to give back to the community and hope that I can be a role model as a healthy cancer survivor. I will let you know how it goes in my next newsletter.
Other personal news includes our beloved fir-kid Bella turning 2 in April. We enjoyed the 2nd annual Bella birthday walk through High Park with many of her fellow dog friends! Also looking forward to a visit mid June from my Mother, Brenda, who many of you know well.
Things are quite busy still in the real estate market. (I heard that April sales were down from last year, but last year's figures were the third-highest in Toronto history...
How are you liking my professional "new look"? The inukshuk has always been special to me. 2003 marks 10 years for me as a realtor, and I am celebrating! Ready to take on the next 10! One of my incredibly talented clients Lori Steele, designed the look in collaboration with me and her copywriter Kim. I am thrilled to share it with you.
On the mortgage front – this past week Toronto has experienced another historical low – 45 years! Just when things looked like they were inching up?! The long term rates have decreased, but the prime rate has stayed the same. If you were ever thinking of getting into the market, now is the time to get pre-approved. Call me, and I can get you set up with a 3 or 4 month locked in rate. It is definitely a good time for all of you with mortgages out there to refinance or lock in.
Lastly I want to wish all of you fathers, grandfathers & father figures all the best on your special day June 15.
HAPPY FATHER'S DAY!
---
How to have an enjoyable summer holiday
Summer holidays are just around the corner! They are great times for everyone, but they can also stress and stretch your nerves. Whether you're taking an exotic vacation or just enjoying the rays from your own backyard, follow some of these suggestions to enjoy the season to the fullest:
Prepare for your trip in advance. Before hopping on that plane and leaving it all behind you, have you taken care of things at home? Be sure to halt delivery of newspapers which can pile up, and if possible have a neighbour collect your mail and flyers. If you don't have a home security system, you can put lights and appliances on a timer, or simply leave soft music playing (good for your plants while you're gone!
Beat the heat. Ahh, the joys of summer! Frosty drinks, barbecueÂ…and searing heat and humidity. Take the experts' advice and wear sunblock with an SPF of at least 15.
While enjoying the great outdoors, we attract most unwelcome pests – mosquitoes. Make sure to get rid of sill water that might attract larvae. Try wearing loose-fitting cotton clothes with long sleeves, do not wear perfume or bright colours, and use an insect repellent on all exposed skin. Remember that sweat and water cause both sunscreen and repellent to wear awayÂ…so keep both on hand for re-applying regularly, especially for the kids.
Easy does it. Don't fill the days with too many activities. If you rush through sightseeing, festivals, theme parks and organized sporting events, you won't really appreciate any of them. Leave some days open for spontaneity or quiet relaxation.
Don't try to be perfect. Cut yourself some slack and set reasonable expectations for yourself. Make simple summer meals, entertain casually without elaborate fussiness, and take an easygoing approach to planning events. The summer is all about paring things down to the bare essentials end enjoying the simplicity and the serenity of this wonderful season.
---
Chit Chat Column
New Babies to Welcome: Baby Boom Continues!!
Congratulations to all...
Leopold Kenneth Berger Hein

Born February 22nd 2003 – to overjoyed 1st time parents Rachel Berger & Greg Hein.

Luke Pitblado

Born March 8th, 2003, to thrilled 1st time parents Heather MacInnis & John Pitblado.

Rachel Eve Rebecca Denny

Born March 31st, 2003 to excited 1st time parents Jennifer Wright & Chris Denny.

Tyler Andreas Ronan Koch

Born April 3rd, 2003 to ecstatic veteran parents Andrea Ronan-Koch & Andreas Koch and big bro Ryan.

Ruby Pearl Robinson Gore

Born May 28th, 2003 to thrilled 1st time parents Pamela Robinson & Chris Gore.
---
The Pros And Cons Of Coffee
We get lots of mixed signals when it comes to one of this country's favorite caffeine drinks, coffee. Here's a quick rundown on the effects of coffee:
Pros
It can increase the effectiveness of painkillers by 40%, according to the U.S. Center for Science and the Public Interest. In your body, caffeine breaks down into theophylline, a compound sometimes prescribed to treat asthma. Coffee intensifies the indicators of a low-blood-sugar coma in diabetics, thereby alerting them to the fact that they may be becoming hypoglycemic. Caffeine has enough of an antidepressant effect to prevent suicide in certain cases.
Cons
While caffeine can make you more alert for a short time, it can also make you slower to use new information. Drinking more than three cups a day can lower a woman's chance of conception by 27%. Too much coffee is also linked to miscarriages and low-birthweight babies. Sure, it keeps you awake (that's why we like it), but long after you've fallen asleep, it can interfere with REM cycles and decrease the quality of sleep.
Here's the skinny on those fancy coffee drinks that are becoming so popular:
Tall latte (with whole milk)

190 calories

Short latte (with whole milk)

133 calories

Tall skinny latte (with skim milk)

96 calories

Short skinny latte (with skim milk)

60 calories

Tall cappuccino (with whole milk)

133 calories

Short cappuccino (with whole milk)

72 calories

Tall skinny cappuccino (with skim milk)

70 calories

Short skinny cappuccino (with skim milk)

40 calories

Espresso

0 calories
---
How To Save Money Easily
Here are a few quick ways to save some cash quickly — and not think about it too much:
Empty your pockets. Stash all the loose change from your pocket or purse in a piggy bank. It's likely you'll bank more than a dollar a day.
Use your coupons. Remember to use coupons only for the things you would normally buy. Take the money you saved and stash it away. This could amount to almost $2 a day.
Stash a dollar a wash. Whenever you do a load of laundry, put a dollar in a jar or bank. Use the accumulated money to pay your electric bill and buy laundry detergent. If you're trying to lose weight, charge yourself a dollar every time you eat something you know you shouldn't.
"But it never works for me," you say? Here are some more hints to help you resist the urge to splurge:
Choose a colored jar, coffee can or something you can't see through to put your change in. Then, use screws to screw it to the wall or a shelf. That way, you won't be as tempted to see how much is there until it's too full to fit any more money in. Or buy a bank that locks and stash the key in a safe deposit box or somewhere not easily accessible.
Use a reminder. Put a note at the bottom of the piggy bank to remind yourself what you planned to use the money for. That way, you won't forget and spend the money frivolously.
---
Who Doesn't Want To Be A Millionaire?
With all the TV hoopla about money, it would seem that Americans have a healthy lust for the almighty dollar. Not so, says a recent survey by the American Association of Retired Persons (AARP).
The survey asked 2,366 people over age 18 about their attitudes on money. Despite what the media culture may indicate, most people will choose values over the value of the dollar.
Other findings: One-third said they didn't want to be wealthy. Four out of five said they feared a sudden windfall of money would make them greedy. 75% worried that having a lot of money would make them insensitive. 40% of women versus 27% of men said they wouldn't want to become wealthy. More than half said a family of four needs an income of only $100,000 to qualify as wealthy (the median family income is $35,000). Three-quarters believe wealth is more a product of hard work than luck.
If they suddenly got a lot of money, survey participants said they would give the money to family and friends, save or invest it, donate to charity or pay off their debts.
---
Curb Your Urge To Splurge
If only you could curb your wants, and thus, curb your spending. If you are like most people, you regard your "wants" as actual "needs." Do you really need that power saw or expensive outfit? Or do you just want it?
Here are ways to squelch that urge to splurge:
Watch less TV. Studies show that spending increases $208 a year for each weekly hour of TV viewing. Young children are exceptionally vulnerable to advertising, and most have no concept as to the actual price or value of an item they want.
Don't shop with richer people. That should go without saying. Keeping up with the Jones when you just can't afford to is plain crazy. If you just can't decline an invitation, leave your checkbook and credit cards at home. Be a scrooge.
Pay attention to every penny, cut coupons, and don't give in to your child's whining or begging. Be picky. Have a specific idea of what you want and get only those items. It cuts back on post-purchase dissonance.
Take a few days to really think about big-ticket items, and give yourself a chance to consider all of the drawbacks of buying that purchase.
Bag the combo. Oh, those enticing super-size fries or the extra amenity that's "thrown in" at a deal. Don't let it fool you. If it wasn't even presented as an option, you never would have thought you needed it.
Life shrinks or expands in proportion to one's courage.
Anais Nin
What They Got
A continuing column of
our recent sales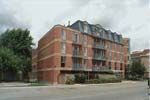 356 McRae Street (C11)
Asking Price $194,900
Sold Price $192,000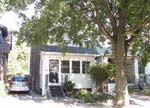 163 Langford
Asking Price $319,000
Sold Price $365,000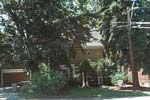 308 Riverside Drive
Asking Price $759,000
Sold Price $740,000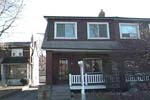 73 Medland Crescent
Asking Price $279,000
Sold Price $273,500
Neighbourhood Corner
EAST YORK
In the first quarter of 2003, sales fell 13 per cent in East York (E-3) to 333 from 384 in the first three months of last year, while prices rose eight per cent to $250,360. Prices for detached homes during this same time came in at $290,051. This is a four er cent increase over last year's $278,125 figure. Condos averaged $150,841, up five per cent from the first quarter of 2002.
How Gullible Are You?
A freshman at a high school won the Greater Idaho Falls Science Fair for his experiment demonstrating people's gullibility. He was attempting to show how conditioned we have become to alarmists practicing junk science and spreading fear of everything in our environment. In his project, the student urged people to sign a petition demanding strict control or total elimination of the chemical "dihydrogen monoxide" for the following good reasons: It can cause excessive sweating and vomiting. It is a major component in acid rain. It can cause severe burns in its gaseous state. Accidental inhalation can kill you. It contributes to erosion. It decreases effectiveness of automobile brakes. It has been found in tumors of terminal cancer patients. He asked 50 people if they supported a ban of the chemical. 43 said yes, six were undecided, and one knew that the chemical was water.