Kinnear's Komments
Volume 12 Issue 4
By Referral Only™
December 2004
---
Julie's Scoop
It's here again…my favourite time of the year… my birthday! (just joking) I mean the holiday season. This is a perfect time to reflect on the events of the past year, to give thanks for our many blessings and share with those less fortunate.
The joys of the Season are many – touching base with old friends & new, entertaining, shopping for loved ones (for unique gift ideas check out my website at www.JulieKinnear.com), sending holiday cards…as long as you don't overwhelm yourself trying to do too much. Over the years I've learned to set aside time for quiet, cherished traditions: baking cookies (yes, I bake, although Mary is the gourmet of the family), enjoying all the carols and decorating the tree.
I know I'm having fun when time flies like it has over the past three months! Thanks to wonderful people like you, my business is truly enjoyable. I find myself working continuously to raise my service to a higher level for client satisfaction through attending workshops and classes, directed to this end. When we work together you will get a chance to tell me how I am doing!
This Fall we greatly enjoyed the changing tree colours up North at Thanksgiving, and were fortunate enough to attend my cousin's wedding in Vancouver over the Hallowe'en weekend. It was a beautiful occasion and great to see family & friends. Nicole got to see her folks in Ft. Washington, Maryland for a traditional American Thanksgiving, complete with the annual mad dash to the mall the morning after! This year Mary & I will be enjoying Christmas in Vancouver with my Mom Brenda & stepfather Jay, and then will quietly see the New Year in at our cottage in Haliburton.
The New Year always brings exciting changes in life – who knows what they may be - but I'm looking forward to it! I wish you a joyous Holiday Season.
Blessed is the season which engages the whole world in a conspiracy of love. - Hamilton Wright Mabi
---
Market Moderates in November for the Season
With 2,976 home sales through the Toronto Real Estate Board's Multiple Listing Service in the first half of November, the market is showing signs of seasonal moderation. So far November sales are down four per cent from the 3,098 sales recorded in first half of November 2003.
"We believe the figures simply reflect a seasonal trend. All of the factors are in place for a strong market to continue, says TREB President Ron Abraham.
"Employment figures are more favourable than one year ago, mortgage rates remain virtually unchanged and immigration is on the rise. We have more new Torontonians, an employment market to sustain them and lending rates that make the dream of home ownership achievable."
Current homeowners can also be encouraged by a six per cent increase in prices as compared to last November. In other highlights, Mr. Abraham noted that average Days on Market came in at 36 days, a brisk pace by historical standards, and that the average list-to-sale price ratio remained at 98 per cent, indicative of a seller's market.
---
News Flash:
Looking for unique gifts this season? Check out Kinnear's Top Ten list of exciting, unforgettable experiences at www.LovelyTorontoHomes.com. You'll be sure to find something to fill every wish list.
---
What They Sold For -
Sold Statistics September 2004
---
Chit Chat Column
Correction – in our last issue we printed that Jennifer Grant had accepted a great new job. Apologies go to Jessica Grant, who is now Field Marketing Manager at Bally Total Fitness.
Happily my partner Mary Palacios has quit smoking for over 6 months – kudos to so many of you who have overcome this addiction with tenacity and determination!
Congratulations to Chris Donaldson who was nominated for a Gemini for Best picture editing during dramatic series Slings & Arrows.
Pamela Robinson has won the Excellence in Education Award for Promotion of Sustainable Practices.
Babies…
Shanin Lott & Will Hutchins

welcomed son Myles Alexander, born in NYC on July 1.

Carolyn Loh & Stephan Waniek

had their first child, daughter Jasmine, in Vienna on July 22.

Erin Atkey & Bruce Tait

brought Phineas a new baby brother, Wyatt Duncan, on November 2.
Wedding bells…
Carolyn Loh & Stephan Waniek

were married on January 1, 2004.

Michael & Edie Jenkins

married in Vancouver on August 7, 2004.

Jen Cornwell & Randy Comish

tied the knot in Muskoka on October 9, 2004.

Jock Ross & Tamara Schorn

married on October 30th in Vancouver.
---
Outdoor Holiday Decor
One of the main reasons this is my favourite time of year - riding through neighbourhoods to look at holiday lights! Display your holiday spirit by decorating your home with lights, garland, ribbon and many other outdoor decor items.
Holiday Safety
Holiday safety is a big concern, even when you are decorating outside. Inside or outside, use only lights that have been tested for safety. Identify these by the label from an independent testing laboratory. For more holiday safety tips visit Home Safety Council.
Planning
Before you begin randomly hanging lights and putting out illuminated sculptures, ask yourself:
What kind of theme will you have?
Do you want to use clear/white lights, multicoloured or single coloured lights?
Sketch your yard on graph paper. Draw which trees will be decorated with lights, where the various scenes will go, etc.
Basic Holiday Decorating Tips
Here are some good practices to use when decorating outside:
Place bright lights near the house and dim lights farther away. This plan will keep dim lights from being lost in the glow of brighter ones.
Wrap roping, garland or lights around banisters and columns in a barber pole fashion. Intertwine lights with non-lighted garland in the same manner.
Secure bows onto garland with florist wire or long ties.
If you illuminate the driveway with lights, make sure there is enough room for vehicle turnaround and navigation. Remember, you'll have guests at your house that are unfamiliar with your driveway. So allow at least 1' of clearance on either side of the driveway to keep lights from being crushed.
Make sure your pet can't get entangled in the decorations.
Perhaps the best Yuletide decoration is being wreathed in smiles.
Unknown
News Flash!!
Every month you can enter Kinnear's Krazy Kontest at juliekinnear.com. Free Movie tickets await you!
Curious George
See a For Sale Sign/Sold you were wondering about? We are happy to let you know about houses in your neighbourhood - feel free to contact Nicole directly at:
What They Got
A continuing column of
our recent sales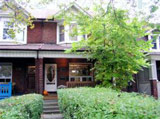 293 Evelyn Avenue –W02 - Bloor West Village
Asking price - $379 000
Sold price - $405 000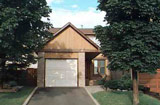 10 Millsborough Crescent -W08 – Centennial Park
Asking price: $299 000
Sold price: $317 000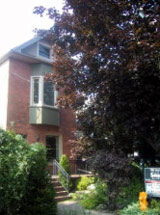 12 Gough –E01 - Riverdale area
Asking price: $639 000
Sold price: $619 000.
Julie's GEMs
(GEMs are Genuine Evidence of Merit)
These are actual testimonials from Julie's clients:
'Julie is reliable, and always there for me. Also, I loved showing the website & feature sheet of my home to friends!'
(Kristi M., March/04)