Kinnear's Komments
Volume 12 Issue 2
By Referral Only™
June 2004
---
Julie's Scoop
By the time you read this, I will be in Tuscany with my partner Mary! We have planned this exciting vacation for a long time, I think the anticipation is half the fun. The first week we will be staying in a little villa near Siena with a pool, bikes and a self contained apartment, so we can shop at the markets and cook our own meals. The next week will be touring Florence, Lucca & Cinque Terre. Thanks to many of you for the input. I hope each of you plans to take some quality time off this summer with your loved ones. Here's to hoping the weather improves this summer. Can't live with the heat or without it!
In other news, we are doing some home improvements outside mostly. We are having new landscaping done to the walkways, and are fixing up the decks & gardens etc. Hopefully, with the expert help of my friends and clients (landscaper extraordinaire), I will be able to identify the plants (and weeds) and after all is done, our garden should look really special.
Also in keeping with our philosophy of a maintaining a balanced life Mary and I have purchased a cottage in Haliburton. It is on a lake, with a wraparound deck for entertaining, and is 4 season to enjoy the cooler months for family get togethers. Of course, we will need to renovate over time (the previous owners were big fans of wood panelling!).
The busy pace of the housing market has not slowed down at all and reflects among my own clients as there is a bumper crop of closings this month. This of course means lots of excitement for many clients who will be moving and settling into their new homes.
We are feeling extremely grateful for our blessed lives and wonderful friends and family. Wishing you a happy healthy summer. Keep in touch!
New All-Time Record for Sales in April
Spring has been an exciting time both at TREB and in the marketplace. Congratulations on setting a new all-time record for sales in April. A total of 9,168 properties changed hands through Toronto MLS last month.
"The monthly sales total is up 25 per cent from the 7,307 recorded last April, and up 12 per cent from the 8,181 sales recorded in April of 2002, which was our best ever April. It is also up one per cent over last month's previous all-time record of 9,076 sales. The good news just goes on and on," reported TREB President Cynthia Lai.
The good news for buyers is that "Though an increased number of homes on the market should mitigate price increases, to an extent, demand continues to outweigh supply. In addition, there are certain types of houses that remain relatively affordable. For example, prices of condominium apartments have increased only about four per cent over this time last year, whereas the market as a whole has increased about twice that much."
---
Chit Chat Column
Babies…
Chris Jones & Christine Williams

welcomed their first born - Sebastien – in Boston on February 29, 2004. They look forward to moving back home to Toronto this summer.

Carolyn Smith & Mark Hyland

are overjoyed at the birth of their daughter Alexandra Gibson, on April 29, 2004.

Lori & Andy Frank

are proud parents of baby #3, Charles Andrew Isaac born February 17,2004 in Ottawa – older siblings Olivia & Nicholas are thrilled.

Joanne & Hugh Wallace and big brother Tye

are delighted to announce the birth of Reese Melanie, born December 20, 2004.
Wedding bells…
Ritu Sethi & Richard Reiner

lived out their dream of an island wedding – April 8th in Hawaii.

Carrie Ginn & Bruce Davidson

were married in the Mayan Riviera in Mexico May 17th.!

Sue Bartleman & Kevin Brown

wed on May 15th, 2004.

Sean Hurley and Melanie Plewes

wed on May 29th, 2004.

---

In 2004, summer begins June 20

Are you ready for the "dog days" - the most sultry period of summer, from about July3 to August 11?

Air conditioning keeps us all cool indoors, but what's the best way to ensure yours is operating at maximum efficiency?

The single best thing you can do to lower your utility bill is to maintain or replace the air conditioner's filter at least once a month. A clean filter keeps your energy use under control and also reduces mechanical problems and breakdowns. Dirty filters suffocate air conditioners, causing frozen coils, overheated motors, compressor failures, water leaks, longer running times, increased electrical consumption, poor airflow and diminished cooling.

Contrary to poplar belief, turning off the A/C when leaving the house is actually counter-productive as an energy saving move, because if the inside temperature climbs above 80 degrees, the unit may not be able to catch up. A better idea is to turn the thermostat up 2-4 degrees when leaving the house and then restoring it to the usual temperature when returning.

Get outside! Don't let the heat and boredom get to you. I love activities that involve the water. Here are some safety tips to ensure you stay cool:

Swimming: Obey all rules and posted signs at the pool or lake. Make sure children are wearing an age-appropriate personal flotation device. Don't leave younger children unsupervised around the water even if they know how to swim well. Don't allow rough play near the water. And consider learning CPR for waterside emergencies.

Water Hygiene: To help prevent recreational water illnesses like rashes & diarrhoea, which occur even in chlorinated water, teach your children not to swallow the pool water and don't let them swim if they are ill. Take frequent washroom breaks & check diapers because by the time you hear 'I have to go' it may be too late!

Drinking Water: Your body is about two-thirds water, so when you're out in the sun, avoid alcohol and caffeine and take frequent water breaks. Also watch for signs of dehydration such as dizziness, headache and nausea.

The Backyard Pool: Completely fence the pool, positioning latches outside the reach of young children. Never use a pool with its cover partially in place – remove it entirely. Keep toys away from the pool area so young children playing with them don't fall in. Put outdoor furniture away from the pool fence so children can't climb their way in. Remove steps to above-ground pools when not in use. And finally, keep a phone by the pool so you don't have to run inside to answer it, leaving children unattended.
If we take care of the moments, the years will take care of themselves.
Maria Edgeworth
News Flash!!
Every month enter Kinnear's Krazy Kontest at juliekinnear.com Free Movie tickets await you!
Did you know...
The Donald's proposed 68-storey hotel and condominium tower, which upon completion would be Canada's tallest building, contains some of the most expensive housing in Canada. Some units are priced at a cool $14 million!
Curious George
See a For Sale Sign you were wondering about? We are happy to let you know about a house that is for sale in your neighbourhood – feel free to contact Nicole directly at:
What They Got
A continuing column of
our recent sales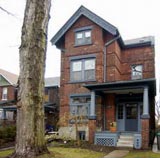 152 Macdonell
Roncesvalles area
Asking price: $489 000
Sold price: $552 000
6 & 8 Balmy Avenue
The Beaches
Asking price: $969,900
Sold: $935,000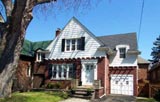 233 Grenview Boulevard
South Sunnylea
Asking price: $599 000
Sold price: $652 000
Neighbourhood Corner
Beaches and Riverdale
The Beaches (E-2) and Riverdale (E-1) remained hot sub-markets in the first quarter of 2004. The former saw 218 sales over the first three months of the year and an average price of $399,151, up 11 per cent over the same time period in 2003. The latter saw 193 sales for an average of $322,437, a 12 per cent increase over January to March of last year.
Hassle Free Help!
Get information on any property for sale/sold. Call me at 416 762 5949 for the information you want – and I'll track it down, Hassle Free!