Kinnear's Komments
Volume 12 Issue 1
By Referral Only™
March 2004
---
Julie's Scoop
Spring has sprung or has it?
Toronto temperatures hit a record 18 degrees on March 5, and then we had a snowstorm 2 days later. Who knows whats next? Am I the only one who wants more snow before the warm weathers here to stay?? I love snow.
I am happy to report that things are incredibly busy around here the market is crazy! This is always a hot time in real estate and this year is no different. Lots of late nights and early mornings, good thing I love what I do.
Privileged to attend some fundraisers recently a Caledon ski trip for Big Brothers & Big Sisters, on a wonderful, sunny day, and also the Canadian Opera Company wine auction. Its so cool when great causes combine with great fun!
On a personal note, Bella is kicking up her heels in the mud, and the cats (a brother and sister playful Cornish Rexes with big ears and slim woolly bodies, that I adopted at Christmas when they were 6 months old) are loving the sunshine. I'm planning a business trip to Daytona Beach, where they laugh at what we consider warm weather! Im taking my client care coordinator Nicole on the trip for her first anniversary of working together, so we can both learn great new ideas about how improve our service to you, your family and friends.
My name is in the papers again all this attention makes me blush! as I've once again won the Directors Platinum Award and the Award of Excellence at Royal LePage.
---
Forecast: 2004 off to Good Start with Over 4 000 Sales
February 5, 2004 - With 4256 sales reported in the first month of the year, 2004 is off to a positive start, TREB President Cynthia Lai reported today. Prices rebounded in January over the close of 2003, rising 4% to an average of $295 989 over December's figure of $284, 955. "The upcoming year will see moderate price increases,"; Ms. Lai predicted, "but these should not be much more than the rate of inflation."
Toronto's 28 West districts were the hottest, with 1 629 sales reported. Homes in the 14 Central districts were the priciest, averaging $376 586.
---
News Flash:
Season two of 'Buy Me' is gearing up for production in Toronto, and they have again approached me to participate! The show, which originally aired on HGTV and now can be seen on the Life Network Sundays at 10:30 a.m., focuses on the selling process of an individual home from renovations to prospective buyers. If you are selling your home & aren't camera-shy, let me know!
---
Chit Chat Column
Ken Blakeley

is the proud new owner of a successful Williams Coffee Pub in Barrie. Please drop by for a cuppa joe, just off Molson Park Drive West, turn left at the second lights.

Antonia & Dan Williams

are expecting baby number 2, a boy!! Due any day now!!

Alan Hodgson

is the thrilled father of Olivia Grace - Born December 2nd 2003, at 8 pounds 9 ounces.

Curtis Skinner will marry Maria Maida

on March 20th - they'll be wed by the time you receive this.
---
Around the house
Gutters must be sloped properly to drain. Downspouts must be frequent enough (every 35 feet) to prevent overflow. Look at where downspouts discharge. If they go into the ground, the below-ground portion of the drain may be broken or plugged. It is better to have them discharge onto the lawn. Make sure the downspouts extend at least six feet from your home. Place them where they won't get tripped over and where they won't create sheets of ice in the winter.
---
Tame Your Clutter!
Spring is the time for cleaning up your mess and getting rid of clutter and junk in the house. If you're a pack rat, not ready to part with things just yet or if your junk drawer has taken over your entire basement, here are some tips for you:
Take everything out of your closets and build them back up - this forces you to assess the worthiness of every single item. Your frequently used items should be most accessible.
Make 3 piles: Keep It, Toss It, and Charity. If you are really stuck, put the item in a Maybe pile and decide on it when youve sorted everything else.
Be honest: do you really need those pants you loved 5 years ago but havent been able to fit into this millennium?
Inexpensive stackable shelving, closet organizers, wardrobe/storage totes and multi-tiered shoe racks can really help get your things in order and manage floor space.
For bigger and outdoor junk, consider a junk removal service, which will cart away the wreckage now that you've cleaned everything out. These services take care of things like old lumber & construction leftovers, garden refuse, unwanted furniture and appliances (consider Goodwill or other charities if still good), basement junk like old tools & tires, even drywall and sod.
Out with the old, and in with the new! You now have the perfect excuse to go shopping!
They always say time changes things, but you actually have to change them yourself.
Andy Warhol (1928 - 1987)
What They Got
A continuing column of
our recent sales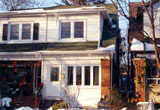 108 Chelsea Avenue
High Park area
Asking price: $309 000
Sold price: $325 500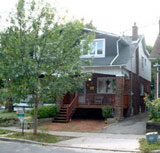 35 Hillsdale Avenue West
North Toronto (Yonge & Eglinton)
Asking price: $399 000
Sold: $387 000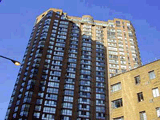 44 St. Joseph #2701
Downtown area
Asking price: $189 900
Sold price: $185 000
Neighbourhood Corner
City of Toronto
In 2003, The City of Toronto (E-1 to E-11, W-1 to W-10, C-1 to C-15) recorded 32,528 sales of single family dwellings for an average price of $318,029. Sales were up 2 per cent over the 31,821 recorded in the city last year, and prices increased nine per cent.
I rely on your referrals for my business to flourish. I currently have 2 open spaces for clients right now, so please tell your friends and colleagues who are looking to buy or sell a home, to get in touch with me right away!
Julie's GEMs (GEMs are Genuine Evidence of Merit)
These are actual testimonials from Julie's clients: "You made the process smooth and enjoyable which was huge when you are stressing out about all the things you have to do. Your follow up was again outstanding with touches that we really appreciatedÂ…" (Jen Cornwell, January 7/2004)