Kinnear's Komments
Volume 13 Issue 2
By Referral Only™
June 2005
---
Julie's Scoop
The long-awaited warmer weather has finally arrived yeah! Don't you just love the extended long light evenings, and eating dinner outdoors. We are very much enjoying the cottage still, although the bug nets and such are new for us!
As you know, the market has remained strong all spring, and to match that strength, last month my team of KJ, Nicole and I went to Atlanta Georgia for The Main Event, an exciting real estate training course continuing on with the By Referral Only™ theme, developing systems to take better care of you, the clients, and helping to make your dreams come true. As it was KJ's first Main Event, he learned so much and is enjoying applying it, meanwhile in Atlanta Nicole visited her family from the Deep South!
There is much great chit chat to share, so check it out. On another note, I have become much more aware of the kidney transplant program, and the dialysis program. A close friend of Mary's & mine is going through it. We each visited her during her training at the clinic at the hospital, to understand the procedure first hand. How amazingly brave so many individuals are having to go through this massive treatment every other day – taking up to 10 hours per day between the nocturnal dialysis & the set up & clean up. Modern medicine is extraordinary. It is a reminder lesson that I learned during my own illness - so many people are going through such difficult experiences, but you would never know from looking at them, or working with them, or spending time with them. Another reminder to everyone is to sign your organ donor cards please and share your wishes with your nearest family and friends.
---
Chit Chat
Kate Jamieson & Fraser Bertram

both received their MBAs in March after 4 challenging years combining studies, full time work, getting married and having their first child!

Jennifer Lane

graduates from her internship in Dietetics at Sunnybrook Hospital at the end of June and will now be able to begin her practice as a Registered Dietician.

Sean Hurley & Melanie Plewes

made one of their dreams come true after buying their home in High Park last year when they adopted Daisy a lab/shepherd/collie mix in April.

Alix Berg

graduated from U of T. law, which is the culmination of 10 straight years of post secondary education! It was 3 years ago she moved here with her partner Doug & bought her first condo with Julie.

Heather MacEachern & Chris Monette

shared with us their excitement of getting some reno's done in their home in Davisville Village - they loved their carpenter as well, so if you'd like the referral of Graham, let us know…
---
Babies...
Janet Rodger & Pudge Ride –

are ecstatic about Madison, born March 10, 2005 Katie Fisher & Chris Rollins are overjoyed with Sarah, their 2nd daughter born March 15th, 2005, so is big sister Claire.

Trevor & Bree St. Arnault –

have another lovely daughter Brooklyn Danielle, born March 29, 2005, favourite new sister for Mackenzie. Alex & Alan Hodgson and big sister Olivia welcomed Sophie Eve April 20th, 2005.

Joe & Laura Norris

are ecstatic about their first child Sinead Daisy, born April 30, 2005

Jen Wright & Chris Denny

are thrilled to announce the arrival of Catherine Ellen Adelaide, born in Adelaide Australia on June 2nd, 2005 – little sister to Rachel. J

en & Bill Vlaad

welcomed their second son, Dylan Ross born June 8th 2005, baby brother to Liam.
---
Wedding bells...
Chris Galberg & Marianne Georgiou

got married in the heat on June 11th! Sincere congratulations.
---
A New Addition
from The CMHC
They say Toronto has just two seasons: winter and construction. As you think about a new addition – an expanded kitchen, new bath or changing your home into just what it takes to accommodate your needs – here are some things to keep in mind:
As with any renovation, the construction of an addition requires careful planning. Before you decide to go ahead with the project, it is important to clearly identify the features you want. Just as important is a thorough inspection of the current structure so that any existing problems can be corrected.
As you plan your addition, here are some important things to consider:
Size and design —

Before deciding on a new addition, evaluate whether rearranging the existing space might give you the changes you want. It is important to determine what size the addition needs to be and how it will integrate with the rest of the house. Homeowners often underestimate how much space that items like stairways require. The addition will be more appealing if the style complements the design and architectural details of your house and neighbourhood.

Fixtures —

Since the addition is essentially new construction, new fixtures may be required.

Structural problems —

The addition will often involve structural changes to the existing house, which may involve foundation considerations, roof details or the construction of openings in the existing building. As part of the work, any problems found in the existing building and foundation will have to be repaired.

Moisture —

The cause of any moisture problems in the existing house will need to be diagnosed and remedied as part of the renovation work. Existing problems can affect new areas of the building.

Plumbing and electrical —?

The increased plumbing and electrical needs may exceed your existing services, requiring significant upgrades. Remember to run cables for telephone and computer connections, cable TV and security or home entertainment systems.

Heating and ventilation —

Existing heating and ventilation systems may not have adequate capacity to handle the increased demand.

Finishes —

Always pick finishes that match or complement existing finishes and are durable enough to take the wear and tear of daily use.

Zoning and regulations —

New work will have to comply with provincial building codes as well as local bylaws and zoning requirements.
The true meaning of life is to plant trees, under whose shade you do not expect to sit.
Nelson Henderson
News Flash!!
CMHC has lowered mortgage loan insurance premiums for the second time in two years!! Canadians buying a home with a down payment of less than 10% can benefit from a reduction in mortgage insurance premiums. Visit www.cmhc-schl.gc.ca for details.
Curious George
See a For Sale Sign/Sold you were wondering about? We are happy to let you know about houses in your neighbourhood - feel free to contact Nicole directly at:
What They Got
A continuing column of
our recent sales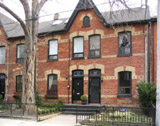 E01 - Riverdale Area
Asking price - $369,900
Sold price - $412,399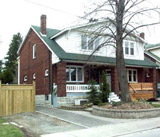 477 Millwood Road C10 – Davisville Village
Asking price: $489,000
Sold price: $558,000
Neighbourhood Corner
Cabbagetown
This year the majority of re-sales in Cabbagetown have been semi-detached houses, condominium apartments, and attached row-houses. Semis have averaged $541,997, up 15 per cent over last year. Condo apartments have averaged $222,335 in 2005, down three percent from the $229,853 recorded during January to April of 2004. Finally, attached row-houses averaged $507,325, up six per cent over the same time period in 2004.
Julie's GEMs
GEMs are Genuine Evidence of Merit - These are actual testimonials from Julie's clients:
"You always kept our needs first & foremost in your mind. You never, ever tried to sell us on anything. You informed us to make our own decision."
Meredith & Chris, March/05