Kinnear's Komments
Volume 13 Issue 1
By Referral Only
March 2005
---
Julie's Scoop
Despite the cold slushy snowy weather, and the houses definitely not showing their best, we are in the middle of the hot real estate market season! As I'm sure you're aware, the year has started off very well. There is a great sense of confidence in both the residential house & condo market. Interest rates continue to stay low.
Last month marked a huge milestone in my career. I have been planning and searching and waiting for the most opportune moment to hire a fellow realtor to work with me on a full time basis. Please help me in welcoming K.J. Duck into the fold. K.J. brings a wealth of renovating experience, as well as selling real estate to the team.

JK Team Realtor KJ Duck
K.J. has been with Royal LePage for a couple of years, loves homes and knows absolutely everyone! While he will continue both buying and selling homes for all of our clients, it seemed a natural to have him join me as a Buyer Specialist given his experience in renovations. K.J. was born & raised in Toronto, and grew up in Bennington Heights. He now resides in his newly renovated house in Riverdale with his wife Tory & 7 month old daughter Cassidy. He's a great asset to the team and will help us deliver the world-class service that you have come to expect. With two of us, there will always be someone available for showings, offers, inquiries to ensure that all that all of our clients will continue to receive the most trustworthy, and referable service.
Speaking of referrals & clients - I recently attended the annual Royal LePage awards gala, having received the Director's Platinum (top 5%) & Award of Excellence once again. March break is fast approaching for many of you, we hope you have lovely holidays, and a peaceful Easter.
PS - don't forget to enter the Krazy Kontest on the website - incredible catered dinner for 6 is up for grabs on March 15th!!
---
Market Picks up Speed
The Toronto real estate market picked up speed in February, with almost 300 homes changing hands per business day. Toronto Real Estate Board Members reported a robust 6,171 sales, a two per cent improvement over 2004's 6,060 figure, and down only moderately from the record of 6,866 sales set in February of 2002. "It's also up 65 per cent over the first few weeks of January, which is a normal reflection of the market as we approach the spring months." Areas that have experienced a particularly dramatic surge of activity include Davisville and York Millsand many parts of central Toronto have seen considerable activity.
Prices continued to edge higher in the first part of February, reaching $332,057, a seven per cent increase over the end of February 2004. "Price increases are healthy but not excessive," the President commented. "This benefits potential sellers, but does not drive first-time buyers out of the market."
---
Chit Chat Column
Ayumi Iizuka

is producing a fundraiser for the new Kismutt Small Dog Rescue, an organization that finds homes for small dogs in danger of being put to sleep. The fundraiser 'Raising the Woof', held March 25, promises to be a fabulous evening of comedy with an award-winning lineup. For details and tickets visit www.secondcity.com or call the box office at 416 343 0011.
Babies
Helen Hawketts & Dave Ullrich

are ecstatic about their first child, Ruby Lillian born November 29th, 2004.

Helen Bucknell & Craig Machel and big brother Sam

welcome Ruby Arndell born December 19th, 2004.

Rachel & Greg Hein

welcomed Leo's little brother Alexander Sasha Berger, born January 13th, 2005.

Ritu Sethi & Richard Reiner

- are thrilled with their first born Jake Thomas Sethi, born January 18th, 2005.

Tim & Sue Milller

- happily introduce Amy Wyn, little sister to David, on January 21st, 2005.

Simon Giggs & Hanne Jakobsen-Giggs

brought Kristoffer Thomas a new baby brother, Oskar on January 30th, 2005.
Pets Passed
My aunt Maureen Bellinger

recently said goodbye to her best friend & real estate partner - her dog Turk after 17 years together.
Wedding bells
Suzanne Porter & Katherine Pollock

were married on December 29. 2004.
Spring Cleaning Shortcuts
from The Ladies' Home Journal
We know, we know, you have better things to do than clean! Implementing some simple steps to keep your lovely home neat & organized will ensure that while others pull on the rubber gloves for a major spring overhaul, you will have time to get ready for Spring in a different way - say, putting away the parkas and buying some new duds!
Kitchen: Keep a spray bottle with a solution of 1 part bleach to 4 parts water, or an all-purpose spray cleaner, in the kitchen for sweeping after meals.
Bathroom: Stash a spray bottle with all-in-one window and surface cleaner and an extra roll of paper towels under each sink for surface cleanups.
Hall closet: Install storage bins with separate drawers for gloves, hats, and scarves.
Stock up on stackable see-through plastic containers to store light bulbs, batteries, and emergency candles.
Laundry room: Hang the iron and ironing board on a wall caddy. Keep all laundry supplies together in a basket.
Cleaning central: Store all cleaning implements and products in one place for easy retrieval. A closet works fine, but if you have a laundry room or laundry corner, the space is ideal. Wherever you store cleaning supplies, keep them out of the reach of small children, even if you have only an occasional young visitor.
Post daily, weekly, and monthly chores on a small bulletin board in the cleaning center.
To make your cleaning center efficient, buy a wall rack to hang brooms, mops, and dustpans in one place. Use baskets, bins, and caddies to store products and supplies.
Strategy: Instead of spending an entire day or weekend cleaning, clean half the house, or one story of a two-story, on one day or afternoon; clean the other half or other story on another afternoon.
Reserve a block of time for the attic, basement, or garage.
When all else fails, bring in a pro: Some household projects are worth the exchange of money for time because professionals have the expertise and equipment to do the job efficiently.
Consider hiring a professional window cleaner once a year, especially if you have a two-story house or storm windows. Hire a gutter- and/or roof-cleaning service in late fall.
---
An optimist is the human personification of spring.
Susan J. Bissonette
News Flash!!
Every month enter Kinnear's Krazy Kontest at juliekinnear.com Free Movie tickets await you!
Curious George
See a For Sale Sign/Sold you were wondering about? We are happy to let you know about houses in your neighbourhood - feel free to contact Nicole directly at:
What They Got
A continuing column of
our recent sales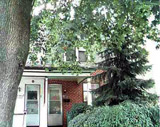 334 Pape Avenue -E01 - Pape Village
Asking price - $279,900
Sold price - $285,399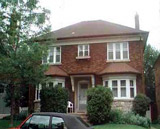 23 Kennedy Park Rd -W02 - High Park area
Asking price: $599,000
Sold price: $550,000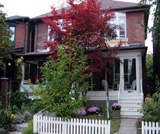 92 Olive Avenue - C02- Seaton Village
Asking price: $399,000
Sold price: $243,000.