Kinnear's Komments
Volume 13 Issue 3
By Referral Only™
September 2005
---
Julie's Scoop
We are back in action after a relaxing summer! While Mary and I went to the cottage to enjoy the beautiful August weather, KJ and Nicole stayed in Toronto and took advantage of the heat and slower pace. Our cottage "Crooked Creek" is looking better than ever after completing projects and of course lots of boating/outdoorsy stuff and visiting with friends and family. It was a great time to recharge our batteries. Healthwise I am feeling terrific and thrilled to be celebrating my 5 years in remission this fall. We are all counting our blessings after the devastation from Hurricane Katrina. It continues to put everything in perspective.
KJ's Scoop included celebrating his daughter Cassidy's first birthday on July 23rd, with lots of fun at the party for her and her wee friends. Since KJ loves the water, he learned something cool called lake surfing, where you are towed on a surfboard behind a wake boat, and then you let go of the rope and surf the wave...fun, as long as you stay in the wave. Nicole stayed in town and checked out her favourite summer mainstays from east to west, like the Taste of the Danforth, Taste of the Kingsway, and of course, the CNE.

Cheers, J.
---
Chit Chat
Attention any potential or experienced parents! In keeping with our desire to support our entrepreneurial clients - Amy Halpenny is the proud founder of The Ella Centre for Pregnancy & Parenting. Located in a beautiful space in Leaside, Ella Centre offers 360 degrees of pregnancy and parenting services, all under one roof! Prenatal/parenting education, fitness, prenatal/postpartum support, wellness services, parenting groups, parent/tot programs, on-site childcare, plus funky & functional baby items. New toddler-age & family weekend programs will be added this Fall! Check it out!
---
Babies
Jennifer Wright & Chris Denny and big sister Rachel

are thrilled with new daughter Catherine Ellen Adelaide - born in Australia, June 2nd

Jennifer Chan and Michael Garrity

lovingly welcome their first child Dylan David on August 5th.

Maria & Curtis Skinner

are happy new parents with the arrival Natalie Rose on June 5th
---
Wedding bells...
Anna Nachbar & Gary Vossen

were married on July 1, 2005 in Vancouver BC.

Erin Kuttner & John Zubac

were married on August 13 on the Cabot Trail!

Lorna Cuthbert & Heather Giffen

were married on September 10 in Toronto.
---
Home Inspection for Beginners
from Boulevard Inspections
This article won't turn you into a home inspector, but should give you a good idea of what certain structural issues in your home really mean.
Uneven floors are typical, particularly in older homes. Here is a trick to help distinguish between a typical home with character and a structural problem: If the floor sags to the middle of the home, it's probably just a charming old home. On the other hand, if the floor slopes towards an outside wall, there is a good chance that the house may have a significant structural problem.
Leaning House of Pisa -

While no house is perfect, this is one area where you should be very careful. Take a look at the house from across the street. If the house appears to be leaning one way or the other, your home may have a structural problem. It may help to line up a front corner of the house with the back corner of an adjacent house just for reference. The corners should be parallel. Stepping back from the house to take a look is always a good idea. It is easy to miss something major by standing too close to it! If there is a lean that is detectable by eye, don't take any chances, get it checked out.

Shrinkage Cracks in a new house -

Most new foundations will develop small vertical cracks. These cracks are a result of the concrete shrinking as it cures. These cracks are about 1 /8 inch wide or less.

They don't affect the structure. The only concern is leakage. If you see small cracks in a new foundation, don't panic. In fact, in a new home, some builders will pre-crack the foundation and fill the crack with flexible material.

Plaster Cracks -

Few things are more misunderstood than plaster cracks on the inside of the house.

The following crack types are not generally related to structural movement:

a small crack (less than 1 /4 inch) that follows the corner of the room where two walls meet

small cracks that extend up from the upper corner of a door opening

The following cracks may be related to structural movement -

large cracks (larger than 1 /4 inch in width)

cracks that run diagonally across the wall

cracks on the interior finish that are in the same vicinity as cracks on the exterior of the house.
---
Seal the Cold Air Out
from About.com
Are your doors and windows leaking air in the winter, wasting energy and money? Poorly fitted doors or windows can allow a lot of heat to escape your home. The best solution to winter heat escaping through your windows and doors is to install storm doors and storm windows. These devices not only seal tightly around the edges, but also prevent heat loss through the window pane itself -- or in the case of doors, through any window in the door or the door material.
Another option is weatherstripping. Before you buy and install weatherstripping around your doors or windows, you'll want to consider expense, durability, ease of installation, and long term effects.
Self-Adhesive Foam Weatherstripping

Self-adhesive foam weatherstripping is the easiest to install and usually the cheapest weatherstripping available, but it's nearly useless on doors and useful on windows only if you're not going to be using them at all during the season.

Rolled Vinyl or Felt Weatherstripping

Rolled vinyl or felt weatherstripping is a little more challenging to install, about as effective, and a bit more expensive than self-adhesive foam strips, but it is more durable.

Spring Metal Weatherstripping

Spring metal weatherstripping is more expensive and more difficult to install than self-adhesive foam or rolled vinyl or felt weatherstripping, but is more durable and less visible. It is good for doors and casement windows.

Interlocking Metal Strips

Interlocking metal strips provide excellent weatherstripping but are difficult to install because you have to precisely match the two strips. Interlocking metal strips are especially good on the top of a door, and can be used on doors or casement windows.

Adjustable Threshold

An adjustable threshold, a pillowy tube on the threshold where the door stops, is often the best for the bottom of the door. These are very durable and not too difficult to install.

Door Sweeps

Almost as good as the adjustable threshold are door sweeps, which cover the gap between the door and the threshold rather than filling the gap. For the bottom of the door, look for the kind that drop down when the door is completely closed and that raise up when the door is being operated, to clear the carpet or door mat.
Hope is simply a choice to take action.
Anna Lappe
News Flash!!
Ontario Realtors made a significant contribution in support of victims of Hurricane Katrina with a donation of $100,000 U.S. to provide housing aid to those who need it most. YOU can donate to victims of this enormous natural disaster at www.redcross.ca.
Curious George
See a For Sale Sign/Sold you were wondering about? We are happy to let you know about houses in your neighbourhood - feel free to contact Nicole directly at:
What They Got
A continuing column of
our recent sales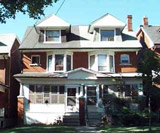 38 Kenneth Ave
W02 - High Park/Bloor West Village
Asking price - $359,900
Sold price - $400,000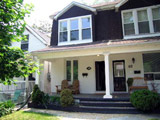 38 Hastings Ave
E01 - Leslieville
Asking price: $259,900
Sold price: $318,500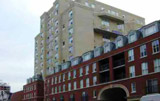 139 Merton
C10 - Davisville Village
Asking price: -
Sold price: -
Neighbourhood Corner
Etobicoke
In Etobicoke (districts W-6 to W-10), 2,379 sales were recorded in the first six months of 2005, down two per cent from the 2,423 recorded during in the same time frame last year. The average price rose to $357,070, a seven per cent increase over 2004. Of these sales, 1,269 were detached homes, which averaged $457,673, a six per cent increase over the $430,145 recorded during the same time in 2004.