Kinnear's Komments
Volume 14, Issue 4
October 06
---
Julie's Scoop
Fall is one of my favourite times - the leaves changing, time to splurge on new clothes, the Leafs are back, it's the start of the new TV season, and a very busy time for real estate as well. For our Team, this Fall is particularly exciting, as we are in a stage of growth and are thrilled to welcome our newest addition to the Julie Kinnear Team, Jennifer Palacios. Jen brings amazing communication skills and sales experience to the team, and is a longtime personal friend of mine starting from our days as counsellors at Camps Oconto and Oochigeas. Jen is loving her role as a Buyer Specialist. To read more about Jen, please visit www.lovelytorontohomes.com I recently attended a seminar in Austin Texas to help our Team rise to the challenges and changes of real estate. In the rigorous curriculum, of particular interest was the concept of counter-balance - the idea that the balance we are all searching for in our lives may be elusive, it is important to not let the key areas of our lives be ignored or put on the bottom of the list every time. So if you haven't been exercising regularly over the summer, now is the time to balance that out! My favourite is brisk walking with the dogs or cycling through High Park.
Kathleen returns to the office after an intense three + weeks working at the Toronto International Film Festival. Feel free to call and ask for her celebrity scoop + KJ and Tori are expecting their second child in the New Year, and Nicole is working hard on getting her book published. Mary and I are also excited about tying the knot in September 07.
As this is Thanksgiving month, let me take this opportunity to thank you - for your heartfelt endorsements and the referrals that make our business so satisfying! There is so much to be grateful for. Hope you find your own gratitude list this Fall.
Cheers, J.
---
Chit Chat
Patrick Kielty and Silvia Nadazdyova were wed on August 26, 2006 and enjoyed a fantastic honeymoon in Ireland last month!
Tamara Kolber will marry Nick Lagopoulos on October 7, 2006!
Janine Stephens and Mike Pickersgill have gotten engaged!
Ayumi Iizuka appears in the hit major motion picture "Hollywoodland" alongside Ben Affleck, Adrian Brody and Bob Hoskins. She plays Hoskins' mistress - be sure to check it out in theatres everywhere!
Carolyn Acker was recently recognized as one of the 32 most inspiring Canadian women of Italian heritage - and her story is in a new book. Her Pathways to Education program is making incredible strides. www.pathwaystoeducation.ca
Tiff Daniels is enjoying living in North Vancouver, BC and looking forward to a great ski season. On the business front he's travelling a lot and loving his Corporate Solutions role with Canadian Outback Adventures as they expand their teambuilding activities to Ontario, Quebec and the USA. www.canadianoutback.com
After selling her lovely Toronto home with our Team, Kellee Irwin moved to Vancouver for her exciting new role as Vice President, Underwriting at ICBC - and then bought her new house from Julie?s mom in Van!
Connie Eggins is taking the training to become a co-active life coach. The purpose of the coaching is to guide clients to the answers that are within them; answers that will lead to a more fulfilling life and allow you to experience more of whatever it is you want in your life - joy, money, satisfaction, challenge, accomplishment. As part of this training, she works with real clients to deepen her learning. If anyone is curious about what coaching is, or would like to have a sample coaching session, they can call Connie at 905 584-4780 (the coaching is done by phone, so geography is not an issue. Her bottom line is - clients wanted, commitment required, results guaranteed!
After 6 years of investment banking and 2 years of corporate development, Bill Vlaad is launching into the referral business of executive recruiting. As a managing director at Thorek/Scott and partners, he will focus on financial services, lending itself well to his networks in the industry. Bill is looking for good people who want a new lease on their career - please contact him @ ' + '') /*]]>*/
Brian Finlayson recently went to Peru for 2 weeks and visited the Amazon basin which was amazing. He was fortunate enough to see 100 different types of birds, including macaws and toucans, 6 different types of monkeys, a tapir at night, a tarantula and other lovely spiders and cockroaches!
---
Babies...
Matthew Biswas & his wife welcomed his second son, Cameron, on February 12, 2006. Sister Portia & brother Mason think he is great.
Erin Kuttner & John Zubac welcomed their first child, Jack Andreas, on July 7, 2006.
Jeremy & Andrea MacPherson welcomed their daughter Chloe into the world on July 13, 2006.
William & Krista Barron and big sister Olivia welcomed Evann Chase Xavier on August 2, 2006.
Maija Zeibots and Andrew Judelson welcomed son Wilder Goodwin on August 13, 2006.
Nisha Ondhia and Giri Logsetty welcomed their first child, daughter Meera, on August 13, 2006.
Neeta Logsetty & Joey Ryan welcomed their first son into their new home on August 22, 2006. Proud parents are enjoying Kiran Joseph immensely.
Trent & Jenna Thompson welcomed their first daughter, Gillian Christine, on August 23, 2006.
Derek & Emelene Lennox welcomed their second son, Preston Alexander, on September 7, 2006. Big brother Sebastian is thrilled.
Christine Williams and Chris Jones welcomed also their second son, Oliver, on September 13th, 2006. Brother Sebastian is a wonderful leader.
Scott & Michelle Pennock welcomed their fourth son, Oscar Charles, on September 18, 2006 - a little brother for Spencer, Emerson & Louie.
Hilary McQueen Robinson Gore was born at home in Roncesvalles Village on September 24, 2006 with a midwife and big sister Ruby supporting - parents Pamela and Chris are thrilled.
Mike Preston, Sue Langlois and their son Griffin welcomed Macy Audrey Preston on September 25, 2006.
---
Did you know? ... EnerGuide Plan for Houses
The recently cancelled EnerGuide for Houses program is being re-introduced by as part of a $2-billion plan for the environment! The EnerGuide program, created as part of the Liberals' plan to reduce greenhouse gas emissions to help meet its Kyoto Accord commitments in 2003, will have a new name and was shown to Cabinet in mid-September as part of the "Made in Canada" plan. If approved, it will be tabled in the House of Commons later this month.
---
Market Watch
The resale housing market in the Toronto Area performed solidly in the first half of September, Toronto Real Estate Board President Dorothy Mason announced today.
"The 2,913 sales to the 15th of the month are off moderately from the 3,112 sales reported to the same time last September," Mrs. Mason said. "Even though these figures represent a limited timeframe, they indicate more normalized sales levels."
CMHC's Ontario regional economist Ted Tsiakopoulos agreed, noting that "while GTA existing home sales have remained strong, some moderation in activity should be expected. A ten year expansion in home prices and recent increases in mortgage rates have lifted home carrying costs. Nevertheless, strong condominium and townhome sales suggest consumers continue to have choices."
| Year | Daily | Month to Date | Year to Date |
| --- | --- | --- | --- |
| East 2006 | 74 | 1,489 | 15,969 |
| East 2005 | 86 | 1,588 | 15,917 |
| Change | -14% | -6% | -- |
| West 2006 | 104 | 2,407 | 24,741 |
| West 2005 | 113 | 2,582 | 25,051 |
| Change | -8% | -7% | -1% |
| Central 2006 | 64 | 1,099 | 11,680 |
| Central 2005 | 64 | 1,162 | 11,459 |
| Change | -- | -5% | +2% |
"There is a good balance in the market," Mrs. Mason said. "Prices have risen but an increase in active listings is helping to avoid rapid price escalation. This benefits the market by maintaining affordability. It's an excellent time to be in the housing market."
The undertaking of a new action brings new strength.
Evenius
News Flash!!
A new feature of the Toronto Real Estate Board allows the public to find open houses in one central location! Rather than scanning the newspapers or looking for signs, visit www.torontoreal
estateboard.com and click on the Open House Listings link on the right-hand side of the screen. All listings are updated and sourced from TREB so they are a comprehensive, accurate resource for you.
Curious George
See a For Sale Sign/Sold you were wondering about? We are happy to let you know about houses in your neighbourhood - feel free to contact Nicole directly at:
The Julie Kinnear Team's GEMs
(Genuine Evidence of Merit)
You did a good job steering and narrowing our needs because for the most part, we didn't know what we wanted/needed at first. We found your group was informative, realistic and most important... easy to deal with. - Randy & Andrea J., September 2006
What They Got
A continuing column of
the Julie Kinnear Team's sales
52 Morningside Avenue - Swansea/Bloor West Village Area
Asking Price - $599,900
Sold Price - $599,900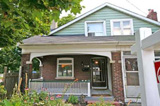 359 Riverdale - Riverdale Area
Asking Price - $329,900
Sold Price - $335,000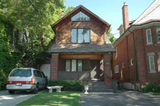 340 Keewatin Ave - Sherwood Park, North Toronto Area
Asking Price - $789,000
Sold Price - $777,000
With the Fall rains upon us -check out an interesting home insurance question:
Dear Paula C.(policy - get it?!):
Recently, water seeped into my basement and wreaked havoc in my recreation room. The culprit turned out to be a build up of debris in my window well -mostly plastic bags that had been blown there by the wind, causing water to pool and leak into the basement. Now the insurance company is saying the damage isn?t covered. Why not? - Drained but not Dry
Dear Drained:
I hate to throw more cold water on your predicament, but unfortunately, your insurance doesn?t cover this type of damage. That?s not to say your policy doesn´t cover ANY water damage. Most policies cover damage caused by water emanating from one of four sources:
1) water that has escaped from a watermain,
2) water from overflowing plumbing, heating, sprinkler or air conditioning systems or appliances inside your house,
3) water coming from appliances located outside your house, except when caused by freezing, and
4) water which enters your house through an opening such as a storm-damaged roof or window.
In other words, insurance covers damage that is caused by "sudden and accidental discharge," as insurers call it. For example, if you forget about the water running in the bathtub while you go to answer the phone, you won?t end up in hot water, at least insurance-wise. The damage from the overflow would be covered.
Since your recreation room wasn't damaged as a result of water that had escaped from any of the sources listed above, it is not covered. Therefore, it is important to ensure proper maintenance such as cleaning out your window wells and making sure pipes are clear and intact. Otherwise, you might take a soaking in more ways than one!
Exciting News about how you can Significantly Reduce Your Taxes
I recently was reading about a major tax break for people when they donate stocks (publicly listed securities) to charities instead of cashing them in. As you know, when selling an investment that has increased in value, individuals must pay significant taxes, but if you donate your stocks without cashing them in first you can avoid paying any tax on the capital gain! Wow. So, if you are already donating money to your favourite charity, consider this option as well... As I am a big supporter of Princess Margaret Hospital you can check out this exciting option - www.giftofstock.ca