Kinnear's Komments
Volume 15, Issue 2
April 2007
---
Julie's Scoop
Spring has sprung?Grass has risen?the market is hot?just not the Toronto Maple Leafs!
Mary and I spent an exciting ten days in Puerto Rico in February, part vacation plus 4 days attending a celebration conference for the National Chairman's Club members of Royal LePage. It was an amazing experience, and another reminder of all our blessings of our lives in Toronto. One of the mandates of the conference was to give back to the community we were visiting, so we chose a local women & children's shelter, for abused women fleeing violence and we raised funds to help meet their needs. Of great impact was our shopping for them ? we took some of the $ raised and shopped for items to help, such as baby clothes and toiletries. It was inspiring meeting women overcoming such great odds. On the same trip we also learned from some of the most successful realtors in Canada and brought back ideas and information to help us serve you better.

Nicole celebrates her
real estate license
with Robert Turgeon
At the office, Nicole has successfully obtained her real estate license after much hard work and study, which will help her in the smooth running of our office and help you achieve your goals! She has also begun an intensive one on one mentoring program with a published author through the U of T. Paige is busily planning the next phase of her future which may involve grad school ? she has already been accepted to Simon Fraser University - and in her spare time, attending lots of concerts and special events!
To ensure the cohesiveness of the Team, and continue to be a dynamic resource for you, our team meets on a weekly basis, and we've added one on one meetings with me to ensure each member of the Team is still learning and growing effectively. This is improving our productivity and reaching our goals both personally and professionally ? if you have a business or are thinking of starting one, feel free to ask me and I'd be happy to share some useful information with you.
We are committed to focusing on you this year and we are happy to update our website daily with hot news on your art and design shows etc., and whatever it is that can be showcased to reach as many people as possible. Please be sure to let us know what is going on in your life so we can post it on our IMPROVED JulieKinnear.com and celebrate your lives ? as you've helped us celebrate ours by cheering us on for so many years.
Our team is off to help clean up the Don on April 14th.
See you there!
Cheers, J.
---
Chit Chat
Congratulations to Rahul Ghosh & Claudia Navarro were wed on Feb 17th in Cartagena, Colombia.
Suzie Addison-Toor who created a business concentrating on Executive Leadership Transition, in which there seems to be a big need, launched her Breakfast Bytes and it's going great!
Alexandra Zarowny was nominated for the second year in a row for a Writer's Guild Award.
Kristi Herold & Rolston Miller continue to run the Toronto Central Sport & Social Club with the help of a fabulous team. They have recently opened up Sport & Social Clubs in York Region and Durham Region! For all details on any of the 3 Sport & Social Clubs please go to: www.playthefield.ca
Wendy Burton is one of a few of our clients that we are supporting in the Weekend to End Breast Cancer September, and has been actively fundraising. She started out her campaign by making "walk for the cure" bracelets, and netted $600. Realizing that she missed being creative, last month she set up a home-based business and began making earrings and is now selling them via retailers in the Beach and will be participating in local arts/crafts events. She even has a website in progress: www.orangejuicejewels.com
Sue Seaman attended LifeFest on Friday March 30th with the highlight of hearing Jane Fonda speak about patriarchy and its damaging effects on both girls and boys. Jane looked great for 69 years old and is "living her 3rd act with no regrets"
Jimmy Ioannidis & Tracy Coen have started construction on the house they bought with us back last May. They've torn it down and the footings are in. Bring on those walls as their first baby, expected at the end of this month, needs a bedroom!
New Roncesvalles resident and Julie and Mary's neighbour, Elke Town, recently launched a website for Storyworks, her newly-formed story editing, script consulting and writing business. The website address is: http://story-works.ca and has a graphic of her lovely poodle on it! Storyworks's catch phrase is: "We work with writers, directors and producers to build better stories."
Jen Tassie & John Wyman bought 50 acres of land just North of Burk's Falls (which is just north of Huntsville), and plan to build on it.
---
Babies?
Kathleen Finlay & Dave Kokai were delighted to welcome their first child, son Lo?c, on September 6, 2006.
Richard Reiner & Ritu Sethi have had their second child, daughter Isabelle, on October 2, 2006. Big brother Jake agrees that Isabelle is a lovely girl and they are so happy to have her as family.
Gillian Henderson & Jon Medline welcomed their second child, daughter Beatrice, on October 20 2006 ? big brother Cooper is delighted.
Kate Jamieson & Fraser Bertram welcomed their second daughter, Stephanie Virginia Bertram, on November 21 2006.
Heidi & Mark Girvan celebrated the arrival of their third child - Matthew Henry Girvan, on February 1, 2007.
Petra Kozel & David Wilson are ecstatic about the birth of their first child, Lukas Jan Henry Wilson, on February 7, 2007.
Stephanie & Greg Riley happily welcomed the birth of son Thomas Owen on February 21, 2007. Big sister Hannah just loves him.
Heather and Jason Haigh are thrilled to announce the arrival of their twins, Liam & Roan, on March 22, 2007. Big brother Aidan is loving kissing, hugging and singing camp songs to his brothers (especially Jet Plane) and looks forward to teaching them hockey, soccer and even how to use the potty when the time is right.
Heather MacInnis & John Pitblado are pleased to announce the birth of son Ryder on March 23, 2007. Ryder joins big brothers Luke & Aiden and all are delighted.
---
Painting a Room in 5 Easy Steps
Thinking of freshening your space this spring? Painting is a good way to start. If your wall is not primed you will have to prime before you can paint. This brings back many memories of the good old College Pro Painting days for Julie!
You will need:
a paint tarp or an old sheet
can of paint
stir stick
screwdriver or paint can opener
1 to 2-inch paint brush
9-inch paint roller
roller tray
roller cover
spackle
painting tape
rubber or latex gloves
ladder, if necessary
paper towels
Prepare the Room for Painting
First use your paint tape to cover the edges of all trim or woodwork. This is important and will keep the paint on the wall where it belongs.
Next lay out the paint tarp to protect the floor from drips. Use the spackle to cover any nail holes or imperfections in the wall. Apply with a putty knife or similar flat blade and allow it to dry and sanded before you paint over it. Remove any vent covers or light switch plates.
Mixing the Paint
Before you handle the paint you may want to put on rubber or latex gloves. Set the paint can on your tarp and open using a regular screwdriver or a paint can opener. Stir the paint using the wooden stir stick. Stir until the paint is completely mixed and has a consistent color throughout.
Dipping the Paint Brush
Hold the paint brush more like a pen or pencil… Ideally use a sash brush ? 2 inches or more. Take the paint brush and vertically dip it into the paint no more than half way up the bristles. Wipe the excess paint from the back of the brush using the edge of the paint can. This will help you avoid dripping paint as you carry the brush from the can to the wall.
Start With Edges
The first thing to paint is the edges. Use short strokes to spread the paint evenly along the wall edge. After you have thoroughly covered an area use longer strokes to smooth any lines that may have developed.
Don't use paint tape for corners with texturized surfaces. The texture prevents a tight seal and paint can seep under the tape.
Painting With Rollers
Once you have finished the edging it is time to use the paint roller. Pour a generous amount of paint into the roller tray. Roll back and forth on the flat part of the tray until roller is completely covered, but not dripping.
First, roll the paint in all directions. After an area is fully saturated, roll in long vertical motions to smooth out lines.
When you have finished rolling, slowly and carefully remove the tape. Wait for the paint to dry and inspect your wall. You may have to apply a second coat of paint if the primer coat shows through.
Italy, and the spring and first love all together should suffice to make the gloomiest person happy.
Bertrand Russell
Did you know?
You might have seen the front page article in the National Post recently comparing real estate values in Toronto vs. Vancouver. In case you're thinking that Toronto real estate is becoming unaffordable, consider that the average sale price of a detached bungalow in Vancouver is $758,000 ? compared to $387,744 in Toronto! For a city rated the 15th-best place to live in the entire world, that is not bad!
The JKT-List: A Few of Our Favourite Things!
Heres what the Team fell in love with this winter:
Sushi Island ? Paige can't get enough of the all-you-can-eat sushi ? with amazing vegetarian options and lots of variety, at a great price! She goes there far too often - 571 College St.
Julie loved discovering walking the historic Brooklyn Bridge and the panoramic view of the Manhattan skyline ? so I guess the old I love NY' commercials were true.
Concepts Day Spa ? Massages by Nancy are one of Nicole's very favourite things in the whole wide world. The spa has it all though ? Julie's been getting her hair done there for years. 20 Bloor St. E. www.conceptstoronto.com
IFAW ? Jen loves animals, so she really appreciates The International Fund for Animal Welfare's mandate to improve the welfare of wild and domestic animals throughout the world. ? www.ifaw.org
Market Watch
Prices increased moderately in March, with the average up three per cent over 2006 to $365,285. "Prices are rising above the rate of inflation (currently about two per cent), but not so rapidly that first-time buyers will be pushed out of the market," said TREB President Dorothy Mason recently. "We expect a similarly robust showing from the remainder of the spring market."
What They Got
A continuing column of
the Julie Kinnear Team's sales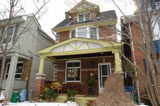 77 Strathcona Ave?Riverdale
Asking Price: $499,000
Sold Price: $515,000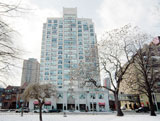 298 Jarvis St. #407 ? Wellesley Village
Asking Price: $269,900
Sold Price: $280,000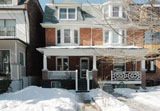 558 Crawford St.? Little Italy
Asking Price: $549,000
Sold Price: $652,000
LovelyTorontoHomes.com - your online resource for Real Estate info in Toronto.
Curious George
See a For Sale Sign/Sold you were wondering about? We are happy to let you know about houses in your neighbourhood ? feel free to contact Nicole directly at or call her at 416 762 8255.
The Julie Kinnear Team's GEMs
(Genuine Evidence of Merit)
Please extend our thanks to the entire Julie Kinnear team. We are absolutely thrilled with our new home! It is perfect. Thank you for 'guiding us home'!
Blake C. & Shirley M., March 2007
Neighbourhood Corner
The Beaches and Riverdale
uring the first three months of 2007, TREB Members recorded 215 sales in The Beaches area (E-2) for an average price of $461,311, up one per cent over the 2006 three-month total of $454,495. Detached homes sold for $565,060, and semis averaged $419,234. Riverdale (E-1) saw 216 sales during the same time-frame; detached homes averaged $436,091, up 12 per cent from the 2006 figure of $390,388.