Kinnear's Komments
Volume 15, Issue 3
July 2007
---
Julie's Scoop
Summer's here! Hope you are finding time for some holidays and quality time with friends and family. This summer has been unusual as the real estate market has barely slowed down and we are all working towards helping our clients achieve their real estate goals. A big temporary victory for homeowners was realized with the land transfer tax bill being put on hold until at least October 22/07, which means at this point buyers purchasing homes will avoid a matching Toronto tax as well as the provincial tax. Please continue your lobbying efforts against this! I am very much against such a small # of Toronto residents having to contribute $300 million annually. If a tax needs to be implemented, let's make if fair for all people in the city.
On the business front, please welcome our new administrative assistant, Elise Hill. She has joined the JKTeam, as a replacement for Paige Reason in assisting Nicole in the smooth running of our office! Paige was accepted to Simon Fraser University in Burnaby, BC where she will pursue her Master's degree in public health and epidemiology. We'll miss you Paige! Elise met us through Craigslist - obviously one of the best places in Toronto to find everything from furniture to good job candidates. Elise is originally from Orangeville and one of her passions is cooking. She is very excited about her upcoming nuptials on September 28! Elise's friendly personality and excellent computer & technology skills will help us reach a new level in our business.
Travel seems to be the theme lately for our Team. Nicole had a week off for her birthday and went to our nation's capital to take in museums, Parliament and galleries, while KJ and Jen have been spending time up north. Jen successfully completed her Commercial Real Estate articling course, an intensive three-week program, and is putting the finishing touches on her new cottage affectionately dubbed 'The Hacienda'. We're all excited about taking a break at Julie & Mary's cottage for a fun Team weekend ? Jen & Nicole attended an energizing seminar in Ft. Lauderdale learning more ways to improve our systems, resulting in a smoother experience for you. We have carried this over into training a few newer agents in our office who are interested in better serving their clients.
Finally, we invite you to check out our ever-evolving website, www.juliekinnear.com - we continue to add new content about homes, neighbourhoods, current issues, what our clients are doing, and of course the Testimonial section to see what our happy clients have to say about us - we've added even more smiling faces!
Looking forward to some time in August for relaxation and renewal,
Cheers, J.
---
Chit Chat
Monique Steger and James Donnelly were married on October 7, 2006 at Peninsula Ridge winery in Grimbsy.
Janine Stephens & Mike Pickersgill tied the knot on June 2, 2007, and went on a fabulous honeymoon to Bali.
Kathryn Kinnear and Stef Laycock have adopted Jen's new dog Nessy's 11 month old pup! A friend of Jen's brought him back when she was doing the Northern Dog Project. He looks just like his mother.
Sandy Kiaizadeh has started her own custom portrait photography business called Find Your Bliss Photography, which specializes in baby, child and family portraiture. A portion of proceeds from all session bookings is donated to children's charity. And she has a gallery of some of my work currently on display in the offices of Bayview Natural Health Clinic, located at 1397 Bayview Avenue. For more information, visit her website at www.findyourblissphotography.com
Maggi Woodiwiss, has become involved in a fundraising project to help an inner city ministry which offers shelter and guidance to street people. She has joined forces with a local artist, who is painting 30 portraits of people who use the shelter; 100% of each sale is directed towards Our Place (the name of the shelter). The art is showing at the Gallery at the MacPherson Theatre in downtown Victoria and Maggi has at her own expense, created and maintained a website to showcase other initiatives by people who are trying to make a difference in her BC community. Visit www.helpingvictoria.ca for more information. If you're visiting the west coast, check out her B&B at www.bayandharbour.com
Jim Blokland just finished three episodes of a show called 'Second City's NEXT COMEDY LEGEND' -- a comedy/reality show (American Idol meets sketch comedy). It's hosted by WWE wrestler Trish Stratus and features stand-up comedienne Elvira Kurt and Joe Flaherty and Dave Thomas (of SCTV fame). The second episode airs across the country on CBC Tuesday, July 31st at 9 PM.
Babies…
Stuart Hatcher & Stefanie Pelton Hatcher gave birth to baby Megan on May 22, 2007.
Toby Schertzer & Robin Taylor were happy to announce the arrival of son Jarvis John on May 25, 2007.
Sylvia Apostolidis & Frank Chirigoni were seeing double when they welcomed identical twins Marco Sebastian and Jason Leo on June 6, 2007.
Son Rhys arrived to proud parents Donna Davies Brackett and Dan Brackett on June 9, 2007.
Jen & Dave Chiu announce that Bennett Alexander Chiu was born fashionably late at 8:21 p.m. on Saturday, June 30th, 2007.
---
Mortgage Rates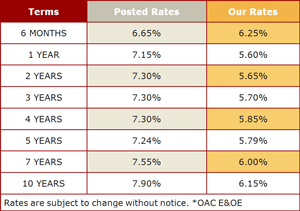 Prime Rate is 6.25%.
Variable rate mortgages from as low as Prime minus 0.9%.
---
Muddy Paws are No Match for These Stain-Busters
We all love our four-legged fur kids here at the JKT, with that comes the dirty paws! Here are the five items and cleaning solutions that long-time dog trainer Krista Mifflin of About.com found to be must-have's with pets.
Bissel's Little Green Machine The ideal spot cleaning machine for carpets and vehicles, Bissel's Little Green is one mean Machine! It is easy to carry, has separate reservoirs for output and intake, ensuring that you are only using clean solution and a powerful suction that removes wetness and dirt all the way to the floorboards. Great for muddy pawprints, or even the doggy accidents that occasionally happen indoors.
Orange TKO Concentrate
An all-natural citrus cleaner, Orange TKO is made from orange peels and 100% enviromentally friendly. Orange TKO is a concentrate and should be mixed with water for maximum effect. It is effective at removing odors and stains from carpets and upholstery. Can be used as a laundry stain remover as well.
Hoover Steamvac Plus
The big carpet and floor cleaner, the Hoover Steamvac Plus Carpet Cleaner has the dual tank set-up for continually clean output, and no faucet hook-ups. Comes with upholstery, car, and bare floor attachments.
Swiffer Wet Jet
Easy to use for the quick clean up, the Swiffer Wetjet comes with disposable clothes and a bottle of cleaning solution. Hangs on the wall for easy access, and is scarcely bigger than a regular mop. Ideal for muddy paw prints across linoleum.
Kenmore Cannister Vacuum
A good vacuum with any kind of dog is an absolute must. Kenmore's self-propelled 12-amp canister vacuum is the king of suction, and on-board attachments make storage much easier. Ideal for the fur clusters in the corners and under furniture.
"If you want happiness for an hour - take a nap.
If you want happiness for a day - go fishing.
If you want happiness for a year - inherit a fortune.
If you want happiness for a lifetime - help someone else."
Chinese Proverb
Did you know…
On Monday April 16, 2007, a new by-law,'Parking on Residential Front Yards and Boulevards, City of Toronto Municipal Code, Chapter 918,' came into effect. Download the new by-law or visit specific information on the new by-law.
The JKT-List: A Few of Our Favourite Things!
Here's what the Team fell in love with this summer:
Danielle Sweeney Design - Danielle has made custom jewellery for years for Jen, Julie and Nicole, including Julie & Mary's spectacular wedding rings - daniellesweeneydesign.com
Barren Canyon at Algonquin Park - Paige was stunned by the natural beauty at the east side of Algonquin Park and highly recommends the canoeing there
Instrumental jazz - Nicole is not a music person but was recently introduced to the incredibly hip & smooth New York vibe of Mark Zubek - this ain't elevator jazz - markzubek.com
Lil'baci - KJ loved this great east end restaurant find serving killer pizza with New York City atmosphere - 892 Queen St. East, 416 406 1560.
Market Watch
The summer market began with a bang! In June, the Toronto Area resale housing market was nearly 20 per cent more active than a year ago, Toronto Real Estate Board announced, one of TREB's most active single months ever.
"This market is very healthy and shows no signs of letting up. The strong spring we've seen is carrying through to the summer months, and that has helped to push this year's total activity past 2006 by nearly 11 per cent. We have seen good returns on investment, and a strong economy and low borrowing costs have kept homes accessible. It's a great time to be in the market." TREB source.
Neighbourhood corner
Etobicoke
In Etobicoke (W-6 to W-10) there have been 2,734 sales to date, up 13 per cent over the January to June period of 2006. The average price was $399,525, up four per cent over the $383,220 recorded during that earlier time frame.
What They Got
A continuing column of
the Julie Kinnear Team's sales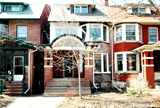 778 Shaw Street - Christie Pitts Area
Asking Price: $489,900
Sold Price: $566,000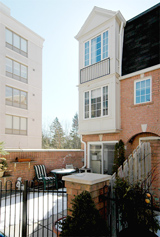 151 Merton St. Unit 9 - Davisville Village Area
Asking Price: $599,900
Sold Price: $601,000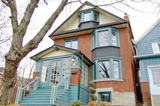 169 Sunnyside Avenue - Roncesvalles Village Area
Asking Price: $699,000
Sold Price: $756,000
JulieKinnear.com - your online resource for Real Estate info in Toronto.
Curious George
See a For Sale Sign/Sold you were wondering about? We are happy to let you know about houses in your neighbourhood - feel free to contact Nicole directly at:
The Julie Kinnear Team's GEMs
(Genuine Evidence of Merit)
The degree of assistance we had from all of your staff was impressive; by the time we ended up buying, we had confidence that our decision was sound, and we appreciated help with the details of the inspections, the offer, final acceptance, recommendations for legal representation, trades, as well as your willingness to give your opinion when asked about some issues that are not necessarily black and white.
Julie M., July 2007
Bee Careful with Bee Stings
Adapted from Tyco Wellness
Bee stings are a painful annoyance for most of us, but are extremely dangerous if you're allergic. So if you are allergic and you get stung, go to a hospital immediately. If you don't have an allergy, then you can treat most bee stings yourself.
Remember: If you're stung you should scrape the stinger out. You can do this using a credit card, the side of a knife blade or the edge of a long fingernail. Never try to pull the stinger straight out because it may just lodge in deeper.
You can neutralize some of the swelling that occurs (because of inflammatory agents in the venom) by rubbing a wet aspirin directly on the sting. However, if you can't take aspirin normally, you shouldn't use it for bee stings either.
Taking an antihistamine can ease pain and swelling for adults. For children, cough syrups that contain antihistamines work better.