Kinnear's Komments
Volume 15, Issue 4
September 2007
---
Julie's Scoop
September has such a wonderful sense of renewal getting back into the flow of work and responsibilities after a restful summer. In addition to a bustling Fall real estate market, I am looking forward to getting married on September 15th in Prince Edward County. What a happy milestone after six years together, and we feel extremely proud to have this legal right and actually be treated equally in the eyes of the government, as well as in our careers and family lives. I am so grateful to be able to share this joyous occasion with you. We feel blessed in our lives, and we wanted to honour our marriage by doing something to help others in a meaningful way – so in lieu of wedding gifts we're supporting the Hibiscus Fund for Hope, at the Princess Margaret Hospital Foundation. It helps lymphoma patients and their families. As a lymphoma survivor this is a cause very dear to my heart - created by Nancy Ross and her late husband John Koshan. Check out our special Chit Chat section below if you are interested in finding out more or supporting this great cause!
KJ has returned from a relaxing family vacation up north, rested and ready to "guide you home", while Jen continues to improve her new vacation property affectionately nicknamed "The Hacienda" in her spare time; the most recent addition is gorgeous hardwood flooring, labour courtesy of a neighbour! Elise is settling into Team life very well, and continues preparations for her own wedding on September 28th while doing a great job of looking after client care behind the scenes. An update from Paige in BC – she is loving school and her new international roommates, and will be home for Thanksgiving! Nicole has been working hard at her literary career, meeting with agents and continuing the editing process, while fine-tuning her first novel (under consideration with a BC press). Her laptop finally dying was a temporary setback – as her new partner Mark rescued the hard drive!
Education is of course one of our Team's core values, so we are pursuing seminars, conference calls, and online learning all in an effort to continually improve our systems and our service to you, with a focus on using today's leading edge technology to sell your home faster and for more money. I have been asked to be part of a panel of experts discussing how I price and market listings in today's market, at an international conference in Las Vegas this October – we'll keep you posted on what we learn! And we invite your feedback as always – please let us know what you think we can improve upon, by emailing us at We're always looking for ways to serve you better. Look for exciting new changes on our website this Fall.
Finally we invite you to celebrate both The 14th annual World Day of Prayer on September 13th, www.worlddayofprayer.org and the International Day of Peace on September 21st – to ensure we live in together in peaceful world. Wherever you are, you can observe a minute of silence at noon – and for more practical acts you can do every day.
Wishing you a wonderful Fall season and a sizzling market!
Julie
---
Charity Chit Chat – Helping You is What We Do
We wanted to acknowledge the many ways our clients are helping to make the world a better place! Here's how we've heard you've been doing it:
Becca Cameron is doing the Walk to End Breast Cancer (7.5 months pregnant!)
Katie Fisher is Walking to End Breast Cancer for the second time
Wendy Burton is Walking to End Breast Cancer
Heather MacEachern is Walking to End Breast Cancer
Susie Macrae is Walking to End Breast Cancer
Michelle Kralka is Walking to End Breast Cancer - Congrats to you women for your dedication! To support them - www.endcancer.ca
Kedar Tupil is walking the 2007 Mississauga Humane Society Marathon on September 8 - for more details visit www.mississaugahumanesociety.com/
Ayumi Iizuka and Doug Morency are currently fostering a senior white miniature poodle looking for a forever home. Speaking of Dogs is the Dog Rescue they have been actively volunteering with as foster parents for the last few years. The volunteer-run rescue is always welcoming donations to help pay for the many costly vet expenses incurred with its rescue dogs. Check out www.speakingofdogs.com to donate or when looking for your next dog.
Maggi Woodiwiss had the opening of Elfrida's Portraits for Our Place at the McPherson Theatre in BC, and received some excellent coverage in the Times Colonist.
Julie Kinnear & Mary Palacios ask you to join them in helping make a difference – you can visit their Giving Page here to make a meaningful wedding gift!
---
Chit Chat
Jan Creelman headed out for a month of trekking in Northern India, in the Ladahk region, only 2 weeks after getting her new house. She made it up to 5,100m in surprisingly desert-like dry, dusty conditions. Her animal adventures included encountering a snow leopard one night outside her tent, mountain goats leaping from perilous ledge to ledge, marmots, fat little field mice, geckos, and cows in the streets along with wild dogs – an unforgettable experience!
Max & Danica Mercier spent an exhilarating 2 weeks in Egypt touring all the famous sites with two other couples, which was as fantastic as you might expect – all save for Alexandria!
Richard Reiner & Ritu Sethi took a family vacation to England and Scotland and hiked the countryside with their two small children Jake & Isabelle, primarily with Richard carrying Jake on his back and Isabelle on his chest. The four of them were quite a sight and received their share of chuckles!
Janet Logan will be moving back to Toronto in January with her two boys, Charlie and Nicholas, after 17 years living in Brussels, Belgium. That will be a huge life change for them, but with her wonderful positive 'if you can dream it, you can do it' attitude and some relocation help from us, it should be smooth sailing!
Matt Ferguson & Katherine McKenney are engaged to be married; the happy event is scheduled for the fall of 2008!
Ayumi Iizuka & Doug Morency have gotten engaged!
Hazel Bell-Koski's art exhibit will be at the restaurant River on Roncesvalles for the next month – congrats for your great opening night!
---
Did you know…
Most insurance companies offer discounts for homes with security systems. They understand that a home with a security system is less likely to experience the type of emergencies that result in insurance claims. If your insurer does not offer such discount, it may not hurt to shop around, as it is standard practice for many.
---
Market Watch
August 2007 became the fifth record-setting month in a row, with 8,059 sales reported by TREB Members throughout the Greater Toronto Area, TREB President Donald Bentley announced September 5th. "This figure is up 15 per cent over August of last year, and up seven per cent over the 7,498 sales recorded during the same month in 2005, which was the previous "best ever" performance for the month of August," said the President. "Summer of 2007 has been hands-down the most active holiday season for the resale market in the history of the Toronto Real Estate Board."
While sales roared ahead, prices remained affordable in August, with a recorded average of $361,890. This figure is up seven per cent over the $338,192 recorded during August of 2006. "While the last decade has seen five record breaking years, and a good possibility of a sixth in 2007, year-over-year prices increases have remained in the single digits. This kind of activity is sustainable for a long time."
---
Mortgage Rates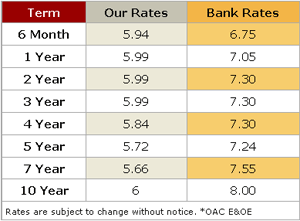 Prime Rate is 6.25%.
Variable rate mortgages from as low as Prime minus 0.9%.
---
Five tips to achieve a work-life balance
Nearly 30 years ago country queen Dolly Parton sang, "Workin' 9 to 5, what a way to make a livin'!" How things have changed since then!
Our hours and routines have changed dramatically. Many people are working longer, and due to dramatic improvements in technology we can now work from just about anywhere.
If Dolly was complaining then, imagine how she would feel today!
Because of the longer hours many of us are now working, it is important to keep in mind the often overlooked work-life balance. Of course, hard work does achieve satisfying results: successful projects, promotions and peer respect. But without sufficient downtime we can end up neglecting our family, friends, and ourselves. The end result is problems that impact both areas of our life.
Are you unsure if you have work-life balance problem? Before you plunge back into work this Fall, take some time to answer these questions:
At meal times you:
a) Feast and forget about the outside world
b) Temporarily turn your phone off so you can enjoy your food and company
c) Take work calls mid-bite
Last thing you do before calling it a night:
a) Clean your teeth
b) Say goodnight to a loved one
c) Check your e-mail, handheld device etc for work-related messages
Do you start most days at the office:
a) Feeling fresh and relaxed
b) Focused and ready to go
c) Feeling like you are Bill Murray in Groundhog Day – trapped in a never-ending repetitive nightmare
How'd you do? Two C's would suggest you need to reconsider your work-life balance, while three is a sure-fire sign you've got some changes to make.
While countless articles have been written on the importance of establishing a yin and yang-like work-life harmony, too often we neglect the message and end up neglecting elements of life that are genuinely important to us. Following these tips will hopefully help you achieve a happier balance:
Set an example to your colleagues by going home on time. Don't be at work just to show that you are there.
Protect your private time and make sure you plan fun and relaxing activities with friends and family. Schedule these activities as you would work appointments.
Learn to say "no".
Remember to delegate.
Make a schedule and stick to it. Use tools such as your Outlook calendar to manage your time better.
Maintain boundaries between home and work.
Use technology to your advantage. Use wireless and mobile technology to help you get things done when it suits you – then switch off and relax.
Make time every week to reflect on life away from work.
All work and no play is no way to make a living. By following the above advice you should find sufficient time to recharge your batteries so that your business performance doesn't suffer, and your free time becomes meaningful and enjoyable.
Sourced from Hewlett-Packard e-newsletter
Twenty years from now you will be more disappointed by the things that you didn't do than by the ones you did do. So throw off the bowlines. Sail away from the safe harbor. Catch the trade winds in your sails. Explore. Dream. Discover.
Mark Twain
The JKT-List: A Few of Our Favourite Things!
Here's what the Team fell in love with this summer:
Buddha dog – Julie and Mary love Buddha dog - the new hotdog phenomenon straight from "the county". Check out the new location on Roncesvalles Ave.
Lucille Weber's artwork – Jen fell in love with it - www.lucilleweber.com
Big Fat Burrito – Nicole couldn't get enough of the delicious Mexican food at this hole in the wall in Kensington – try the pulled pork!
10tation Event Catering – the caterers Elise & Steven are using for all their wedding. They're partnered with the restaurant ViBo at Bloor/Royal York. The food they sampled at the tasting was amazing, and they put a lot of effort into presentation and were on top of the smallest details.
Curious George
See a For Sale Sign/Sold you were wondering about? We are happy to let you know about houses in your neighbourhood. Feel free to contact Nicole directly at or call her at 416 762 8255.
The Julie Kinnear Team's GEMs
(Genuine Evidence of Merit)
In the past glory days of customer service your team would still be way out in front of everyone else, let alone in today's climate of dwindling service standards; no one else comes close. It's been a pleasure and should I know anyone looking for a home I won't hesitate to recommend you guys.
Angus Brown, August 2007
Neighbourhood Corner
Rosedale
There have been 100 total residential sales within Rosedale (part of C09) this year for an average of $1,208,414, up four per cent over the first eight months of 2006. Of these 34 were detached homes, which averaged $2,203,457. This is up four per cent over the $2,087,600 recorded during the same time last year.
What They Got
A continuing column of
the Julie Kinnear Team's sales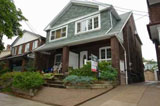 468 Strathmore Blvd – Danforth area
Asking Price: $389,000
Sold Price: $461,000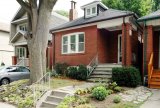 87 Durie St – Swansea/Bloor West Village area
Asking Price: $399,000
Sold Price: $490,000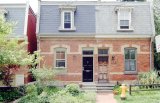 454 Sumach St – Cabbagetown area
Asking Price: $419,000
Sold Price: $565,000
www.LovelyTorontoHomes.com
your online resource for
Real Estate info in Toronto.