KINNEAR'S KOMMENTS,
Vol. 22, Issue 3, May 2014
Julie's Scoop
How weird is this spring weather? It practically went from winter to summer. And the plants don't seem to be quite caught up. Is it just me? With Easter late and May 2-4 early, I'm not sure I've caught up! Good thing the long weekend is coming! Boats are launched, cottages are opening, and planting season is upon us!
Quick update on our team... we are engrossed in the spring market excitement, and love being such an integral part of big changes in our client's lives! We are also participating in a number of volunteer opportunities. We just finished Keller Williams big RED DAY (World wide day of volunteering in local neighbourhoods). Jen & Steph led our whole office in a huge clean up of The Junction. We are also all building for a day with Habitat for Humanity on May 23. And in June Holly & Julie are cycling in the Ride to Conquer Cancer! It is a blessing to give back.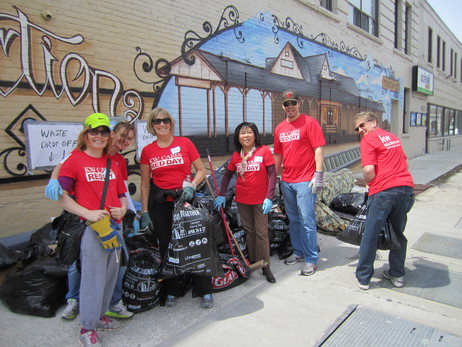 A couple of topics I wanted to mention in this issue...
Reminder when renovating – double check to make sure that your contractor CLOSES all the permits that were taken out and registered against the property. This has come up numerous times. Unfortunately a lot of people assume it is all taken care of, and an automatic step. It is NOT. The City doesn't follow up to make sure they are closed in a timely manner. The trouble comes when selling. Go back in your notes to make sure that you have the closed paperwork, or follow up now, even if it is years later!
The hot topic these days I think is the dramatic bidding wars that are happening in many pockets of the city. It is true some homes have gone 10-25% over asking. It does happen, not every time though. It is all not always rosy. Yes it is a very good time to sell yet there is no such thing as a slam dunk house sale, even in downtown Toronto. Which means there are opportunities to be had.
Some buyers & their agents might be getting burned out as well, tired of going through the efforts and giving up too soon – assuming a massive bidding war. Keep at it to give yourselves a chance! Buyers need experience of going through a bidding war sometimes, and we can't assume that it will go crazy.
The most important thing is to prepare the home properly and to price it competitively. I can't stress that enough! First impressions are everything!
guiding you home,
Julie
P.S. Thank you for your ongoing trust & referrals. Call us if you have any friends or family in need of expert real estate help and guidance.
QUOTE of the day:
"To describe my mother would be to write about a hurricane in its perfect power. Or the climbing, falling colors of a rainbow."
- Maya Angelou.
Happy belated Mother's Day to all of you!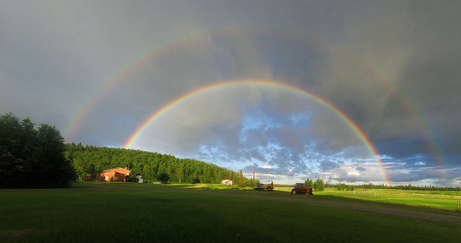 Double Your Rainbows by Jeremy Austin
Chit chat…
Big congratulations to Tyler Delaney on the JKT who got engaged in Jamaica to his beloved Ashley Diaczyk. They are excited to start planning the big day!
Kim Gerber is happy to announce two exciting milestones in her life! #1 she got married to Adrian Andrews! #2 she got a new puppy named Maverick. A big congrats from all of us to you both in Australia, from all your friends here in Canada.
Sweet Pete's is proud to announce the opening of their newest store, Sweet Pete's Brickworks. Nestled at the trailhead of many great biking routes in the Don Valley, Sweet Pete's Brickworks will be a great destination for cyclists, strolling families, nature lovers and dog walkers. Located at 550 Bayview Avenue. Amazingly 5% of Sweet Pete's sales from their Brickworks location is directed to Evergreen to support their community bike programs.
Babies...
Alison & James Rowland are so happy to welcome their daughter Madeleine Elizabeth Rowland born on April 22nd, 2014 at St. Joseph's Hospital.
Sandra Tiano & Amy Swenson are the proudest new parents to Carly Swenson-Tiano born March 29/14.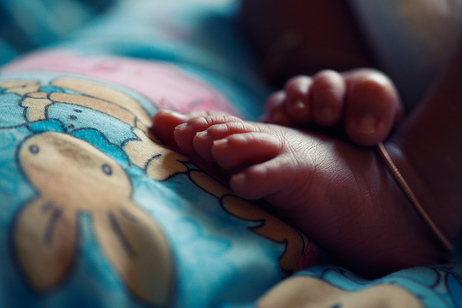 Baby by Vinoth Chandar
MARKET WATCH excerpts from Toronto Real Estate Board
Do Not Assume!
Due to a 13.2 per cent price increase over the last month, the average detached home in Toronto now costs, on average, nearly $1 million. The price change is basically a reflection of supply and demand, but in this case, it is mostly demand. It was not only detached houses that were affected by the uneven supply-to-demand ratio. The price rose across the whole house type spectrum.
Read more here: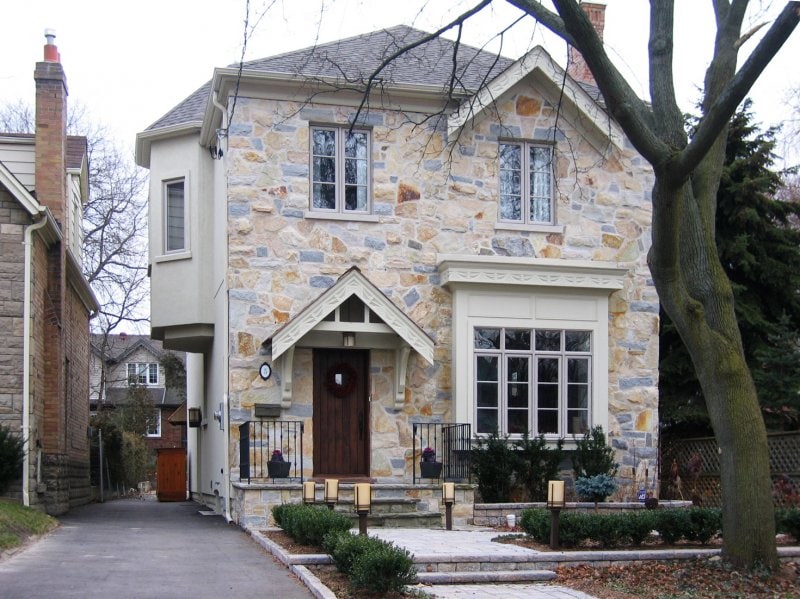 Feeling like Giving Back?
Charity of the Month – RIDE TO CONQUER CANCER
Julie, Holly and the rest of the Proud Mary's will be riding again this year on June 7-8 in the Enbridge Ride to Conquer Cancer benefiting Princess Margaret Cancer Centre. It's 200km+ 2 day cycling journey through Ontario's countryside. We're continuing to participate and ask for your donations because we know that cancer is too big a disease to ignore. It affects all of us. It's an awesome challenge in a physical sense and emotionally as well. Working to end cancer in our lifetime! This year we have added more friends of the JKT to the team – David Banks & Sarah Macrae-Blakeley & Kenny Blakeley Go Proud Mary's!
Please donate to Holly or Julie today! Thank you in advance for your support.
Visit the ride to conquer cancer site or phone: 1-877.699.BIKE [2453]. Holly is also auctioning off a bike painting this year to raise money for the Ride. Here is the link to the online auction website: the auction will end on May 24 at 8:00pm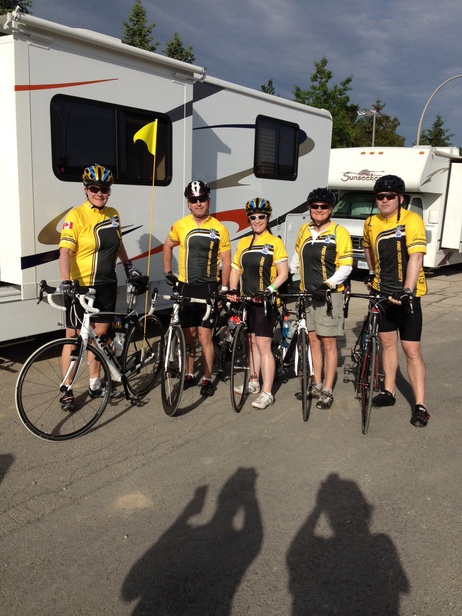 THE JKT ON YOUTUBE
Many of our clients have had their personal experiences with The JKT caught on video instead of the regular written word – they're even posted on YouTube! We so appreciate your kind testimonials. Our YouTube channel is growing exponentially and has had now over 165,200!
What they got!
What they got! More of our happy buyers have found their new home!!
A continuing column of the Julie Kinnear Team's sales…

56 Armadale Ave
56 Armadale Ave ~ High Park/Swansea
Asking Price: $869,900
Selling Price: $956,560

14 Grenadier
14 Grenadier Rd ~ Roncesvalles
Asking Price: $749,900
Selling Price: : $801,000

6 Dorothy Bulle Place
6 Dorothy Bulle Place ~ Leslieville
Asking Price: $589,000
Selling Price: $638,888

1991 Oana Drive
1991 Oana Drive ~ Mississauga
Asking Price: $570,000
Selling Price: $570,000

8 Rosevear Avenue
8 Rosevear Ave ~ Danforth/East End
Asking Price: $449,900
Selling Price: $511,100

60 Southport St 402
60 Southport St 402 ~ High Park/Swansea
Asking Price: $347,700
Selling Price: $347,000
See a For Sale Sign/Sold you were wondering about? We are happy to let you know about houses in your neighbourhood - feel free to contact Steph at:
Our Purpose
Our purpose is for you to be so outrageously happy with the service we provide that you gladly refer us to your friends and family before you've even bought or sold with us!
Keep It Clean!
Editorial by JKT member Jennifer Palacios
On May 8, 2014, the Julie Kinnear Team and our local office participated in the sixth annual Keller Williams Realty RED (Renew, Energize and Donate) Day. Approximately 700 offices and almost 100,000 associates in more than a dozen countries around the world donated their day to projects related to renewing and energizing their local communities. Our office and its associates participated by a community clean-up in partnership with The Junction BIA (Business Improvement Area). It was a great day – and the streets and alleys look way better for it.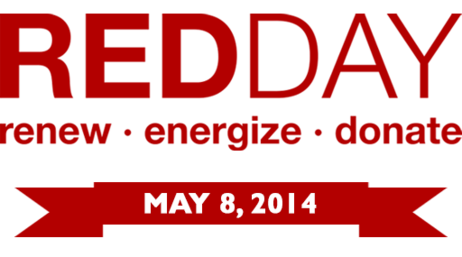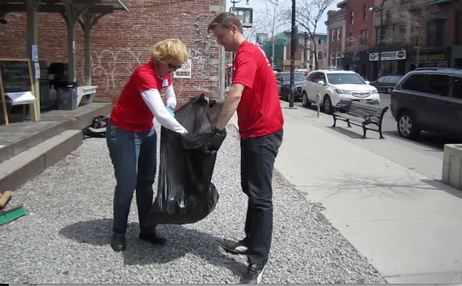 Every year Toronto has a community clean-up in late April. Drive around the neighbourhood on a Saturday morning and you will probably see a number of yard sales. Garbage days bring out a multitude of 'stuff' that is finally being thrown out. Spring is the time for 'Spring Cleaning'! 
Cleaning up and cleaning out doesn't have to only happen in the Spring. You can tackle that clutter in your home, or garbage in your neighbourhood, if you stay on top of it. Pick up a bit every day, throw out unwanted 'stuff' once a week – keep your house and your community uncluttered and clean!
Mortgage rates – Courtesy of Carrie Davidson - Dominion Lending
Centres Mortgage Connection Inc. www.carriedavidson.com Phone: 416-693-6946
Fax: 416-693-4103 cdavidson@dominionlending

VARIABLE RATE As low as 2.50%
CURRENT PRIME RATE IS 3.00%
Some conditions may apply. Rates subject to change without notice. *O.A.C. E. & O.E.

The Julie Kinnear Team's GEMs (Genuine Evidence of Merit)
"A HUGE thank you to Holly for helping us find the perfect house in High Park to transform into our dream home - AND for under asking!!! Holly went above & beyond to help us find a house. She was extremely knowledgeable, knew the area inside out, connected us with an amazing contractor & provided us with open & honest advice. It was such a great house hunting experience, we're a little sad it's over. Thanks, Holly! :)"
Lenore & Matt
The JKT – A few of our Favourite things:
Stephanie
A surprise phone call from my dear friend Bart that ends up with us having a very impromptu dinner and catching up on old times and all that is new in our lives!
Claire
Orphan Black - Thanks to my sister Jen telling me how amazing this show is over the Easter holidays I went home to watch the 1st episode to see what the hype was all about and from there I was hooked. My son and I power watched the entire season in 2 days truly addictive! Season 2 has just started and it is AMAZING! Starring Tatiana Maslany she has to be the hardest working actor in town playing several clones of herself. So now I'm spreading the word watch it, all of the filming is in Toronto which is a lot of fun as well.

Tyler
Docs Film Festival - Our friends, Colin and Carla from Emptycupmedia(.ca), had a great short film documentary represented at the festival again this year, called "Much Love, Scott". It's inspiring to see the energy, emotion and attention to detail that a great filmmaker infuses into their craft. 
Baird Park Dog Park - Our lil Pug, Mogli always has such a great time playing with all his doggy friends at the dog park on Sundays. There are some really nice 'regulars' there with some beautiful dogs. It's great to watch Mogli catch up with his buds!

Holly
Musideum - Donald Quan's "dream shop" in 401 Richmond. It's a gorgeous little retail shop/treasure trove/museum of unique musical instruments from all over the globe. It's also an intimate concert space (40 seats) with a very active concert schedule. On top of all that it also houses a state-of-the-art recording studio/mastering suite. It's absolutely my favourite discovery of 2014 
Julie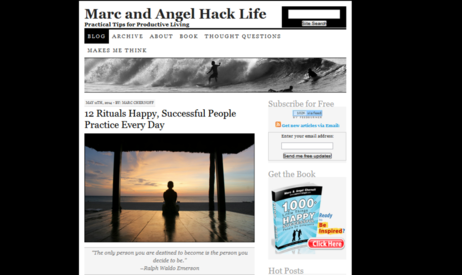 Jen
Mirvish Subscription - my Mom and I get this every year and it's great. There is good variety of dance and drama, and usually lots of musicals which I absolutely love!! Makes for a wonderful night out with my Mom!
Hunter Douglas Silhouettes - after my privacy was compromised due to the bungalow turned two storey house behind me, I had to give in and buy blinds. I splurged for Hunter Douglas and they are fan-freakin'-tastic! I don't know how I managed without them! Ok, maybe a little over dramatic, but I really like them. What makes it all the better is that when the blinds are closed, the dogs can't see the raccoons walking along the back fence - so no barking since the blinds went up!