17 Sorauren Avenue | West Toronto - Roncesvalles
Description
Bright, Stylish & Renovated Family Home with Bonus Income in Roncesvalles!
Property Details
Asking Price: $1,249,900
Location:
Google Satellite View
Google Street View


Approximate utility costs: Annual Expenses
Hydro: $1,569 (2020)
Gas: $1,113 (2020)
Water & Waste: $1,210 (2020)
Taxes: $6128.97 (2020)
Insurance: $883.44 (Sonnet)
Rental Income:
- Tenant - Basement Apartment: $950/mth (payable on the 15th) month-to-month
- Garage: $100/month-to-month– no lease
- Parking: $50/ month-to-month– no lease
Inclusions:
Appliances: Samsung fridge, Samsung microwave, Samsung gas oven stove, Whirlpool dishwasher (brand new).
Others: High end window blinds, White wall mounted shelves in the basement, storage unit in the basement (Ikea Pax: tall and long light wood colour), Pax wardrobe in the master bedroom, All light fixtures, Owned HWT, Retractable screen on back door
Exclusions: TV Mount
Updates & Renovations: List of upgrades and information, in the text below.
Learn more: Roncesvalles


Wow! "They don't build them like they use to"... This super solid purpose-built mid-century triplex has been converted into a fabulous, spacious single-family home with a basement suite! The mechanicals are in top-notch condition and worry-free, which is pretty rare these days.
Extensively renovated with permits in 2013 and oozing cool factor, the open concept is ideal for chefs and entertaining and keeping an eye on the kids. The custom kitchen has vast amounts of cabinetry, Caesar stone counters and features a gas range. If you crave natural light, the top-of-the-line gigantic sets of windows lap up the west-facing sun and are nicely in keeping with the retro design and era of the building.
The main floor original bedroom is perfect these days in this work from home (WFH) environment as an office, kids classroom, guest room or even the ever desirable massive mudroom! The fully gutted and renovated bathroom with a walk-in shower is conveniently inconspicuous, and could be great for a growing family, guests or even a pet spa!
The second floor has 3 bedrooms plus the perk of library /additional desk/office area at the top of the stairs. It also enjoys an additional ductless air conditioner to supply the bedrooms along with the view from the wall of windows. Two of the 3 bedrooms fit a king-sized bed, another rare benefit. The tastefully renovated bathroom includes a rain shower head, body spray and heated towel rack.
08:23
Are you looking for a property with additional income to offset the mortgage? The lovely basement tenant enjoys a well laid out 1 bedroom suite with extra high ceilings, plenty of sunshine from big windows and a good-sized renovated kitchen! Could also be a wonderful in-law suite or totally separate home office space.
The basement is high and dry. There is plenty of extra storage and space for a creative tool workshop or convert to a glamorous laundry room - it features big windows and the high ceilings are a huge bonus.
Parking is always at a premium in an urban location like this, and you can enjoy the benefit of a double car garage, a nice and wide mutual drive, with parking in front of the garage as well. The back paved driveway is big enough to teach kids to ride a bike, safely run around or shoot some hoops. Let your imagination run free to create your own oasis! The good news is that there is plenty of space already in the front yard for gardening and raised built-in planters that will enjoy that west-facing light!
The City of Toronto is evaluating right now whether a homeowner may build a detached-accessory-dwelling-unit in their backyard as a garden suite, subject to Zoning By-law considerations. The double car garage might just be an ideal candidate. This goes hand in hand with the already allowed Laneway housing and opens up 10X more homes that could qualify for this, that are not on laneways.
R-Suite Elevation Model of a garden suite: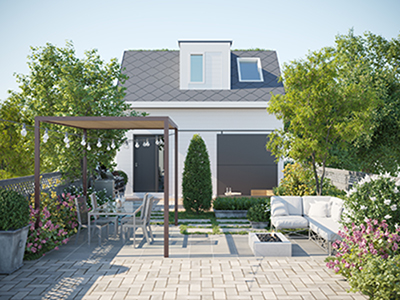 *Note that the design is an idea of what the backyard and garage could look like if meeting the requirements of a garden suite. The designs of the R-Suite Elevation Model were kindly provided by R-Hauz solutions. Find other sketches and the mentioned design in higher quality in the picture gallery.
In the Sellers' own words about the home:
The best feature of our home is the amazing light that pours in. We also really appreciate the open floor plan that makes it very versatile. We have shifted around the configuration a few times and experimented with how space flows to meet the changing needs of our family.

The backroom has been an office, a classroom, a crafting space and more.

One of the most useful upgrades to the house was networking each room! Although wifi works great; with two adults working from home and kids in virtual school each being plugged into the network was a life (sanity) saver.

We really enjoy our shower rain head with a body sprayer - it was an upgrade during the renovation - and worth it!

The landing is a beautiful gathering spot with a huge stairwell window that is a bright and cozy spot to curl up and read.

Having the basement apartment has been great. We have had family living with us and having a separate space for them keeps life harmonious. We have had great success renting out the basement. The brightness of the basement with the ceiling height has always been a pleasant surprise to perspective tenants and a key selling feature. Plus we have a lot of storage under the stairwell in the electrical room and in the boiler room (again with a high ceiling).

The back deck is easy to access to be the main door. I joke that the back door is where our friends come; so we don't always answer the front door. Plus we have an amazing view of CN tower, which is lovely on special events when it is light up or has fireworks. Having a lot of parking space has made everything much more convenient. I didn't know that Sorauren is notorious for parking challenges because we've never experienced it. It's always been easy to rent our garages and parking spaces if we wanted the extra income.

We have always looked longingly at the garages and thought how wonderful it would be to build a coach house. Now that the City of Toronto has embraced laneway homes and is actively pursuing Garden homes the option to build an additional dwelling is even more enticing!

We have lovely neighbours on all sides of our house and have built strong relationships with them where we are our own small community watch. Any tenants are long-term and have always been a respectful and important part of our community.

Both 15 and 17 have a cohesive look and feel: garden, roof, eavestroughs...
Roncesvalles Village/Trendy Queen West!
17 Sorauren is surrounded by hip amenities, including the commercial strips of Queen West and Roncesvalles Ave. Providing plenty of choices for local shopping, to run errands and pick up take out (hopefully dining in soon)!
This established "Village" type neighbourhood is steps to adjoining areas of High Park, Parkdale, Liberty Village, Lake Ontario & The Martin Goodman Trail (accessible via the overpass from King West). You're also within easy reach of the Ossington strip, West Queen West & Trinity Bellwoods.
This is a vibrant neighbourhood with a mix of old-world character and gentrification. Family-friendly and blessed with excellent transportation routes, it is also ideal for hospital workers, with St Joe's Hospital so close by.
Plenty of parks surround: Attention dog owners! Just west is the expansive High Park & Grenadier Pond - extensive trail system, petting zoo, huge off-leash area and remember Cherry Blossom season is coming soon!
Sorauren Park is a popular neighbourhood gathering spot for kids play, tennis, soccer league, an official enclosed off-leash dog area, pumpkin patch after Halloween, outdoor skating rink plus the Wabash Centre & Town Square. Sorauren Park has an amazing farmer's market every Monday.
Desirable neighbourhood schools attract many families with school-age children - Renovated and revitalized Parkdale Jr. & Sr. PS, St Vincent de Paul Catholic School, Parkdale Collegiate is an oasis, nurturing all who discover it, introducing programs that students love, including an enhanced PreBaccalaureate program and acclaimed International Baccalaureate Programme.
For convenience when driving, it is a quick trip downtown via Gardiner/Lakeshore or out of town via QEW. Pearson Airport & 400 series highways are easily accessible from this location. Or use the UP Express for a quick ride to Pearson or Union Station.
In the Seller's Own Words about this one of a kind location:
The Parkdale, Roncesvalles, High Park neighbourhood are vibrant communities that offer an eclectic mix of what makes Toronto a city of neighbourhoods. Our home is truly located with everything at your just outside your doorstep.

For us the central location was ideal. Easy access to downtown was key and with a 24-hour Queen Streetcar transit, bike routes, and even walking were all options we rarely used our car.

Queen Street West is a dynamic neighbourhood from Little Tibet (the highest concentration of Tibetan people outside of Tibet) with the culture and food to hipster environment with funky shops and delicious hot-spots like Craig's Cookies and Glory Hole Donuts. Although those places were sweet treats our staples like CiCi's pizza and Alibaba middle eastern for a quick dinner.

The community highlights for Parks include an amazing public library with a recreation centre across the street (these two buildings are slated for a complete rebuild!). Just a little farther is Mary McCormick Rec Centre with the pool and skating rink - this complex includes where our oldest child took her first (toddler) music and dance classes. As a parent with young children, it was great to have four (!) EarlyOn (A drop-in centre for babies and families to learn, play and connect) centres close by: Parkdale Creating Together, Mary McCormick Community Centre, and Parkdale Public School and Masaryk Cowan Community Center.

Parkdale Jr & Sr Public School is a gem, it has a strong sense of community and deep history. It has a pool, where students get weekly swim lessons (!) as part of the curriculum, a cafeteria with a hot lunch program, two gyms a library and a very strong family parents Council. There is dedicated staff with deep roots in the community. The school has regular community events such as the Winter Spirit Fair, the Spring Fair where fundraising is important but bringing people together is the goal.

Roncesvalles is a landmark neighbourhood in Toronto with deep Polish roots and is a street that caters to families from Scooter Girl Toys shop to Ed's Ice Cream and the specialty clothing and services make it such a resource to have so close.

There is an extremely strong community on many of the Facebook groups providing opportunities to make connections, just buy and sell your goods and join community action. We found it is a neighbourhood of like-minded people.

Of course, being so close to High Park is a huge benefit for fitness, running the trails, signing up for Harry's Spring Runoff and just enjoying nature. On the same day, you can be in the wood of High Park to the beach on Lakeshore, with easy access to both.

Being between two very successful retail streets also means we are close to many community festivals from the Polish Festival on Roncesvalles to the BIAs Spring Fling on Queen Street West. We also walk to the regular cultural events hosted on the old Ontario Place and CNE grounds.
Upgrades & Information:
2011
Basement apartment: new countertop and base cabinets, new bathroom fixtures with tile surround.
Electrical for Basement: New Electrical panel, kick heater in the bathroom, new range hood
Basement Windows: Northstar (Brock) paper invoice
2012
Roof: Complete replacement of all roofing and flashing with new underlay and A Cambridge (30) YEAR, (by IKO) fibreglass-asphalt shingle (Roofworks)
2013
Major Renovation to top two floors (excluding main floor bathroom)
Main floor was gutted to studs
Wall removed to create an open space, I-beam installed
Main Floor - New hardwood floors throughout (Coswick, white oak quarter sawn)
Main floor was levelled and insulation was installed
New ceiling throughout: including insulation and sound channels; upgraded pots lights with boxes because of the insulation.
New kitchen: Cabinets and island (Raywall), Quartz counter-top (Caesar Stone), Tile backsplash
Upstairs: Carpet
New 2nd Floor Bathroom: gutted and rebuilt
New Electrical panel: replaced and upgraded, new wiring on main floor
House networked with a plug in every room
Blown insulation in the Attic
Windows: Black windows: "brick to brick" installation, Double LowE glass and Argon gas filled glass units, Low expansion foam between new windows and existing - Northstar Windows (Anderson Windows and Doors)
Installed 2 new ductless Mitsubishi Air Conditioning ductless units
Networked Fire/CO2 alarms
Enhanced fire code requirements due to basement unit, including, fire exit sign in main entrance
2016
Downspouts: Replacement of Friexe board, soffit, fascia, eavestrough and downspouts with T-Rex leaf guard system (All Country Aluminum)
2020
Built-in Bookshelves
Main floor bathroom Renovation:
Gutted to studs
New subfloor with levelling
Water barrier installed, tile surround tile floor insulation
New extra quiet fan
Walls are studded for glass shower door if desired (pictures available)
Schools available for residents of 17 Sorauren Avenue
Check for your house number!