93 WAVERLEY RD., TORONTO

ASKING PRICE: $1,239,000

SELLING PRICE: $1,214,500

PREVIOUS SELLING PRICES: $690,000 (2003); $595,000 (2001)

TAXES: $7,048 (2012)

DAYS ON THE MARKET: 12

LISTING AGENT: Julie Kinnear, Royal LePage Real Estate Services Ltd.
The Action:
Along the western edge of Kew Gardens between Queen Street and Lake Ontario, this detached, brick house was sold to a family similar to the one that sold it last fall.
What They Got:
Each year since 2004, this roughly 80-year-old house became more fair and functional with updated roofing, heating and cooling systems, pot lights and hardwood floors in various rooms, as well as three remodelled bathrooms and a kitchen with stainless steel, granite and marble appointments.
A family room addition with a walkout to a deck, flagstone patio and gated garden increased interior living space to 2,130 square feet, including the open dining space and living room with a wood-burning fireplace.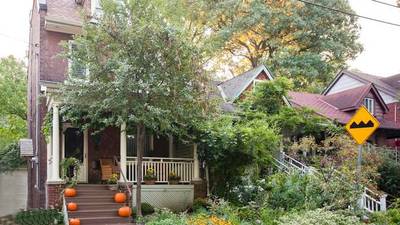 The second floor currently houses two bedrooms, including one with a sitting area and another with a walk-in closet and bathroom. Meanwhile, one of two third-floor bedrooms has a balcony and skylight.
The 870-square-foot basement is virtually self-contained with a kitchen, a fireside recreation room, guest bedroom and side entry to a repaved driveway and garage on the 25-by-115-foot lot.
The Agent's Take:
"In the Beach, there are a lot of houses that are wood framed and not as well built. But this was a full brick, detached house and that is rare," says agent Julie Kinnear. "It was three storeys, it had a garage and a dug-out basement. It was basically a total family home."
The proximity to the waterfront and urban attractions was also hard to beat.
"It was hot because its south of Queen Street and [homes] don't come up very much [in that area], practically never," Ms. Kinnear adds.
"Having your own gate walking into Kew Gardens is very cool. There's a playground right there for children … and you've got the jazz festival, tennis courts and gardens in there, it's nice."