A lot of people, even those who recycle at home, tend to distrust recycled products. Many the objections are question the reliability and style of recycled products. This article will show you that recycled things can be as reliable as brand-new products — and sometimes the extra character they carry with them is just the thing your household needs. Let this list of DIY recycled ideas be your inspiration.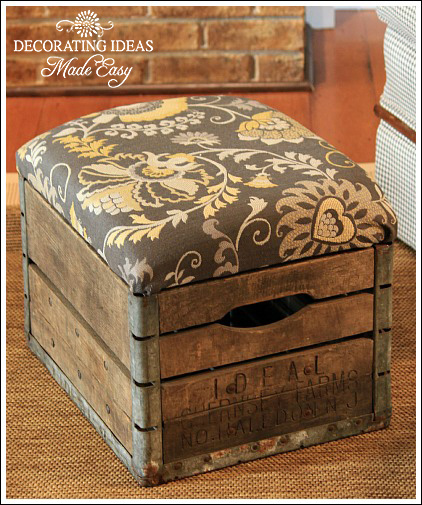 Cheap, rustic furniture sounds generally like nonsense. Antique shops offer hundreds of rustic furniture for incredibly steep prices. The recycling community came up with an incredibly easy and accessible DIY project on how to turn an old milk crate into an amazingly unique ottoman. Vintage milk crates are easy to find at various junk stores, for as little as $20. Once you have a crate of your choice, you just dust it off and fit a piece of plywood on the open top of the crate to cover it up. Next, you cut out a piece of 2 inch foam to fit the top of the plywood board. You can find foam at virtually any craft or sewing store. Now the only thing you need is the piece of cloth to cover up the plywood along with the foam and the staple gun. Make sure you don't leave any wrinkles on the top side of the ottoman. The ottoman is stylish, with a lot of character, and easy on your budget. Plus, it's a great conversational piece.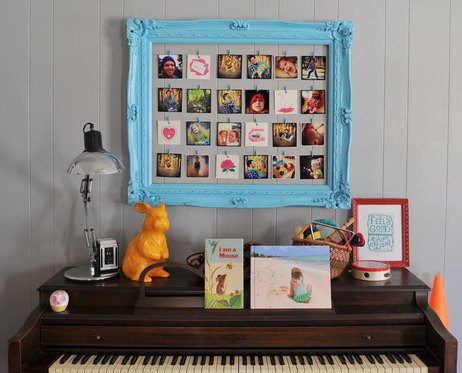 Every household has at least a couple of old frames from grandparents or from paintings that you received from friends that you had reframed into something "more fitting." Frames like these can find new recycled use as a wonderful new frame for your family photos. You can pop into any store that sells paint and choose a shade that will fit your interior décor. (The usual golden colour of these frames isn't the most fitting for the majority of households.) Another thing you'll need is a piece of rope or wire to use as a clothesline for your photos. Colour the pegs the same colour as the frame and you're ready to hang your photos. The biggest advantage of this setting is that you'll be able to change the photos in the frame whenever you want. You can recycle an old frame that you would have thrown out otherwise and have an amazing and stylish photo frame instead.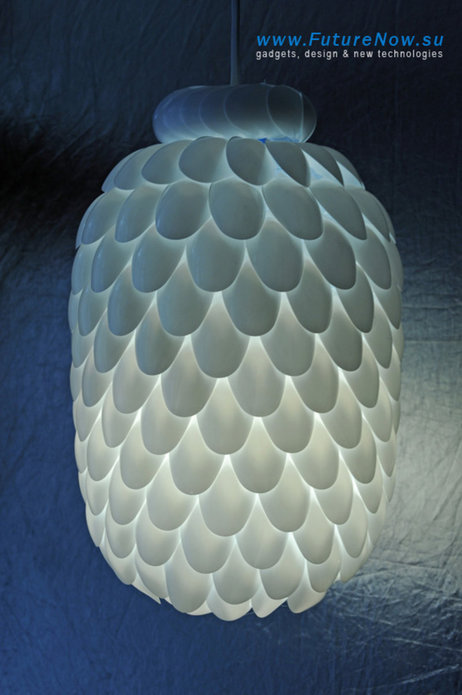 Photo by: Future Now Magazine
The winner in of the Ecology and Design award of Future Now magazine in 2010, Spoon Lamp is a successful experiment using materials that are hard to produce and recycle. It's also an excellent example of how to turn ordinary items into design objects. All you need apart from a considerable amount of white plastic spoons (as many as you can get!) is a plastic bottle, glue, a knife, pliers, and a lamp with a cable. It's very easy to make — you can manage to construct the lamp in less than three hours without any special skills. Then, enjoy your new lamp. You've just recycled approximately a week's supply of plastic spoons for one coffee machine.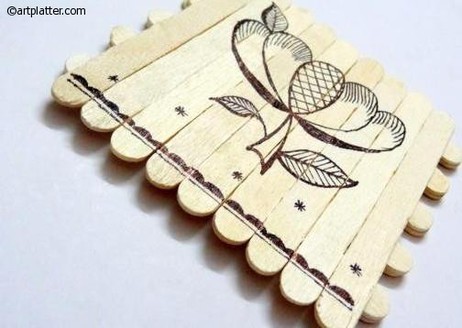 This recycled idea is ideal for lofts that have a bit of industrial design to them. All you need is a bunch of popsicle sticks, which you can easily accumulate (especially if you have children), and a glue gun. The only problem with this design is that you have to be extremely patient. But if you succeed, you'll be the proud owner of a coaster in the shape of an industrial palette that will add amazing detail to your coffee table. If you'd like to have one more design to choose from and have an old Scrabble set you're not using, you can create amazing scrabble tile coasters. Perfectly DIY and customizable, these coasters made of old Scrabble tiles couldn't be easier to imitate. Glued onto a piece of cork and sprayed with sealant, they look great!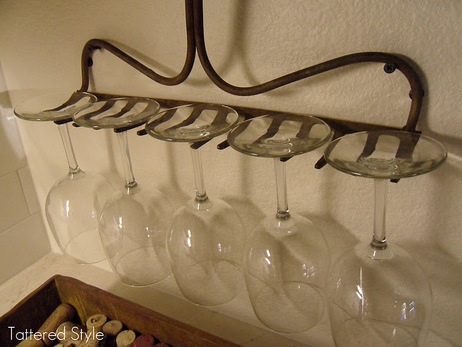 Either paint the rake head to match your décor or use as a bright pop of colour, and then hang wine glasses in your kitchen, dining room, or even bar area. This is a great solution for those with limited counter space. It looks really good in rustic-themed apartments. The old rake head is one of those things you can recycle in countless ways — from using it as a coat hanger, a mail organizer (after you remove the rake head from the handle and paint it, you can place it on any shelf or counter as an easy way to sort mail and bills), a tool caddy, or kitchen utensil holder to even a jewellery rack.
Are you getting rid of your shutters? Don't throw them out yet. Wooden shutters have the ideal shape for use as a mail organizer in your home. Once you remove them from your windows (or buy them at any junk shop), you can attach them to the wall, creating a ladder of little "folders" to put your mail in. If you have bigger family, you can simply label the "folders" with names. If you have a more adventurous mind and colourful house, you can paint the sections of shutters with different colours to distribute the mail among family members.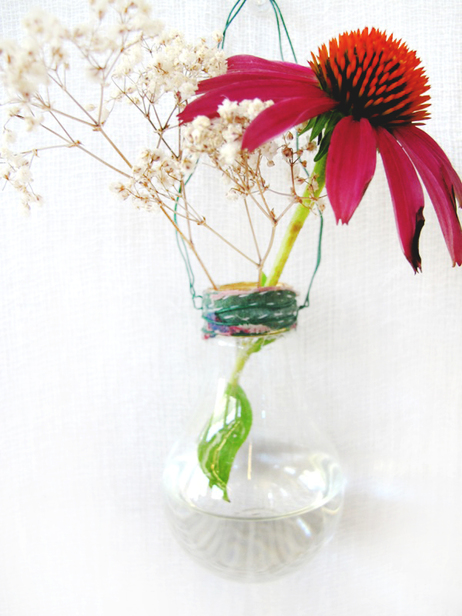 This is the ultimate recycling DIY project for your home. Don't throw away those old light bulbs just yet — there's a fantastic use for them. You only need a light bulb (all shapes and sizes work), pliers, and gardening wire. First, you need to remove the little silver layer on the bottom of the light bulb. Work the pliers under the first layer to create a little lip, and then peel the layer right off using your pliers. Then you have to remove the black cap from the bottom side of the light bulb. This is quite challenging, and you want to wear safety goggles in case the glass breaks. You should be able to work the pliers into the hole left after you remove the silver cap and snap the glass. You can use the pliers or a small hammer to tap the rest of the black glass off the bulb. Do this outdoors or over a hard surface so you can sweep up the bits of glass easily. Once you've removed the black glass, take the little glass tube and wiring on the inside of the bulb. Finally, insert some flowers and water, and hang with gardening wire. It looks amazing and takes only minutes to make — plus, you get to reuse your old light bulbs in fun and practical way.
MH00SK