The number of properties available on the market today is incredibly low, with the inventory shortening since September. The number of new properties for sale was down 4.4 per cent in November, year over year, and month-end active listings fell down 12.1 per cent, according to TREB.
"The lack of inventory in September, October and November has been unlike anything I've ever seen before,"
said realtor David Fleming to the Toronto Star. He has been a realtor for a decade.
Home owners sank deeper in their seats and are less willing to sell their properties now. Moving up is an expensive business — not to mention the lack of good properties and the sky-high prices of those left on the market. This situation is slowly getting out of control, especially in sought-after city neighbourhoods close to transit and good schools. The lines for open houses resemble those in front of the hottest clubs downtown.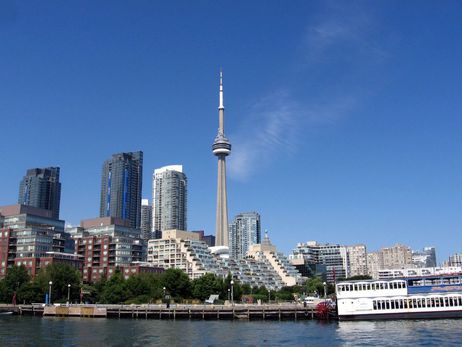 The City of Toronto
Torontonians are slowly realizing that a car-dependent lifestyle is not only tiring and time-consuming, but also financially more demanding than living in the city. Those who have done the math are moving closer to the city and they have started to prefer living in properties within walking distance of transit and generally more approachable.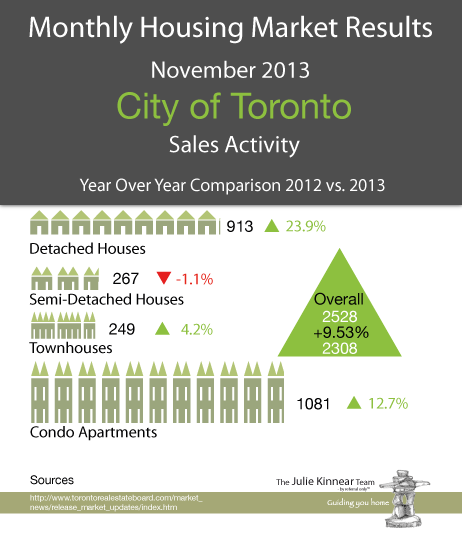 Given the situation, it comes as no surprise that sales in the City of Toronto increased 13 per cent from last November. There were 2,528 sales recorded by Greater Toronto Area REALTORS®.
Condo sales represent nearly 50 per cent of properties sold in the 416 area code. In November, 1,081 condo apartments changed owners, representing a nearly 13 per cent increase year over year. Even though the average selling price rose 10 per cent, to $385,968, condominiums are still the most affordable housing option in the city.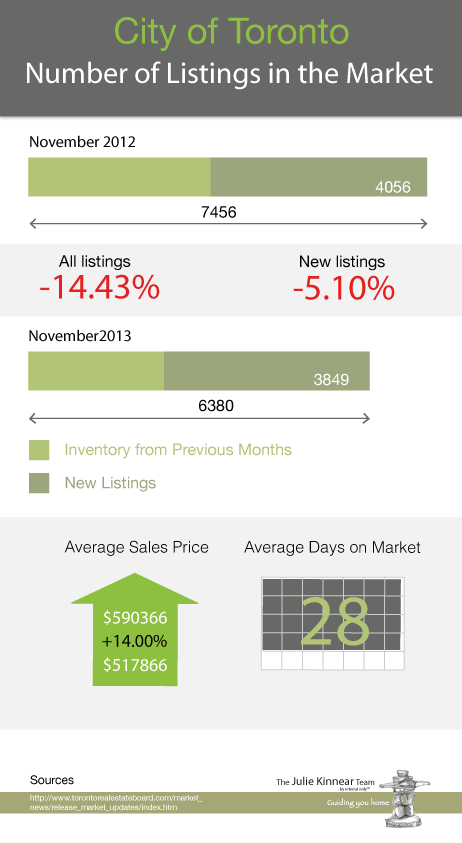 JK data2013 NOVEMBER 2
Detached properties were the second bestselling properties last month, with a total of 913 houses sold, a sales increase of 24 per cent. The average selling price rose 16 per cent and is now $855,188. 
Semi-Detached house sales were down 1.1 per cent. Only 267 houses changed owners over the past month. The selling price, however, remained high. Home buyers needed $640,208 on average, which is 10 per cent more than they needed a year ago.
In total, 249 townhouses sold last month, which is 4,2 per cent more than a year ago. The selling price increase is the lowest among the city's properties and represents a 6.4 per cent increase.
The Rest of the GTA (905)
Detached property sales represent 57 per cent of total sales in the 905 region. Last month, 2,200 properties sold — 16.3 per cent more than a year ago. The average selling price is higher as well, by nearly 10 per cent. This year, a detached house cost $609,557 on average.
Townhouses were the second bestsellers of the rest of the GTA. Their sales rose almost 11 per cent, to 712. The selling prices increased as well, to $472,722, by 6.4 per cent.
There are 434 new condo owners in the rest of the GTA, which is 14.2 per cent more than in November 2012. Their average price is 0.4 per cent lower than a year ago, though.
Semi-detached houses were the least successful properties last month in terms of sales. There were 418 houses sold for $419,318, representing an increase of 9.1 per cent and 7.1 per cent, respectively compared to November 2012.
The GTA
Last month, 6,391 properties changed hands for $538,881 on average. Both sales and the average selling price increased year over year by 13.8 per cent and 11.3 per cent, respectively.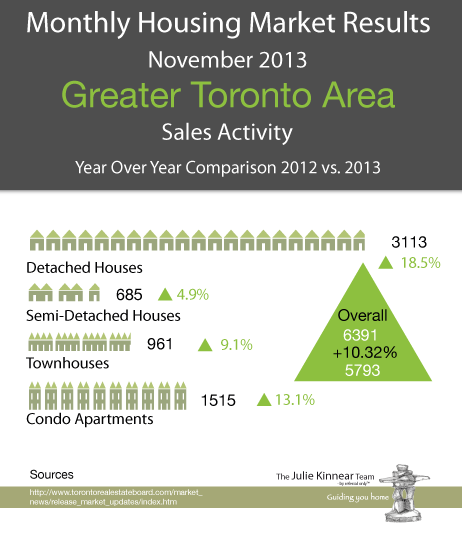 The biggest sales and price increase was recorded in detached properties. There were 3,113 houses sold (an increase of 18.5 per cent) for $681,597 (an increase of 12.3 per cent). 
Semi-detached house sales and selling prices increased the least last month. Only 685 houses sold (up 4.9 per cent) for $505,417 on average (up 7.4 per cent).
Condo apartments were the second bestselling properties in terms of the number of units sold. An incredible 1,515 condos sold in November, representing a 13 per cent sales jump. The average selling price rose 7.4 per cent, to $354,864, keeping condos the most affordable housing option in the whole GTA.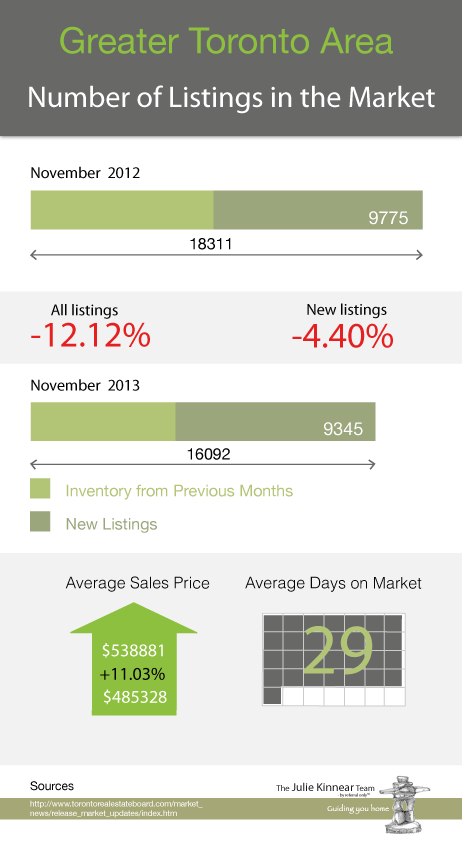 Townhouse sales improved 9.1 per cent year over year, with 961properties sold. The average selling price increased too, by 7.7 per cent, and is now $402,965.
"Growth in sales was strong for most home types in the Greater Toronto Area. Sales growth was led by the single-detached market segment followed by condominium apartments. Together, singles and condos accounted for almost three-quarters of total GTA transactions,"
said Toronto Real Estate Board president Dianne Usher.
KK00SK