In the Annex, a neighbourhood dotted with frozen yogurt chains like Menchies and YoYos every few steps, Greg's Ice Cream stands its ground with its 30-year history and consistently high quality. As a hub for University of Toronto students, families, and office workers on their lunch breaks, Greg's Ice Cream holds its own at the corner of Bloor Street and Spadina Avenue, using all-natural ingredients and offering fair prices. From $2.86 for a half-scoop to $5.00 for a double scoop, customers can choose from an ever-changing list of choices (taken from a larger list of over 100 ice cream flavours).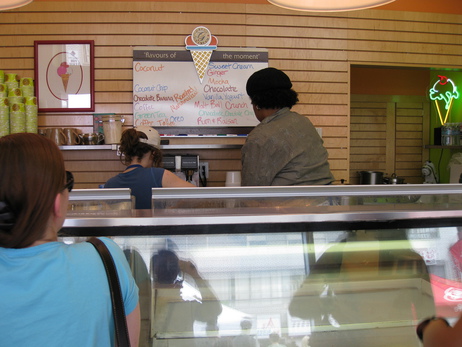 Greg's Ice Cream by elPadawan
The owner, Greg Mahon, was the first ice cream lover to make an all-natural shop in the city, back at his old location at Bloor Street and Avenue Road. A locavore before the trend became popular, in 1981 he used locally grown ingredients for his all flavours and never shied away from experimentation (grape nut flavour, anyone?). Many years later, after his grand opening three decades ago, Mahon now sells his ice cream across the city, including at a new location in the Distillery District.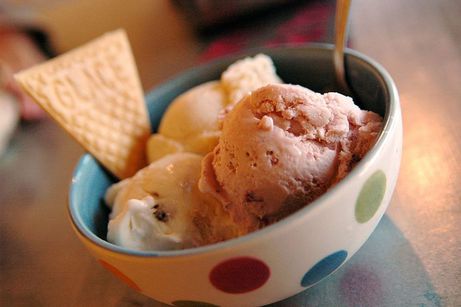 Favourites like roasted marshmallow, lemon meringue, coffee toffee, and banana chocolate chip are what keep the customers coming back. Greg's also offers flavours like star anise, cardamom, sweet cream, stout, and strawberry yogurt. All the varieties are creamy and bursting with rich taste. When you sample the roasted marshmallow flavour, you spend most of your time wondering, "How does it taste so much like roasted marshmallows?" Greg's servings are huge (I usually have to get the kiddie size), and the taste is always refreshing.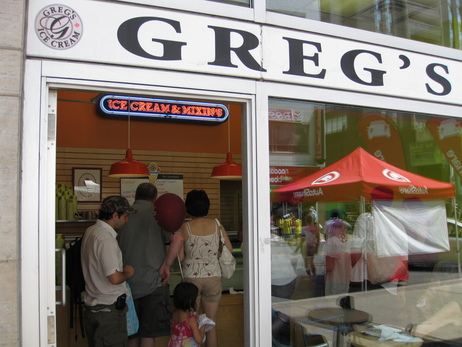 Greg's Ice Cream Entrance by elPadawan
The venue itself is quaint, with a few seats inside and a nice patio — perfect for those sunny days — outside. The walls are covered in adorable children's drawings of ice cream, Greg, and Greg as an ice cream. The location is unbeatable — just a skip away from Spadina Station and a hop from the best shops in town. There's a reason why Greg's has been around for so long, and it hits you with one bite. It's hard for any other ice cream shops in the city to compare.
To Greg, the business isn't so much about ice cream, but more about making people happy. Sometimes you can catch him in the shop, reminiscing with old friends, smiling with new customers, and sharing his favourite stories — and flavours — with the city.
Location
750 Spadina Avenue Toronto, ON
Hours of Operation:
Monday 11:30 am – 11:30 pm
Tuesday 11:30 am – 11:30 pm
Wednesday 11:30 am – 11:30 pm
Thursday 11:30 am – 12:00 am
Friday 11:30 am – 12:00 am
Saturday 11:30 am – 12:00 am
Sunday 11:30 am – 11:30
Contact:
Phone: +1 416-961-4734
Website: gregsicecream.com