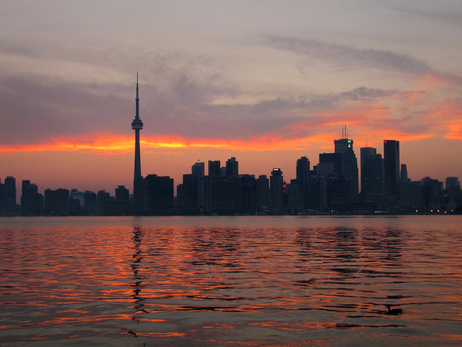 Toronto Sunset by Loozrboy
It's not just nature that blooms in the spring. Spring happens to be the time when most contracts get signed and families move into their new homes. Despite serious obstacles in Canadian housing market, the sales in April 2013 were better than expected. Keeping up green numbers all the time is unhealthy, so seeing some segments cooling down while the others rise is a positive development.

There were 9,811 sales recorded in April 2013, which is lower by 2.1 per cent compared to last year's figures. Given the unsatisfying results in previous months, this small decline is a sign that spring has found its way into the housing sector as well. While the number of sales lowered over the past year, the average price for a unit climbed up 2 per cent from $515,888 to $526,335. Immigration and the rapid rise of young people moving to Toronto as well as the creation of new jobs will benefit from more housing units on the market. The number of units increased by 13.5 per cent to 20,866.
CITY OF TORONTO
There are about 1,600 newly completed condo units in Toronto are waiting for new tenants and homeowners. This number is comfortably close to the long-term average. Moreover, if we take population trends into account, the number of unoccupied condos is well under the threshold.
Condo sales dropped 1.3 per cent over the past year and are now at 1,479. The average price, however, rose to $379,266 per unit, which is 5.6 per cent more than last April. Compared to other house types, the condo market scored the highest in the number of units sold in the City of Toronto.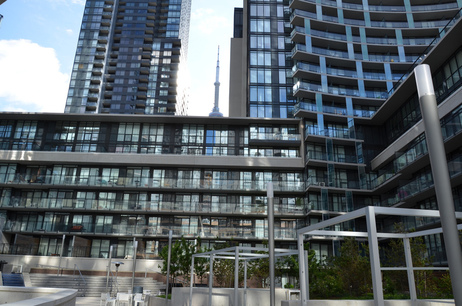 Welcome To Your New Condo by sam xu
The condominium apartment segment in the City of Toronto was a key driver of price growth in April," which suggests that first-time buyers are out house hunting again, almost a year after Ottawa moved to tighten mortgage lending rules, said TREB president Ann Hannah in a statement.
The detached house market reported 1,264 contracts signed in April 2013 and scored second in the number of sales — right behind condos. The average price for a detached house in April 2013 was $852,090 — higher by 2.5 per cent than last year.
There were 415 semi-detached houses sold in April 2013 in the City of Toronto, and again, the number of houses sold has fallen, in this case by 5.5 per cent. The average price kept a little higher than last year, rising by 2.4 per cent, reaching $410,739.
The average price of a townhouse has risen by 2.3 per cent to $433,710, while the number of sales dropped to 398, which is 3.6 per cent lower than in April 2012.
Despite the headwinds we have experienced in the housing market this year, April sales came in quite strong in comparison to last year. As we move through the spring and into the second half of 2013, the demand for home ownership should continue to firm-up relative to last year,
said Hannah.
GREATER TORONTO AREA
 It has been almost a year since the federal government enacted stricter mortgage lending guidelines. It is realistic to surmise that some households, who originally put their decision to purchase on hold, are once again looking to buy,
continued Hannah.
Much of the chill we see in the TREB report came from the GTA, where the condo market has noticeably cooled down since last summer. Despite the fact that there are more than 64,800 new high-rise condos, semi-detached houses, and townhouses under construction, the market seems to be healing and getting back to normal.
Detached houses are the most popular house type in Greater Toronto Area, with 3,675 units sold. Together with semi-detached houses, the number of houses sold is higher than the year before by 2.5 and 1.3 per cent respectively. The average price for a detached house rose by 2.2 per cent, reaching $588,784.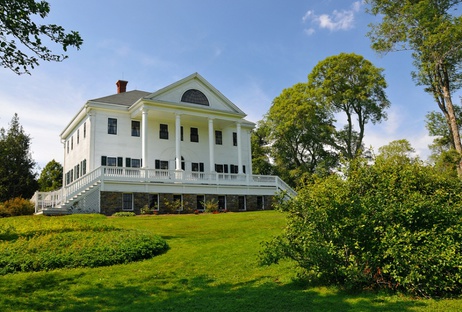 Uniacke House by Dennis Jarvis
The average selling price for a semi-detached house was $410,739, rising 4.3 per cent. In total, 681 houses sold, and that equals a 1.3 per cent rise compared to last year.
Last month, 1,123 home owners decided to purchase a townhouse. Thanks to their higher price, the $375,269 in sales dropped 1.2 per cent from last year.
Condo apartments were sold for an average price of $273,832, which fell nearly 6 per cent. The number of sales fell too. There were only 582 units sold in April 2013, and TREB reported a 7.3 per cent drop compared to last year's figures.
Will Dunning, chief economist to the Canadian Association of Accredited Mortgage Professionals (CAAMP), continues to blame the downturn on Ottawa's imposition of tougher mortgage lending rules.
We're going to see a significant impact as housing starts continue to move downward,
he noted.