The Silver Snail
The Silver Snail, Toronto's token comic book and games shop, has recently relocated from its well-known Queen West location to a second story spot around the corner from the always-bustling Yonge and Dundas square. Known for being one of only a few hubs for the hobbyist community in the city, the Silver Snail is a go-to place for fans, geeks and collectors alike.

American Comic Book Writer Nathan Edmondson Visiting The Silver Snail
The new store is dressed head to toe in shelves full of board games, comics, trading cards, action figures, artwork and plushies. Any free wall space is filled with classic movie posters or life-sized superhero statues that will make you stop to look twice. Whether your interest is Japanese animation, hardcover art books, films, traditional table top games, costumes, or unique collectibles, the Silver Snail has it all. Even self-proclaimed non-geeks will be amazed by the large art pieces and figurines.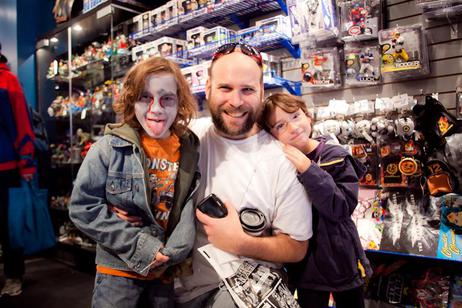 Your Kids Will Love This Store
With the new location also came wider walkways between bookstands, to accommodate more customers, as well as an attached café appropriately named after DC Comics superheroine, Black Canary. With a life-sized Batman suit and Spiderman statue at the entrance, the new addition of a coffee house allows for hobbyists to both shop and also chat over a cup of coffee. With stools facing Yonge Street for people-watching, and tables conveniently nestled amongst fan and collectors' décor, like a floor to ceiling map of Lord of the Rings' Middle Earth, the café is a unique hangout for anyone to enjoy.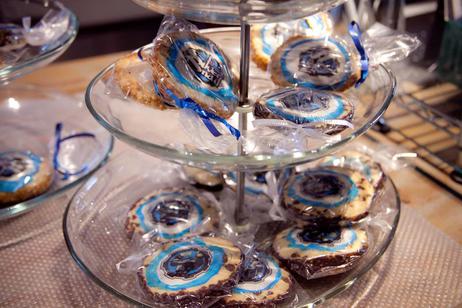 Have You Tried the Cookies?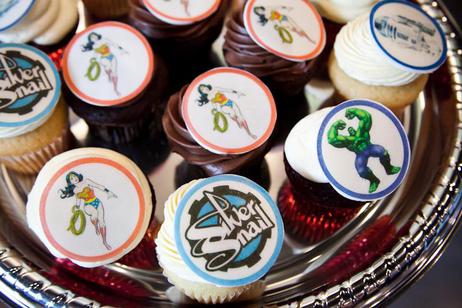 Or these "Superheroes" Cupcakes?
It does not disappoint in its offerings either, including baked goods and all the most popular drinks like espresso, tea, hot chocolate and lattes. Black Canary's menu includes a selection of unique drinks too, like a list of Nutella-based drinks to enjoy (spoon-licking encouraged), including a Nutellaccino, Nutellalatte, or Nuttella hot chocolate. You're welcome to enjoy the specials, like 'The Dark Knight' or 'Swamp Thing', a chai latte with espresso. Coffee lovers really come together with comic book collectors at this café, and if you're feeling creative, customers are encouraged to come up with their own concoction to drink.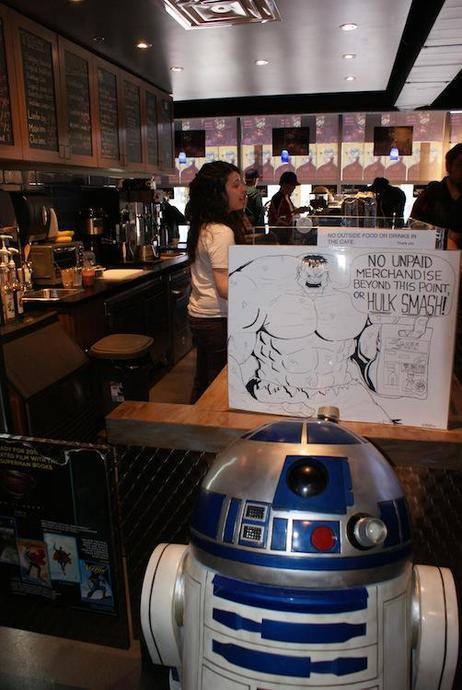 They've Got it Covered!
Silver Snail's new store surpasses any of its competitors when it comes to the new décor, location, and atmosphere. A problem they do face is not having wheelchair accessibility due to being on top of the new Five Guys Burgers and Fries, only stairs get you to the shop. The store also does not have a separate gaming area for in-store events, so any card tournaments or RPG game nights take place in the café or a table at the back of the store. If the coffee house is busy this area can get cramped, but it still surpasses the other game shops in the GTA that use basements or small unpleasant and uncomfortable rooms for their events.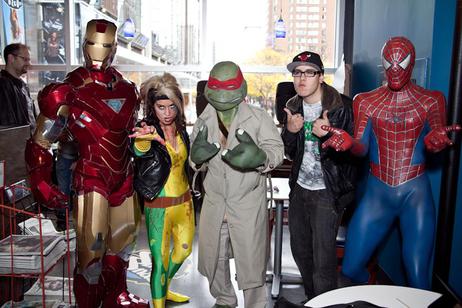 Pick Your Superhero!
Overall, the Silver Snail will continue to be a token spot for hobbyists to enjoy, and with a newer and bigger store they have taken advantage of showing off even more fanart for customers to enjoy. The Yonge and Dundas area, with an in-house café, has made this comic book shop a warm, friendly and trendy spot for everyone to enjoy.
Location:
329 Yonge St., Toronto
Hours of Operation:
Monday-Friday: 8.00am – 9.00pm
Saturday: 8.00am – 7.00pm
Sunday: 10.00am – 6.00pm
Contact:
Phone: 416.593.0889
E-mail: