The average sale prices of homes in Toronto continued to rise in June, but climbing mortgage rates and a big condo supply can pose a problem for the city's real estate market, according to economists.
There were 9,061 sales reported in the TorontoMLS system in June 2013, which is 0.7 per cent fewer than a year before. Market conditions became tighter since new listings fell 6.1 per cent compared to last year. The average selling price amounted to $531,374; it was up by 4.7 per cent.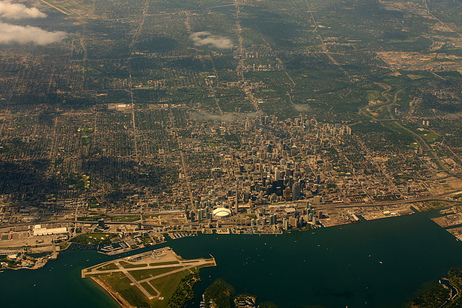 There is a huge gap between the average selling price of low-rise homes (detached and semi-detached house types) and condos. In June 2013 it climbed to $234,282. A new housing trend has come into sight as a result of the intensification of the housing market. The high number of condos that are being built is pushing the average price down significantly. On the other hand, scarcity of low-rise properties, such as detached and semi-detached houses, is pushing the selling price up.
"If you own a condo and you want to sell it and you can't, then that means you can't buy the single-detached home that you really want. There are definitely linkages between the condo market and housing more generally. Sales in one market can affect sales in other markets,"
said Robert Hogue, a senior economist at the Royal Bank of Canada.

City of Toronto
The smallest year-over-year change in selling price has been recorded in the condo market. An average price for a condo was $366,532 and rose 0.3 per cent compared to last year's results. There were 1,329 units sold over the last month, 4.0 per cent fewer than in June 2012.
Townhouses were selling for 1.6 per cent less than in June 2012. An average price for such house was $443,126 - it is the only drop in selling price recorded past month. Sales were down too as only 379 houses were sold over June 2013, which represents a 5.3 per cent drop year over year.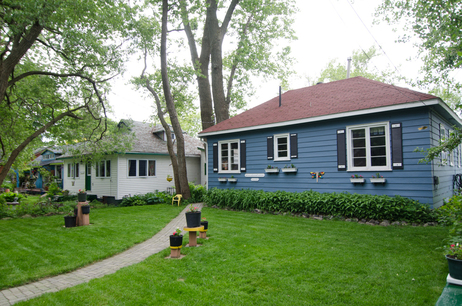 Houses on Toronto Island by Jason Baker
The average selling price of a semi-detached house climbed the most over the past month. The semi-detached houses were selling, on average, for $618,194 which is 9.5 per cent more than a year before. Shortening supply of semi-detached properties could not meet the high demand and it is pushing the sales down. They dropped by 3.1 per cent to 380 units in a year-over-year comparison.
Detached houses drive the market in the city. There were 1,137 detached houses sold in June 2013. Again, huge demand for this housing type could not be met and that resulted in an 8.1 per cent selling price rise. Average selling price was $866,326, up by 8.1 per cent compared to June 2012.
Greater Toronto Area
"The short supply of low-rise home types in many parts of the GTA relative to the number of households looking to buy continued to prompt strong upward pressure on selling prices of singles and semis,"
said Jason Mercer, TREB's Senior Manager of Market Analysis.
The only negative figure recorded by the TorontoMLS system in June 2013 was a sales drop in the GTA condo market. There were 556 sales registered, which is 2.3 per cent fewer than a year before. The average price was higher than in June 2012 and amounted to $288,604.
The average selling price of a townhouse shot up markedly past month. The price increased by 6.0 per cent to $378,264. The number of sales remained almost unchanged and rose only by 0.9 per cent to 1,054.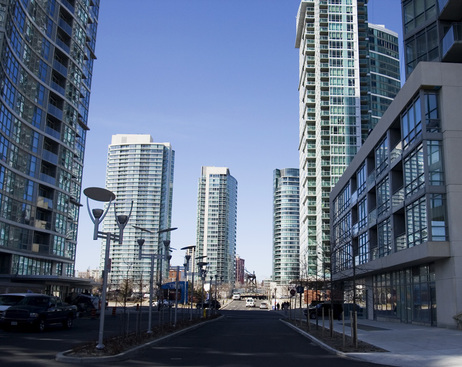 Waterfront condos by don toye
Semi-detached houses were selling similarly to townhouses. Their sales were slightly up, by 0.8 per cent compared to a year before. However, the average selling price rose by 3.7 per cent to $411,877.
The best seller in GTA were detached properties. TorontoMLS system recorded 3,411 sales in June 2013 for an average price of $598,708. Both figures were up compared to June 2012, by 3.2 per cent and 4.9 per cent respectively.