Holly Chandler is a multi-linguist world-traveller, and global citizen of Toronto bringing her expertise in real estate and knowledge of the west end of the city to clients as a part of the award-winning Julie Kinnear Team.
Holly's professional experience as both a sales representative paired with her personal experience as a buyer, seller, and home renovator has allowed her to better serve the needs of everyone she works with. Holly has always been someone who sets projects in her life, that she works to achieve. From age 24 and living in France, taking every opportunity to travel the globe, she strives for balance, consistency, and ways to celebrate the people and personal goals most important to her.
Buying your own home in the High Park area is what inspired you to pursue a career in real estate. Can you tell me more about this decision to change careers?
I had considered entering real estate when I was much younger, but didn't take the leap. Many years later, after I'd finished grad school and was working as a flight attendant, I set out to buy a house as my next life step or project so to speak. It felt like it was the right time to focus my efforts and look for something more. After completing so much personal research on looking for my own home, I was excited by the thought of becoming a realtor and decided it was time to get my license.
How did this previous work as a flight attendant help you to better serve your clients in real estate?
Being a flight attendant requires adaptability, the ability to think on your feet and resilience. You also have to have the ability to remain calm and collected in stressful situations in order to keep the passengers calm. Luckily I had the opportunity to hone these skills in my previous career as all of them can be applied to real estate. My clients have told me that because I was so calm, it really helped them.

Tell me about what you learned when you bought a house, gutted, and renovated it.
I bought a house spontaneously on a street where I first lived in the High Park area many years ago. I loved the location and three minute walk to the subway and the park. I ended up going into competition for the purchase and was able to experience this from a new angle, the buyer perspective. I realized the house I bought needed more renos than I thought, and the rose-coloured glasses came off. I eventually learned it's probably a good idea to be prepared to manage everything surrounding a renovation before you find a house to renovate. I managed to scrape things together with a general contractor that was recommended to me by a client. I also had to sell my own house after making my purchase which gave me even more empathy for my clients who are doing the same thing.
The entire experience was kind of stressful, and I had to go into temporary accommodation all while trying to communicate my vision for a house I'd never lived in before. I purchased the home in December 2011 and didn't move in until December 2013. The up-side was that the result was a home closer to my personal style because I was so involved in it. There are design-build firms who will organize and manage the entire project for you but there might not be as much flexibility in terms of design. In hindsight, that might not be such a bad way to go. In the end, I probably learned more about the reno process by struggling my way through it.
Now that you went through that experience, what would you say are some of the most important things a person should consider when buying a home in Toronto?
It's always such an individual thing. I try not to let my own opinions interfere with the advice I give, focusing on what's right for the client.
Location remains consistently important. Over the years I've learned how to help people figure out what's most important to them regarding the location of their future home. Based on what they say, I can sometimes suggest areas they may not have discovered or considered before. A person should also consider their budget, including any repairs or renos. Another important thing to consider is where they'd like to be in 5 years.


Holly and the Team – with Jen volunteering at Habitat for Humanity
// with Julie during wine tasting team building
What is the most rewarding thing about working in real estate?
The wide variety of people I get to meet, that aspect has never changed. The relationships – I love my clients, there are many who have become friends. It's rewarding to get to know my clients on a deeper level; understanding their real estate goals and dreams and helping them achieve them. I'm proud that I have been on the JKT for 10 years and we are consistently one of the best teams in the city. It's rewarding because it's not just business, we are like family and learn from each other's life experiences.
On the other hand, what's the most challenging thing about working in real estate?
The unpredictability – facing that sometimes you'll make dinner plans with friends and then need to cancel because a client needs help. I have learned to work around that somewhat, but it can be hard to find balance. For a while I kind of stopped making plans except for last minute ones. I came to realize how difficult it is to maintain good relationships that way and have made an effort to make sure time with friends and family is scheduled.
What are some of your proudest personal accomplishments?
There are many different goals I've set over the years and checked off on my list that I'm proud of. I completed an Ironman. It took two years for me to build up to that level and when I started I didn't know how to swim so that was a challenge, to say the least. Learning both French and Spanish and living in France and Spain. I completed my Master's in Spanish Literature, and completed the first year of my PhD program, something I may one day come back to.
For the past five years, I've been studying singing and recently started writing songs. I've always enjoyed singing and started to get involved with friends who were either having jam sessions at their home, going to Choir Choir Choir or to Good Enough Live Karaoke. I didn't have much confidence when it came to singing in public on my own... Actually, I was terrified so I decided to take singing lessons. I found Ryan Luchuck of Ryan Luchuck Voice and Artist Development online and feel so lucky. He's the best! I have learned so much from Ryan and always leave a lesson feeling positive and on track. I have since performed at some open mics, and I enjoy writing and singing my originals which I probably wouldn't be doing without Ryan's help. It's very gratifying to perform my own work and get a reaction.
Ninety-five percent of the population, when asked, will say they can't sing, but it's not true, we've just been conditioned by other people; classmates, siblings, parents, friends who have told us that we shouldn't sing or we sounded awful. Singing brings such joy so sing anyway. Sure, some people are naturally talented and have incredible voices while others (like me) have to work hard at it. The first time I sang in front of people on stage it was exhilarating and terrifying and exhausting – I'm really proud of the fact that I've overcome my fear of singing in public and actually enjoy it.


Some of the favourite activities – Holly delivering listing's feature sheets on her bike // Painting Holly did of Queen West in a snowstorm
How did your experience as an avid traveller, having spent many months in Europe for up to 10 months at a time, influenced your decision to plant your roots in Toronto?
I could live anywhere, but I love Toronto and its diversity and that I can explore so many different places. If you have the mind of a traveller and are curious, you can be a traveller here or anywhere. You can continually learn new things and meet new people. Travel has also exposed me to so many different people, which has been helpful in working in Toronto since it's such a diverse city.
What travel destination is still on your bucket list? Why?
I want to go to Scandinavia, Denmark and Finland – I love Danish clothing and furniture design. They are supposed to be the happiest people in the world.
You focus your work on helping clients in the west end of Toronto, what other areas of Toronto do you like to explore?
I've lived in the west end for a long time but I also have a lot of friends who live in the east end so I go there often. I like all parts of Toronto; I spend a lot of time in Roncesvalles, Queen West, Trinity Bellwoods, The Junction, Bloordale, High Park and Downtown. There isn't just one specific area of the city that I'd like to explore. My exploration of the city usually involves food – restaurants, cafes, bakeries, food shops... I like to go on random jaunts around the city and discover new places and areas. I keep hearing that Yonge Street can be a fantastic place to enjoy some Persian food so I'm planning on heading there soon.


Holly and the Team dressed up for their annual Halloween Pumpkin Patch
What is your favourite place to spend an afternoon in the city?
I don't really have a favourite spot per se. I like walking everywhere and could happily spend an afternoon just wandering about the city stopping periodically at coffee shops and little shops and galleries.
If I had an afternoon off, I might head to TIFF or Hot Docs to see a film, go to the AGO [Art Gallery of Ontario], maybe do some vintage shopping on Queen West. There really isn't just one spot. Spas are also a nice way to spend the day. Body Blitz is good and I'm also going to check out one of the flotation therapy spots that have popped up around town. There is so much to do in Toronto.
What can or should we do to help improve our city?
Transportation, bike lanes and green space. I would like to see us improve how drivers and bikers coexist within the city. It can be scary to ride in the city. Three years ago, I got rid of my car. It takes me about 4 mins to get to the subway and I walk and take Uber a lot – I take almost 700 Ubers a year. By walking or being in an Uber you get to look around, see what's new on the street, what's changing in a neighbourhood and generally enjoy that more intimate experience of the city. Being in an Uber instead of driving myself is productive because I can work instead of keeping my eye on the road. In relation to that, TTC access in the city can definitely be improved. I know a lot of people who spend 45 minutes on the bus just to get to the subway.
---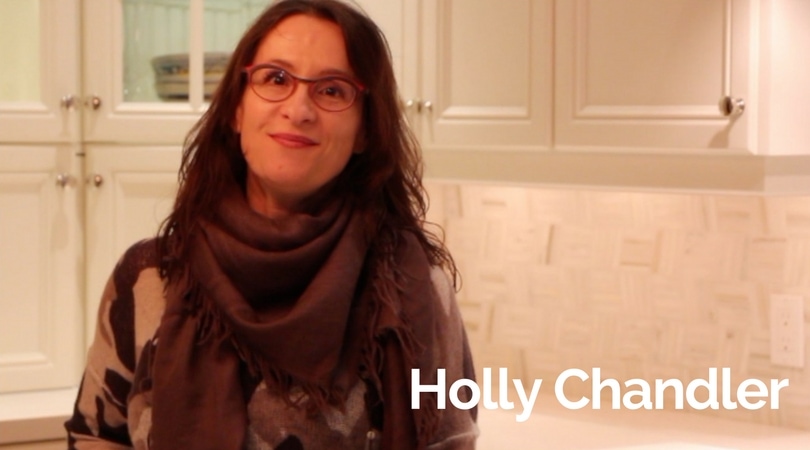 00:56
Holly Chandler is a compassionate, creative and committed Real Estate Consultant working primarily in the West end of Toronto. If you're thinking about buying or selling a home in Toronto, or if you have any real estate questions, reach out to Holly at 416-898 0128 or
SM00LR