Thai Basil is a trendy and authentic restaurant with locations in Downtown Toronto and a second in Richmond Hill. A perfect combination of contemporary and exquisite decor, with delicious food at very reasonable prices makes Thai Basil a stand-out restaurant of Thai cuisine in Toronto.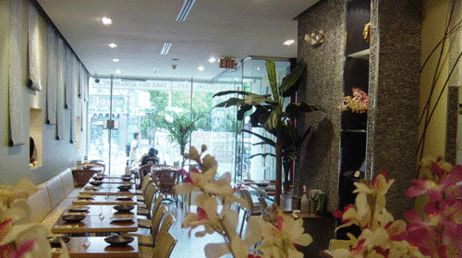 Thai Basil Downtown
The menu features dozens of authentic dishes overseen by Chef Lumson and Korn, renowned for their work in Thailand and South East Asian cuisines. With over 18 year of experience, they have brought a guaranteed delicious menu to the trendy side of Toronto GTA. The authentic and lengthy Thai menu features a combination of classic dishes with a contemporary twist, which work magic together. Similarly, Thai Basil sports a decor that is classy but very to-date and stylish. With traditional relics splashed across the walls and tables from Thailand, you can really feel the authenticity with a strong splash of trendy modernity.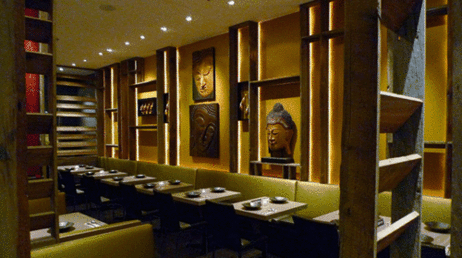 Thai Basil - Richmond
Thai Basil features a lunch menu that lasts until 5pm, very rare compared to other restaurants in the Annex. Because of this, you can choose from several combinations of soup, salad, spring rolls and entrées at fabulous price points of around only $8. Selections from this lunch menu include green curry chicken, pad thai, sweet and sour chicken, garlic beef, and more. The starter soup included in lunch combos is to die for, with quite a spicy but unbelievably flavorful taste that will have your nose running. It is very difficult to find an authentic tasting soup like that one anywhere else in the city. The spring rolls are also astounding; being hot and flavorful, served with a sweet dipping sauce.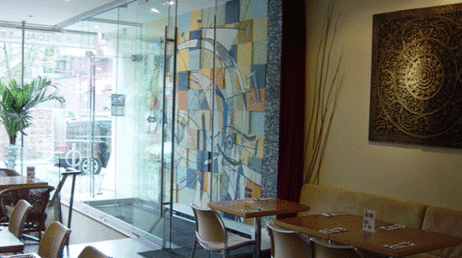 Downtown Location - THai Basil
The drink menu is equally appetizing, with in-house specialties like hot and cold ginger lemongrass teas. Whether you're feeling sick or just need a cheering up, their teas will seriously put a smile on your face. The staff too, is always personable, helpful and pleasant to be around. The service at Thai Basil is extremely efficient and speedy, always having friendly servers to help with your Thai food experience.
Authentic Thai cuisine as delicious as this one is hard to come across, and with the contemporary and stylish theme and irresistible lunch prices, you can't go wrong at Thai Basil. It is truly a gem of the city, and an essential part of Toronto's Thai food fusion.
Locations
467 Bloor St. W. Toronto (West of Spadina)
1070 Major Mackenzie Dr.E. #F103 (Smart! Centres at Bayview)
Hours of Operation
Sun-Thu: 11:30 am – 10:00 pm
Fri&Sat: 11:30 am – 11:00 pm
Contact
www: thaibasil.ca
phone: (416) 840-9988 (Downtown)
(905) 780-8788 (Richmond Hill)