The year of 2013 finished strongly in Toronto. You'd never guess that the slowly starting 2013 would be caught in a mania situation by its end. The high number of sales recorded throughout the year was mainly driven by the shortage of new listed properties. This shortage was, however, more evident as the year came to its end. Total sales for calendar year 2013 were 87,111 — up approximately 2 per cent compared to the 85,496 transactions in calendar year 2012.
"The average selling price will be up again in 2014, and by more than the rate of inflation. The seller's market conditions that drove price growth in the second half of 2013 will remain in place in many parts of the GTA. Some neighbourhoods, especially those characterized by low-rise home types like singles, semis and townhomes, will continue to have less than two months of inventory,"
 said Jason Mercer, TREB's senior manager of market analysis.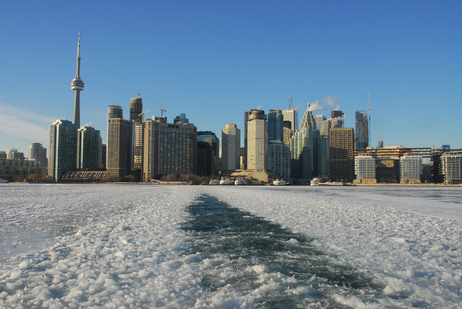 On ferry off to Ward's Island. The rear end. by The Lord of the Wings
The City of Toronto
The City of Toronto remains a favourite place to live for many Torontonians, judging by the the short inventory time of most of the properties and rising prices.
Condo apartments have been the most popular housing option in the city in the last month of 2013. Condo sales rose by an incredible 21 per cent year-over-year, and nearly 800 units will soon have new residents. The average price for a condo unit is now $367,376 — 7.6 per cent higher than it was a year ago.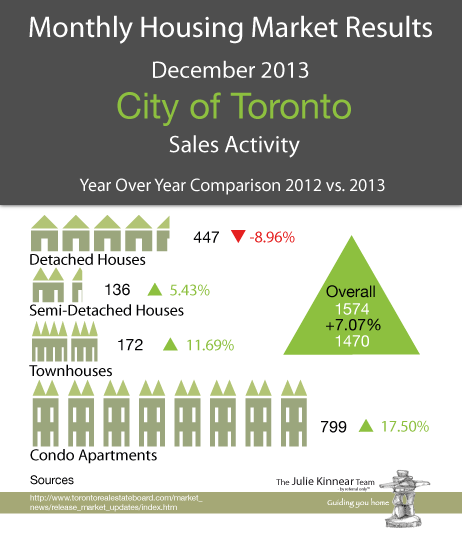 Detached properties are the hottest category of the city's real estate. There were 447 houses sold over the last month, and even though the numbers fell 6.7 per cent, this wasn't due to a lack of interest, but exactly the opposite. The number of detached houses for sale is so low that home buyers are willing to pay 19 per cent more on average than they would pay a year ago. A detached house in the city costs on average $864,351.
Townhouse sales have been around the middle over the past year. They're moving at a steady pace in terms of sales and prices as well. Last month, 172 townhouses changed hands, which is 13.2 per cent more than in December 2012. The average price rose by roughly the same — 13.4 per cent, reaching $447,188.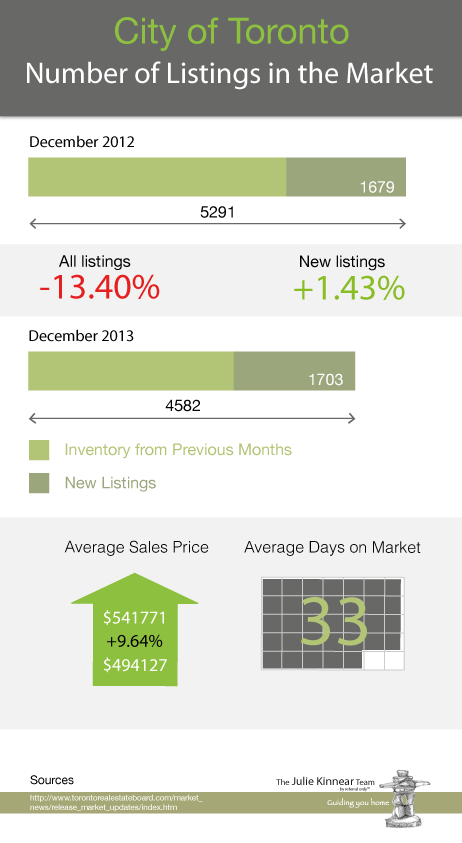 Semi-detached properties had their moments of glory and dullness over the past year. December 2012 was quite strong. A nearly 8 per cent sales gain resulted in 136 properties selling for $644,423 on average. In terms of prices, homeowners who had their eyes on semis needed 16 per cent more money than they would have needed a year ago.
The Rest of the GTA
Properties in the 905 area were generally one-quarter cheaper than those in Toronto itself over the past year. This makes up for the transportation costs and the time spent commuting. You'd guess that the biggest sales increase would be recorded in the sales of detached houses, but it's the condo market that's getting stronger every month.
There were 374 condo apartments sold in December 2013. The number itself isn't big, but it's 46 per cent higher than in December 2012. More and more people are opting for condos, as they're affordable and are equipped with facilities that other housing types lack, such as a concierge and a gym. We've witnessed an increase of condo popularity in the 905 area, and this isn't like to fade in the coming year either. Despite a 4.6 per cent price rise, condo apartments are still the most affordable place to live. Those who bought these homes in the rest of the GTA in December 2013 paid $293,883 on average.
Townhouse sales were on the rise, too. An almost 15 per cent sales increase year-over-year pushed the number of sold properties to 651. Looking at the average selling price, we can see a 10 per cent rise compared to a year ago. Townhouses sold for $384,095 in December 2013, scoring second in terms of affordability, right after condos.
The highest number of sales was recorded for detached properties. An incredible 1,360 houses sold in the 31 days of December 2013, which is 12.6 per cent more than a year ago. The shortage of detached properties isn't as deeply felt as in Toronto itself, but it hasn't kept prices from rising. Selling at $627,097 per property, detached houses (the priciest housing option available in the 905 area), was 11.4 per cent more expensive than in December 2012.
Semi-detached properties were, on the contrary, the worst selling property. Their sales dropper 0.9 per cent to 232. The average selling price rose modestly by 6.6 per cent to $411,857.
GTA
There were a total of 1,807 detached houses sold in December 2013, 7 per cent more than a year ago. The average selling price climbed 12.5 per cent, to $685,787, detached homes the most sought-after property of the month.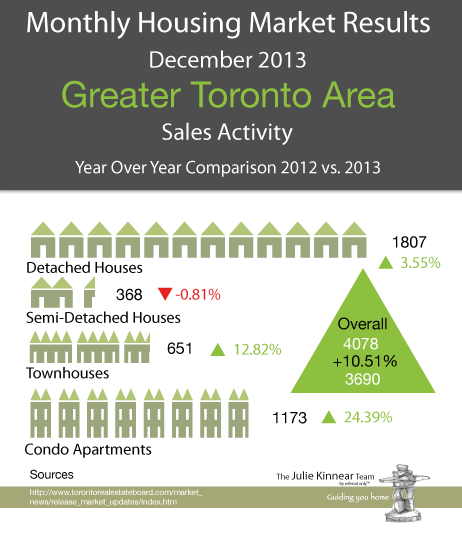 Semi-detached properties recorded the smallest jump in the number of sales in a year-over-year comparison, at only 2.5 per cent. There were 368 properties sold in the whole GTA, for $497,805 on average. Despite the small sales increase, the selling price rose significantly, by nearly 12 per cent, putting semis right after detached properties.
Townhouses, on the other hand, recorded the second biggest sales jump last month. Their nearly 15 per cent increase meant 651 properties sold in December 2013. Prices were on the rise as well, and not far behind the previous two categories. The 11.2 per cent increase pushed the selling price of an average townhouse to $400,765.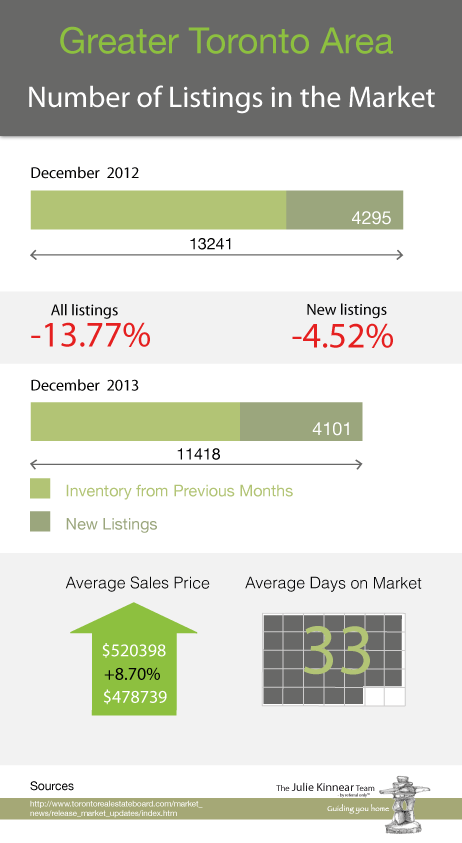 Finally, condo apartments are the highest sales jumpers of December 2013. With an amazing 27.8 per cent rise in sales and a modest $343,943 price tag (6 per cent higher than a year ago) condos were the true Christmas gift for investors and homebuyers alike.
Let's hope 2014 will be as successful as the previous year, with many happy homeowners and a strong real estate market.
KK00SK