January 3-12, 2014
Canada's Top Ten Film Festival was established in 2001 by the artistic directors of the Toronto International Film Festival (TIFF) to celebrate excellence in the field of Canadian cinema. TIFF has always been committed to promoting Canadian filmmakers and their work and its creative team put together this annual event to showcase unique Canadian films, their directors, and their casts.
"For the past thirteen years, Canada's Top Ten Film Festival has become a highly anticipated initiative, bringing audiences together for an exciting cinematic experience. The creativity, diversity and innovation of these films and filmmakers keep audiences coming back for more,"
states the official TIFF website. Steve Gravestock, senior programmer at TIFF explains that "this festival is driven by TIFF's desire to shine a spotlight on Canadian cinema and to celebrate the impressive work of our nation's filmmakers."
Canada's Top Ten Film Festival includes both short and feature-length films. In order for a film to qualify for inclusion in each year's program, a Canadian citizen or resident must have directed it and the film must have been released commercially or played a major film festival in Canada. A panel of judges that consists of fellow filmmakers and industry professionals from across Canada chooses all finalists.
This year's official selection of films was announced on December 3, 2013, and includes the following feature-length films: Asphalt Watches, Enemy, The F Word, Gabrielle, Rhymes for Young Ghouls, Sarah Prefers to Run, Tom At the Farm, Vic et Flo ont vu un ours, Watermark, and When Jews Were Funny. The short film selection includes these ten standout features: Subconscious Password, The End of Pinky, The Chaperone 3D, A Grand Canal, Yellowhead, Nous avions, Paradise Falls, Noah, In guns we trust, and An Extraordinary Person. All screenings will be held at the TIFF Bell Lightbox theatre, with a small selection of films being shown nationwide.
Along with the regular screening schedule, two special "In Conversation With…" sessions have been added to this year's festival program! On January 5, Denis Villeneuve and Jake Gyllenhaaal, the director and star of feature-length film Enemy, appear on the TIFF Bell Lightbox's main stage and chat with festival Artistic Director Cameron Bailey about their film and the impact it's had on its audience. A few days later, on January 12, acclaimed Canadian filmmaker John Greyson appears with Cameron Bailey to discuss what it means to create strong-minded political films in the 21st century. Both sessions are sure to be totally engrossing and ultimately very enlightening in terms of sharing new information about the Canadian film industry and its many nuances.
The festival's Canada Cocktail Party always proves to be a huge success and is considered one of the highlights of Toronto's early social scene. This year's soiree takes place on January 8 on the third floor of the TIFF Bell Lightbox theatre. This exclusive event is for ticket holders only and serves as the official kickoff to Canada's Top Ten Film Festival. Guests are able to freely mingle with film scholars, filmmakers, and festival judges and panellists during the evening's festivities, asking them any questions they may have regarding Canada's burgeoning film industry. The cocktail party grants all guests access to the acclaimed TIFF exhibition David Cronenberg: Evolution as well as a special presentation by the creators of Asphalt Watches, Seth Scriver and Shayne Ehman.
Higher Learning: The C Word is the title of this year's free live panel discussion, which takes place on January 10th. You can get tickets on a first-come, first-served basis on the morning of the event outside of the theatre's box office. University of Alberta film scholar and Canada's Top Ten Film Festival panellist Liz Czach will be moderating this year's discussion, along with a selection of festival guests that includes Jeff Barnaby (Rhymes for Young Ghouls, director), Alan Zweig (When Jews Were Funny, director), and Luc Dery (Gabrielle, producer). Together, these Canadian film industry insiders will be discussing what it is that makes a film truly Canadian.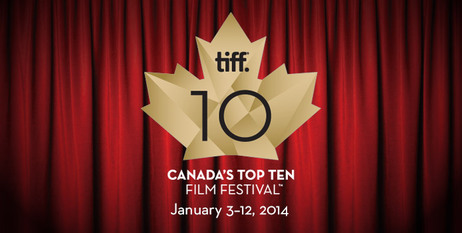 "Canadian movies are global movies now and TIFF's Canada's Top Ten Film Festival is the best opportunity to see our country's creativity on the big screen,"
says TIFF artistic director Cameron Bailey. This is the first event of the new year that truly brings to light how diverse and acclaimed Canadian filmmaking is and how relevant it has become to the film industry in general over the past few decades. Tickets for all screenings, discussions, and galas can be purchased online through the TIFF website, by phone (1-888-599-8433), or in person at the TIFF Bell Lightbox theatre box office. The film festival staff recommends purchasing tickets well ahead of time to ensure you don't walk away disappointed. Seats are limited, and considering this year's line-up of films and panelists, spaces are bound to sell out rather quickly. The 2014 edition of Canada's Top Ten Film Festival promises to be an exciting event that will have all of Toronto — and indeed, all of Canada — talking about our brilliant Canadian films and filmmakers!
VB00SK