Generally, public transit in downtown Toronto is fantastically convenient. One of the most pedestrian-friendly cities in Canada, Toronto encourages many people to stay active with its welcoming vivacity. Still, many folks choose to drive their own cars. But if your situations allow, definitely take advantage of Toronto's public transit. Your final choice of ride depends on several factors, including work distance from home, budget, parking, and duration or frequency of travel. Regardless, let us take a look at those other available options.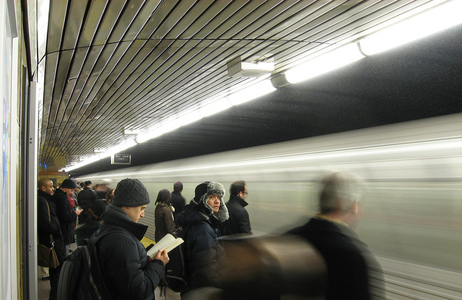 Unlike the options in New York City, for example, the transit available in central Toronto is as clean as can be, and relatively easy to understand. The Toronto Transit Commission, better known as the TTC, includes three great modes of transportation: subway, streetcar, and bus.   
Let Us Do a Cost Experiment...
For argument's sake, let us say that you work for an advertising agency, and that your home-to-work route is from the Garden District to Berkeley Street. In this case, your commute would be a three-kilometre round trip, five days a week.
As far as the TTC is concerned, prices depend on your needs and preferences.
A single adult fare is $3 cash, but if you plan on going around the city, it may be worth getting a day pass for $11. Alternatively, if you are a frequent user, there is the option of a GTA weekly pass for $39.25, or even a monthly pass for $133.75. Do keep in mind that to board buses or streetcars, you must already have exact change, a ticket, a token, or a pass. Plus, you should seriously consider opting into the monthly discount plan. By allowing
Visit the TTC's website for more information at http://www.ttc.ca/.
Elisa Lopez, an airline agent at Toronto's Pearson international airport, shares her satisfaction with Toronto's public transit:  
 "Personally I prefer TTC buses because of how many more routes they cover. (If you compare with Mississauga, for example, it could be a 30-minute wait). TTC offers buses between every ten and fifteen minutes during rush hour, which helps a lot when you are going to work, and most of the time, service is right on the clock.

"And there is this awesome app called Toronto Transit Now, and you can track mainly buses via GPS maps and times for routes. I am a happy customer. In the winter, this saves me a lot of trouble. I can see where my bus is and don't spend extra time out in the cold."
If you're skeptical about the choice of car versus TTC, it is definitely worth your time to check out the commuter cost calculator. This shows how much money you could save with a monthly pass. If all the factors were considered, travelling three kilometres per day for five days a week, you could save a monthly total of $585.10. Otherwise, taking your own vehicle could cost around $718.85 per month (excluding maintenance, parking, and insurance costs of course).
Calculate your savings using this helpful link: http://www.ttc.ca/Riding_the_TTC/Cost_Calculator/index.jsp
For $133, the TTC monthly pass allows you unlimited access to TTC services. Compared to gas prices, insurance, et cetera, it makes a big difference to choose this option over driving a car. Choosing to live in a suburb of Etobicoke because of its quieter and greener surroundings, Elisa Lopez would have a long and painful commute were it not for this convenient service. She offers some tips for those who need this option:
"A lot of people use public buses running by TTC and I know most of us try to rent places near the buses or subway lines which proves that Toronto transit is a useful tool that the new immigrant and old Canadian can use the same."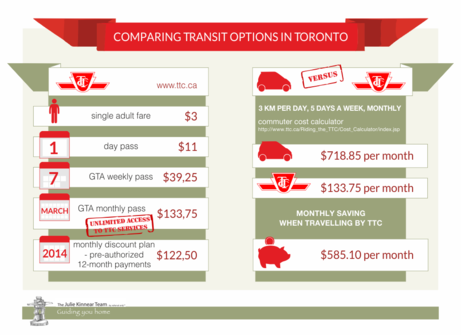 Other Transportation Alternatives
Aside from the TTC, there are other methods of getting around that still do not require buying your own car: Toronto Bixi, Autoshare, and hailing a taxi.
It may come as a surprise to newcomers, but some people can be seen riding their bikes even in the winter. However, I would only recommend it during the warm months, and only if your commute is limited to a few blocks.
They charge $97 for a yearly subscription. Other rates range from $5 a day to $41 for 30 days. Of course, there's always Canadian Tire, with the possibility of getting a decent bike for around $150. But the question to consider is: do you really want to arrive exhausted and sweaty to work? Again, it all depends on how close you live.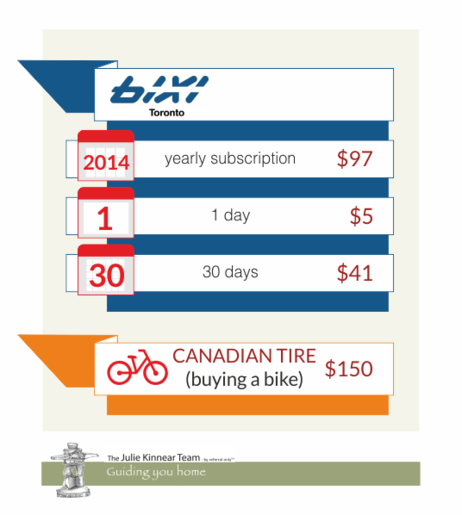 Autoshare
You too can join this car-to-go service for only $29. Be careful, however, with how often you drive. So if we're staying true to the three kilometres, five days a week, there are three options here. Their plans are called Simple, Metro, and Metro Plus. If you choose to join the first two plans, you get the first 150 kilometres free, and for the final option, you get the first 250 kilometres free. All of this process can appear a bit confusing, but once again, it depends on your frequency of travel. Each plan has varying fees: per hour, weekday 24 hour, or an annual amount.
For those planning on driving more than three times a month, the official website recommends purchasing the Metro Plan. With this, gas is included for $1.25 per litre.
Do not forget about insurance, though! For an additional $65 a year, you get a $0 reduced deductible for collision damages if an accident were to happen.
Some downfalls of Autoshare include the trouble with finding a car every single day you need it. You can reserve a car for limited days at a time. Plus, it is your sole responsibility to return the car right where you got it every time. The cars are stationed at over 175 locations around Toronto.

Taxi
Having your own private driver comes at a hefty cost, and should really be used sparingly. Taking a taxi would cost approximately $8.15, with traffic being a contributing factor. Oh, and did I mention that was only one-way? Getting home would cost a grand total of $16.30. It does not seem so bad until you think of the monthly cost: $326.
Alternatively, there is a fantastic new app available for download, called UBER. It offers discounted prices in addition to an updated map of your designated driver, texts and phone calls notifying of their arrival, and an automated electronic receipt. Avoid the awkward money exchange and save yourself some time and trouble.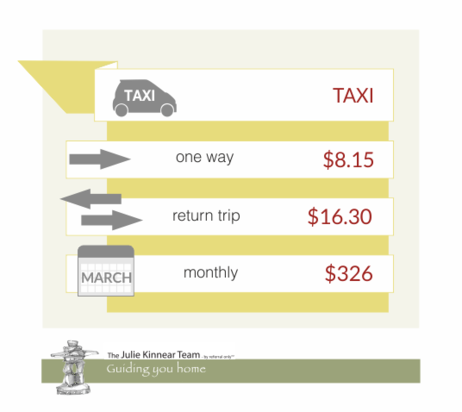 Should you drive yourself?
Owning a car in this town is a luxury for those who can afford it, but it can also be an unnecessary hassle to maintain. Although it would seem that having your own car gives you a great advantage, a car may not truly be worth the investment. Consider all the factors you would be responsible for.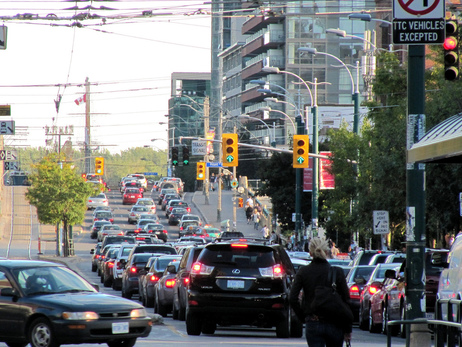 Toronto Traffic on Spadina by James Schwartz
Car Insurance
Protecting yourself and other drivers is an absolute necessity regardless of location. Here in Toronto, though, the prices are ridiculous. Monthly premiums vary slightly depending on whether you live in the city or a suburb, but regardless, it is difficult to find any coverage for less than around $300.
Maintenance and Repairs
Canadian Tire is a great spot for your car's needs, but even if you are not such a stickler, our winter and summer seasons require tire changes (though you can sometimes get away with all-season tires). Also, do not put of getting an oil change, checking your tire pressure, and replenishing your anti-freeze. Lastly, it is smart to save for a rainy day in case you need miscellaneous repairs or are involved in an accident.
Snow and Ice
The archaeology of colder northern regions is digging your car out of a mountain of snow. To make good time getting to work, you must consider first unburying your vehicle and creating visibility for driving. Make sure not to forget to wipe the snow and ice from the roof, or you can get a fine if caught. Aside from this precaution, sometimes your car may get stuck due to slippery ice. In this case, some salt may help.
Parking
Finding parking in a big city is always a hassle. If you are at the wrong place at the wrong time, tickets range from $10 and up, depending on the reason. The winter months prove to be the greatest challenge, since no one wants to keep their car outside — if they can help it. There are choices of indoor or underground parking, but those prices can range up to $400 a month, especially downtown. Everyone would prefer to stay safe and cozy inside, and it only makes sense. Leaving your car outside leaves you without any security for damage. After winter is over, automobiles here often suffer from corrosion due to a buildup of salt from the roads.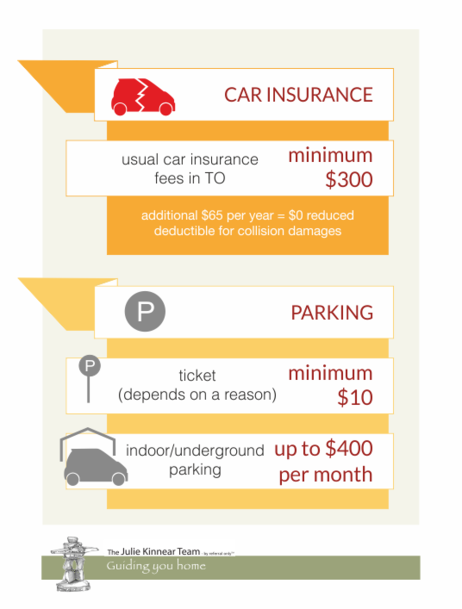 Take it if you can make it
According to the Commuter Calculator on the TTC website, you could save around a reasonable amount each month by getting a Metropass. It is not totally worth having a car in the downtown area unless you have a good-paying job that allows you to cover all the necessary expenses. So, if you can afford it, go for it. Otherwise, depending on how close you live and work to public transit options, I say go for public transit. 
JS00MC