Please come to a meeting of the Grass Roots Group of Volunteers
6:30 pm Thursday March 7th
Howard Park Tennis Club , Parkside and Howard Park
Refreshments will be served
RSVP: RSVP By March 5th.
Friends of High Park Z00 need more volunteers to help with Community Events and Fund Raising in High Park.
This is a great community activity and we have a great deal of fun. Since February 2012 we have collected over $140,000.00 through our activities to operate the High park Zoo, please join us.
Our programming operates 80 days a year and the Llama Pen is open on those days for 4 hours. We work best with at least 10-15 volunteers to help with the free activities: colouring, chalking, petting baby animals, feeding the capybara, handing out flyers, counting visitors and various donation activities such as "Feeding the Llama" and taking donations for hot cider, cold lemonade, buttons, colouring books, peacock feathers and anything people donate to the cause.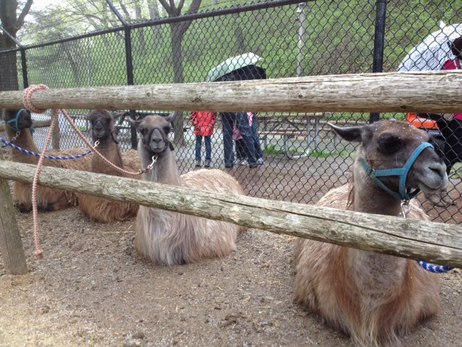 Llamas relaxing
We have Community Hours for students; volunteers have to be over 12 year of age and if under 15 must be accompanied by an adult volunteer. We are open for 4 hours each day, but any time you can donate is appreciated. We are weather dependent and do not open if it is raining, on many a sunny day we have counted over 1,000 visitors in the Llama Pen during the four hour period, and over 2,000 on occasion.
High Park Zoo Programming for 2013
• March Break Activities-March 9-17 every day, then weekends and statutory holidays till October
• Activities at the Llama Pen will start on Saturday March 9 and continue till the end of October
• Llama Pen is open from 11.00am to 3.00pm each day specified
• Santa's Reindeer, Tree decorating and Lighting of the Tree, Sunday December 1st. 2.00pm to 5.00pm
• Other Activities may be organized to work with other venues in the Park and will be planned accordingly
• Our Grass Roots Group will be getting together soon to discuss organizing our activities for the year, so sign up now
RSVP: March 5th.
SUPPORT THE HIGH PARK ZOO