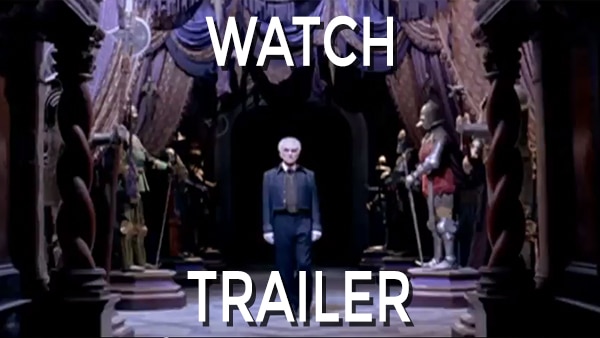 02:19
There's one thing that people should be very clear on, and that's that Eddie Murphy does not care in the slightest what people think of his acting career. And that's good, because this film is unspeakably bad and is only viable as a tool for wantonly consuming 90 minutes from your life that you will never get back. Yes, this is an Eddie Murphy project that functions better as a fourth-dimensional black hole than anything else.

What audiences have here is a project in which Eddie Murphy plays real estate agent Jim Evers, who hopes to transform a dilapidated mansion in New Orleans into financial success. Before venturing out in search of a buyer for wreck, he and the family he's been somewhat neglectful towards visit the house for an inspection. They discover there is more going on with the property than they could have ever anticipated.
Eddie Murphy's character is hapless, with little awareness of what is going on outside of his real estate duties. Terrance Stampis, confusingly, in this movie as one of the 999 ghosts that reside in this mansion, even though his acting career easily and understandably puts the film "beneath him." Jennifer Tilly is present in the film in a significant role as a disembodied medium and advisor to Jim Evers. Despite the quality of the film overall, their talents are put to good use, considering what little they're working with.
The acting is stiff and contrived. Murphy turns in a performance that is completely alien to the talent that brought him success throughout the 1980s. The relationship between Evers and his wife appears unnatural and difficult to believe within the context of the film. The film might have had greater success with an increased focus on the efforts made by the home's original owner, a ghost, to reunite with his long-lost wife. Certain contradictions were apparent in the film as well, such as what physical objects ghosts were capable of manipulating. Sometimes they were able to move objects. Other times they were relegated simply to phasing through them. The visuals of the film are quire colourful. The effects, both special and practical, are top-notch and clearly show a great deal of effort had been put into producing them.

This film is mainstream pabulum of the highest order. Murphy delivers a performance that's typical Murphy schtick — frantic, energized inanity with a dull edge and inarticulate delivery, devoid of any nuance or subtlety. Murphy's more sophisticated and impressive roles, not nearly as upsetting, are not easily remembered. Everyone can remember his Saturday Night Live origins, his work in 48 Hours, Trading Places, Coming to America, The Golden Child, Bowfinger, the Beverly Hills Cop series, and Dreamgirls. People often want to remember these, but seldom do they wish to recall the likes ofMeet Dave, Norbit, Daddy Day Care, Nutty Professor, Dr. Dolittle, and the infamous Pluto Nash. People can find themselves anxious with the likes of Ben Affleck because they remember roles he's "phoned in," such as with Jersey Girl, because they know he can produce absolutely amazing work like he did in The Town. People know he can do better, so they become, understandably, disappointed. That perspective we have for Murphy has inflated to such proportions that you can't help but see anything else. The Haunted Mansion is a good vehicle of work to add to the pile of problems movie-going audiences have with his intentions. It's good that a man that has done ten Shrek-related jobs since the first Shrek doesn't care what audiences think of him, otherwise this might all seriously effect him on an emotional level.

Former Village Voice writer Rob Minkoff may have put it best when he said, "Rob Minkoff has directed a movie that's nearly laughless and nowhere near as frightening as what's happened to Eddie Murphy's career." Even famed film reviewer Richard Roeper simply described The Haunted Mansion as "dreadful." While Disney proved, earlier in 2003, with Pirates of the Caribbean that a film based on an amusement park ride can be successful, Eddie Murphy proved that substantial talent is a significant portion of the equation required to project the success of such a film.
You'd get more for your dollar if you were to visit the actual Haunted Mansion ride at Disneyland rather than engaging with The Haunted Mansion. There's no particular reason this film should exist. The world is worse off it now that it exists. Rather than waste your time with this cinematic detritus, you would be better off sitting somewhere and reading a book for 90 minutes.
To his credit, Eddie Murphy's character, Evers, seems determined to find the perfect home for his clients. His commitment seems more akin to that of full-on faith that the perfect home for their client exists, so if he seems pushy, maybe it's because he wants his clients to believe something he already knows. Thankfully, real-life real estate agents don't typically do their jobs with such an insincere grin.

Eddie Murphy's character is hopelessly devoted to his job. He's busy, he's an impressive multitasker, and he has great attention to detail. These are all fair expectations for people to have of their agent as they seek assistance finding a home. In strong real estate agent fashion, Jim Evers notices legitimate details such as massive and unique door-knocking ornamentation that add to the character of an antique entrance. He also notices features that are typical turn-offs for a potential buyer, such as messiness that needs dusting up, or an onsite graveyard that folks can spin, like Evers does, as a "historical sprawling manor with spacious grounds." Children, however, may not get over living with a great number of dead people. That's not everyone's cup of tea.
Real Estate Lessons Hidden in the Movie:
Conventional real estate wisdom states that in preparation for a sale, a home-owner should remove as much personal traces of themselves and their lives as reasonably possible. Make sure rooms are freshly painted if need be, remove photos, paintings, and other excessive wall decorations, and remove and possibly replace worn-out furniture and surfaces. Don't forget to do a smell-check of your home for unappealing odours, and even consider adding fresh flowers and other colourful plant life to add modest vibrancy to the home. The home should appear polished and spruced up. What Jim Evers discovers upon viewing the home of Nathaniel Parker's "Master Gracey" character is that the titular Haunted Mansion does not live up to these standards. Dust, cobwebs, old portraits, and family heirlooms abound. Not only should Master Gracey have been honest with Evers about things like the home's ghosts and its adjacent graveyard, but also, if he had really intended to sell his home form the start, he should have at least made the effort to clean the place up enough to make it convincing as a worthwhile potential sell.
GN00EV