Kinnear's Komments
Volume 11 Issue 1
By Referral Only™
February 2003
---
Consider This
We're just starting into this new year, and so much has already happened. As you see I went to two different funerals in January. How incredibly powerful and emotional these celebrations of life were. Judy & Brianna were both such young, strong and brave souls. They touched so many lives, and continue to still. What a reminder of how precious our health and each day really is. Even for me, having had a horrific health scare, having supposedly "learned my lesson" it is easy to get caught up in the harried pace and to let the stresses and pressures of life get you down. I was touched by a letter from a friend of mine, she wrote: Keep things in perspective: Work, play, learning, living. Have happiness as a part of your priorities!
I have started a gratitude journal. Each morning I write a few pages of reasons for why I am grateful. Even the smallest actions affect us in many positive ways. I hope that my attitude of gratitude is contagious!
I am very grateful for the recognition that I have received from my company this year – I was awarded the Director's Platinum Award, as well as the continuation of my Award of Excellence. This meant that I was in the top 5% of Royal LePage across Canada last year. I am so grateful to you, my clients, for helping me achieve this goal.
I am blessed by the community of friends and clients that I have the privilege of working with on a daily basis. I will continue to work as a super servant, and help you achieve your goals as well.
---
Found! Men's Gold Wedding Ring in Sorauren Park
One morning just recently I was walking my dog through Sorauren Park. In the bright sunlight I spotted a twinkling gold men's wedding ring in the ice.
I picked it up, and all of a sudden I felt this great sense of responsibility. Who could the owner be? How upset he & his partner must be! How long had it had been there? I had this overwhelming need to find its rightful home.
I put up bright orange signs all around the park on the light posts, hoping to raise the neighbours awareness. And guess what? The most amazing thing happened. Andrew called – he had lost his ring tobogganing with his daughter. He had been back numerous times to the park to find it, to no avail. His friend had noticed the signs in the park, and had told him!
I think I felt more relieved & blessed by the whole situation than even Andrew did! I had a wonderful sense of helping my community. For once it felt like Toronto was just a small town.
---
Chit Chat Column
Obituaries
Brianna Kiley Mulroney Uchimaru

– beloved 4 year old daughter of my clients and friends Nancy & Doug, and their son Aiden. Died Jan. 13th, 2003. If desired, donations to the Queen Street Child Care George Brown College, Hospital for Sick Children, or Easter Seals.

Judy Taylor

(B.Sc. Western '84, MBA Queens '86) – following a courageous battle with cancer, age 41. A dear daughter, sister, aunt, colleague & friend – and a cherished client & friend of mine - died Jan. 24th, 2003. If desired, donations to The Sarcoma Research Fund, Princess Margaret Hospital.
New Babies to Welcome: Baby Boom!!
Congratulations to all!
Lukas Eberts Geling

Born Nov. 25th, 2002, and adopted January 5th, 2003 – by thrilled 1st time parents Jen Eberts & Gerard Geling.

Giuliana Susanne Marcella Locchi

Born in Brussels Belgium, January 8th, 2003. Sonja Hickl-Szabo & Carlo Locchi are excited 1st time parents.

Cade Alexander MacEachern

Born January 31st, 2003 – to ecstatic veteran parents Paula Dunlop & Andrew MacEachern, & Big sis Bryn.

Claire Ruby Fisher Rollins

Born February 4th, 2003 to overjoyed 1st time parents Katie Fisher & Chris Rollins.

Elijah Edward Diehl

Born February 21st, 2003 to thrilled 1st time parents Monique Steger & Chris Diehl.

Joshua Richter Girvan

Born February 24th, 2003 to over the moon 1st time parents Heidi & Mark Girvan.
---
JULIE'S TOP TEN
Most Expensive Homes sold in Toronto 2002
Address

Sale Price

68 The Bridle Path

$7,500,000.

49 Country Lane

$7,550,000.

105 Dunvegan Road

$5,215,000.

67 Park Lane Circle

$5,350,000.

124 Park Road

$5,465,000.

12 Sunnydene Cr.

$5,150,000.

126 Warren Road

$3,700,000.

24 Chestnut Park

$3,850,000.

50 Elm Avenue

$3,775,000.

40 Rosedale Road

$3,625,000.
Your memories of tomorrow depend on your attitudes of today.
What They Got
A continuing column of
our recent sales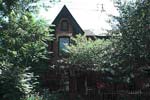 321 Ontario Street (C08)
Cabbagetown
Asking Price $429,000
Sold Price $420,000.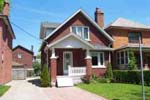 92 Nealon (E03)
Riverdale
Asking Price $429,900
Sold Price $455,000.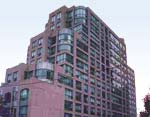 942 Yonge St #708 (C02)
Yonge & Bloor
Asking Price $219,000
Sold Price $225,000.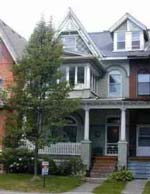 42 Leopold Street (W01)
Parkdale
Asking Price $339,900
Sold Price $365,750.
Neighbourhood Corner
January Stats
We had a nice bounce-back from the holiday season; sales were up 23% from December's figure. On the price front, the single-family average moved to $281,292 in January, up two per cent over December's figure of $275,002, and up seven per cent from the $262,919 recorded in January of 2002. "The pattern we are seeing is similar to that of the last few years," President of TREB Mrs. Bosley said, "Modest price increases that should benefit potential vendors without locking the first time buyer out of the market."
5 Strategies That Will Make Moving Easier On Your Children
Make sure the children understand why the move is necessary.
Familiarize the children with the new area using maps, photographs, driving around the neighbourhood.
Describe advantages of the new location that the children might appreciate, such as parks, or the lake.
Get the children involved in activities sponsored by the local church or synagogue, scouts, or community center.
If the child is a senior in high school, consider the possibility of letting him or her stay with family or close friends until the end of the school year.