Kinnear's Komments
Volume 12 Issue 3
By Referral Only™
September 2004
---
Julie's Scoop
What a wonderful summer it's been, despite the cool weather! Travel-wise, Tuscany was all that we could have hoped for and more. We did a side trip to Cinque Terre, a remote set of five beach towns that is a must-see.
As far as domestic travels go, we love the simple life spending weekends at our cottage in Haliburton Highlands. Bella loves the cottage, but she does tend to get a bit sea-sick!
On the other side of travelling, my mom Brenda (and old business partner) is visiting me from Vancouver for a week. We hope to spend lots of time together!
Nicole, my client care coordinator, went to Alabama to visit her relatives, and despite a bit of Deep South culture shock, found it to be a beautiful place full of friendly people.
In other news, we upgraded our computer equipment in August so that we can continue to serve you better (and faster!) The new-to-us machines are great.
Kudos to all of you (you know who you are!) who are giving of your time, energy and spirit to coordinate and participate in charity events. So many of my dear friends and clients have let me know about their volunteer work on such events as the Canadian Paraplegic Association's Wheelchair Relay Race, the Weekend to End Breast Cancer, the CIBC Run for the Cure, the Ride for Karen, Chicks With Sticks, Camp Quality & Camp Ooch, the John Koshan Memorial Golf Tournament, On The Move, Pathways to Education and many, many more. The often thankless effort of collecting pledges, promoting the event, training, preparation, and administration, produces concrete results in the form of the money and awareness you raise for these excellent causes. These contributions are essential to the work of charities and foundations which help make the world a better place. Thank you!
---
Market Continues to Simmer™
Prices declined marginally in July, falling one per cent to $312,418 from the $316,510 recorded in June, according to TREB President Ron Abraham. "A continued high level of inventory (22,368 active listings, unchanged from June) has contained price pressures," Mr. Abraham said. "This is welcome news for buyers." He went on to note that prices were up eight per cent over July of 2003. To put it in historical perspective, the total of 46,398 sales in the first six months of this year at an average price of $314,661 compares with 44,237 for the whole of 1994 when the average price was $208,921.
Royal LePage, which bases its figures on estimates from its real estate agents in selected neighbourhoods, reports that the greatest appreciation in value occurred in midtown Toronto, where the average luxury residence fetched $1.22-million in the quarter from April to June of this year, up 28.4 per cent from a year earlier. Coming in second was Cabbagetown, which saw a 23.8-per-cent rise to $520,000 for a typical two-storey property.
---
News Flash:
Season two of "Buy Me" is gearing up for production in Toronto, and they have again approached me to participate! The show, which originally aired on HGTV and now can be seen on the Life Network Sundays at 10:30 a.m., focuses on the selling process of an individual home from renovations to prospective buyers. If you are selling your home & aren't camera-shy, let me know!
---
Chit Chat Column
Jennifer Grant

has accepted a new job as Field Marketing Manager at Bally Total Fitness and Sports Clubs of Canada - she starts on September 7!

Dave Ullrich

has begun a download-only online record label called Zunior, which is artist-friendly and great for indies. To download great music at great prices, check out www.zunior.com.
Babies...
Statistically, more babies are born in July & August than in any other months of the year. This definitely seems to be true in my world.
Janice "Kirby" MacKenzie & Gary Ross

welcomed Liam on June 5. Now Annie has a little broÂ…

Kristi Herold & Rol Miller, Andie & Cassidy

were delighted to add John "Dax" Rolston to their crew on June 22.

Becca & Dave Cameron

are the thrilled parents of Marley Isobel, born July 14. Marley is also welcomed by her older sister Leith.

Stephanie & Greg Riley

are elated to announce the birth of Hannah Margaret on July 17.

Michelle & Calum Ross

are excited to greet Abigail MacKenzie Victoria, born July 19.

Michelle & Scott Pennock

are pleased to welcome Emerson Saunders on July 23, and introduce him to older brother Spencer!

Jen Tassie & John Wyman

are over the moon at the birth Charles Tassie on Aug 8. Charles joins older sister Abby.
Wedding bells...
Barry Norris

was wed on June 26, with the reception at his lovely home in Lower Kingsclear, New Brunswick.

Meredith Vuchnich & Chris Donaldson

wed on August 7th, 2004 and honeymooned in Cuba.

Jennifer Sisk and Rob Krueger

wed on August 21st, 2004

Jacqueline Benoit and Colin McRae

wed on August 28th, 2004
---
Give a Small Room Big Appeal
from The Toronto Star
How is it possible to delineate an open-concept living/dining area so that each room serves its function privately, elegantly, and separately, without putting up a wall? Small-space living often requires some compromises in decorating, color, and lighting.
Cool blue and green, cream and white hues will make a space seem larger and airier. When creating an intimate nook from a tiny space, deep tones can promote intimacy and draw the eye inward. Warm reds and yellows make a space cozy.
Arrange furnishings that create open areas and avoid blocking views to windows and doors (think low benches and ottomans).
Match furniture to the wall colour to make even large pieces disappear.
Keep windows uncovered, or use sheers for privacy if required.
Mirrored surfaces reflect even more light, opening the room. Use glass tables.
Cover sofas and chairs in textured solids, rather than using eye-catching prints.
Use multi-function furniture such as a coffee table with shelving underneath.
Draw the eye upward with crown moulding painted a contrasting shade to define the ceiling. A few large, dramatic pieces serve as focal points to keep the room from being too cluttered.
If your ship doesn't come in, swim out to it.
Jonathan Winters
News Flash!!
Every month enter Kinnear's Krazy Kontest at juliekinnear.com Free Movie tickets await you!
Curious George
See a For Sale Sign/Sold you were wondering about? We are happy to let you know about houses in your neighbourhood - feel free to contact Nicole directly at:
What They Got
A continuing column of
our recent sales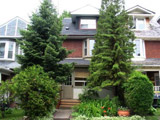 22 Ridley Gardens – High Park Area
Asking price - $389 000
Sold price - $386 500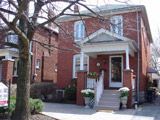 93 Roslin – Wanless Park area
Asking price: $579 000
Sold price: $646 000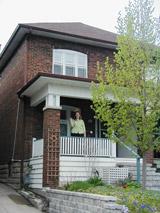 30 Ostend – Swansea area
Asking price: $319 000
Sold price: $367 000.
Neighbourhood Corner
Etobicoke
There have been 2,423 sales in Etobicoke (W-6 to W-10) for the first six months of 2004, which is a six per cent increase over the 2,285 sales recorded in the first half of 2003. The average price rose eight per cent to $332,409 from the $306,094 recorded during same time period last year. Of these sales, 1,273 were of detached homes, which averaged $430,145.
Hassle Free Help!
Get information on any property for sale/sold. Call me at 416 762 5949 for the information you want – and I'll track it down, Hassle Free!
Women Lead Men as First-Time Homebuyers
Toronto Star, September 1, 2004
While buying a first home used to be the traditional ritual of the newly married couple, Royal LePage says there is a significant increase in the number of single women making house purchases on their own.
According to a poll released on August 31, 2004, women outpace men as first-time homebuyers by 51% to 49%. However the gap is set to widen as 55% of women said they would 'potentially purchase their first property in the next three years' compared with 45% of men.
Indeed, the women polled were so focused on home-buying that 30% said they would 'very likely' give up their wedding reception in order to put a down payment on a home, while only 15% of men were willing to do so.
The trend is attributed to better education and income for women, coupled with different attitudes towards finance and living alone.