Kinnear's Komments
Volume 14, Issue 3
July 06
---
Julie's Scoop
Summertime, and the living is easy! Toronto is such a great place to live, especially in summer when the city pours out onto the streets to enjoy the many cultural events, festivals, and celebrations. Personally, we really enjoyed a beautiful Pride weekend. Perhaps because the hot days are so few, we Torontonians certainly make the most of it! I feel fortunate to be able to enjoy time at our cottage in Haliburton Highlands East. Our entire Team had a lovely family retreat up there in June with great weather to capitalize on the boating, swimming and sun. Mary and I have adopted a new addition to our household of pets ? a beautiful black and white 3 month old cockapoo puppy we have christened Mickey! She loves to bite ankles and drive her older sister Bella crazy, and loves the cottage too.
We must thank you for your overwhelming response to our cover story on the Profiles of Success magazine! It was so much fun, hearing from everyone and was such an honour for our growing Team. We continue to respond to the challenges of providing you with world class service. To that end, Nicole and Kathleen are studying hard, pursuing their Real Estate licenses to be able to assist you better with all your needs. As many of you may already know, our respected colleague Theodore Babiak has taken a leave of absence and we are looking after his clients for the duration. We are grateful for the opportunity to guide more people home!
Hope you take some time out to enjoy yourself this summer. KJ is on a much-deserved holiday with his family - Cassidy turns 2 this month - and Nicole just spent a week catching up on all the latest movies and laying on the beach. Kathleen is looking forward to taking time to volunteer at the Toronto International Film Festival. Hope your holidays are restful and fun!
Cheers, J.
---
Chit Chat
Marcie Connan and David Mountjoy tied the knot on May 27, 2006, in Paris ON before flying to Jamaica for a lovely honeymoon.
Mississauga-based actor Rolando AlvarezGiacoman, has many TV credits to his name and has recently formed Vagos Productions, a company dedicated to showcasing new artists in all disciplines.
---
Babies
Jen and Rob Krueger excitedly welcomed first child Jackson Scott Michael on January 8, 2006.
Suzie McMeans and John Settino are delighted to announce the birth of first child Gillian Marjorie Angelina, on January 15, 2006.
Kathleen's brother, Matthew Harquail and wife Stephanie welcomed their second child, sweet baby James on April 21, 2006! Big brother Michael is thrilled.
On May 1, 2006, David Labbett & Siobhan Toll welcomed son Quentin Ellsworth into the world - so did proud grandparents Wendy & Derek Labbett.
Heather MacEachern and Chris Monette, as well as big sister Hannah, added first son Noah Alexander to their family on May 30, 2006.
Maggie Atkinson was born to proud parents Dominic Atkinson & Cathy Lawson on July 5, 2006 in Nelson New Zealand. Siblings James & Ben are thrilled to have a little sister.
---
Did you know? ... home renovations
If you are seeking the best return for your renovation dollar, your top three renovation choices remain unchanged: kitchen renovations, bathroom renovations and interior painting. According to the Appraisal Institute of Canada's 2004 Home Renovation Survey, these upgrades will net you a return in the range of 70 percent to 100 percent of your investment.
---
Market Watch
The summer of 2006 got off to a booming start, with 8,730 resale home sales in the month of June, incoming TREB President Dorothy Mason announced today. "That figure is up two per cent over 2005, which turned out to be the best year ever recorded."
The average price came in at $358,035 in June, up four per cent over the $345,065 recorded in June of last year. "Prices remain affordable," Mrs. Mason said, "yet homeownership remains an excellent investment, with an annual return that exceeds inflation."
Average time-on-market remained at 32 days, and inventory fell a little (three per cent) from May to 25,393. "There is still plenty of product out there on the market," Mrs. Mason noted. "And that should keep a cap on price increases."
CMHC's Spring 2006 edition of the Housing Market Outlook notes that low interest rates should continue to be a positive factor driving demand for ownership housing in the next year. For more information and statistics on market trends, new construction, condominiums, resale homes and demographics, visit www.cmhc.ca/housingmarketinformation
If we have no peace, it is because we have forgotten that we belong to each other.
Mother Teresa
News Flash!!
For $20, Equifax Canada online will give you access to your personal credit report. It is imperative that people review this information every 12-18 months to insure that the information is accurate, whether you are applying for a mortgage, credit card, refinancing, or simply to ensure that this vital information is correct.
Curious George
See a For Sale Sign/Sold you were wondering about? We are happy to let you know about houses in your neighbourhood - feel free to contact Nicole directly at:
The Julie Kinnear Team's GEMs
(Genuine Evidence of Merit)
It was very reassuring to work with someone who believed in what my home had to offer. I thought Julie's team did an excellent job marketing my home. - Sandra B., July 2006
What They Got
A continuing column of
the Julie Kinnear Team's sales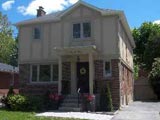 35 Loyalist Road – Kingsway Area
Asking Price – $689,000
Sold Price – $689,000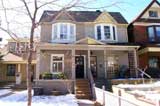 974 Logan Ave – Riverdale Area
Asking Price – $439,900
Sold Price – $501,000

74 Hamilton St – Riverdale Area
Asking Price – $409,000
Sold Price – $409,000
Neighbourhood Corner
Etobicoke
Etobicoke (districts W-6 to W-10) has been 2,413 sales to-date in 2006, up one per cent from the 2,379 recorded from January to June of 2005. The average price climbed seven per cent to $383,220 from last year's $357,070.
Longer Lives Are Impacting Retirement
Did you know that the average person?s life expectancy has increased by 30 years in the past century? According to CNNmoney.com, life expectancy for someone born in 1900 would be 47 years. But, if that same person were born in 2002, his or her life expectancy would rise to 77 years.
If a couple wants an annual retirement income of $85,000 and intends to no longer work after age 65, they'll need to have $838,000 in a savings account to supplement what they'd get from Social Security (that assumes a 7% rate of return and 4% inflation rate) for 20 years. However, if that same couple lives to age 100, they'll need one-and-a-half times that much ($1.3 million) in order to maintain that lifestyle throughout their retirement.
— Adapted from CNNmoney.com, All US Funds