Here we are in December with 2015 almost behind us. Everyone is probably starting to prepare for the upcoming holidays. Who would have thought in January that this year is going to bring so many record breaking months? And yet it happened again - the number of sales in November was highest on the record for this month. The 7,385 sales recorded this month through Toronto Real Estate Board's MLS® System is a 13.3 per cent increase in comparison with last year's 6,519.
"Not only did we see a record sales result for November, but with one month left to go in 2015, we have already set a new calendar year record for home sales in the TREB market area, eclipsing the previous record set in 2007. Sales were up on a year-over-year basis for all major home types, both in the City of Toronto and surrounding regions. This suggests that the demand for ownership housing is widespread, from first-time buyers to long-time homeowners across the GTA," said Mark McLean, President of TREB. The number of sales recorded from January to November is 96,401.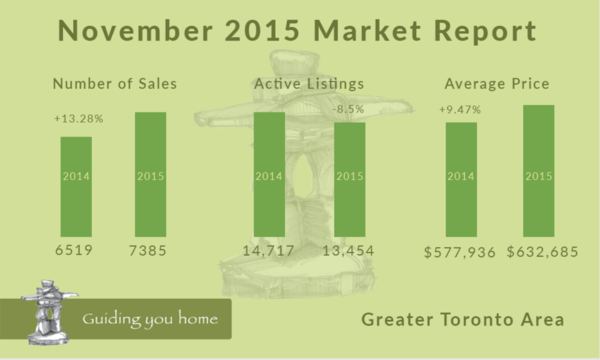 November 2015 Infographic
Prices and inventory have followed the trend as well. The average price has risen by 9.5 per cent, from last year's $577,936 to $632,685 recorded this November. As goes for the number of active listings, they have dropped from 14,717 in November 2014 to 13,454 this year, which is a 8.6 per cent decrease.
With the last month ahead, we can safely declare that this was the strongest year and the trend will probably continue. We'll see what the next year will bring. In the meantime, feel free to contact our team with any questions regarding both buying and selling real estate. We'll be more than happy to help!