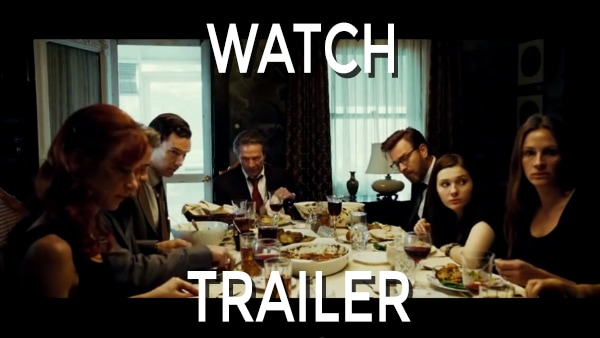 02:31
Upon learning their father has gone missing, the three daughters of Beverly and Violet Weston return to their parents' country home in Oklahoma. Nearly a dozen characters are introduced into the family arena — each with their own personal demons — and many face-offs ensue. Drug addiction, hidden romance, emotional abuse, divorce, and bourgeoning adolescence are just some of the many themes tackled over the course of the film. Between their own personal struggles and their complex family history, the sisters are in for a tough few days in each other's company.
Lately, with series like Harry Potter and books like The Hobbit turning into movies, we're getting pretty accustomed to seeing cinematic versions of novels. But it isn't every day that you get to see a compelling play like August: Osage County turned into a film. Even more intriguing is the fact that the playwright, Tracy Letts, adapted his original work, which premiered onstage in 2007, to create the screenplay for this 2013 film rendition.
If your main requirements when selecting a movie are strong acting performances and intense family drama, then August: Osage County is definitely worth seeing. You're likely to be drawn in by how the film looks at challenging familial relations with an intriguing dark humour twist. And with an all-star cast that includes Meryl Streep, Julia Roberts, Ewan McGregor, Dermot Mulroney, Abigail Breslin, Benedict Cumberbatch, and many more — along with a brilliant breakout performance by Julianne Nicholson — there's nothing but superb actors in the bunch.
Unlike in the days of classic movies, the trend in films lately has been towards more "real," improvised language, which probably leaves you more familiar with common, "everyday" speech onscreen. Because of this, some of August: Osage County's language might feel a little more theatrical than what you're used to seeing on screen in recent years. Fortunately, the strong, committed actors manage to work with this heightened language and drama very well.
If I were to sum up August: Osage County in one word, it would likely be "intense." But not in the guns-a-blazing, action-packed Die Hard–style sense of the word. Rather, this movie is about real pain, the dramatic consequences of secrecy and revelation, and how families struggle to keep things together even through the toughest times. So if you want to appreciate the strong performances and unique experience of seeing a Pulitzer Prize–winning play adapted for the screen, make sure you're in the right mood for it. Because if you are, August: Osage County won't just be intense for you, but it will also be brilliant.
SD00SK