Vol. 32, Issue 5, September 2020
---
Howdy,
Happy September! Hope you had a wonderful (maybe slightly weird) summer…
It's back to school time! What a year we are all having. The good news is that we truly ARE ALL IN THIS TOGETHER. We are sending out our good wishes and virtual hugs to all those students and parents and families and all those wonderful teachers and education professionals who are facing another challenging year balancing learning and social connections. Can't be easy.

There has been upbeat news items in the economy. I was very happy to hear that the Bank of Canada has chosen to keep the .25% overnight lending rate as the "effective lower bound" rate for the likely longer term. BoC is committed to keeping interest rates low to stimulate economic activity. Household spending has rebounded and more than half (55%) of the three million jobs lost due to the pandemic have already been regained. "As the economy moves from reopening to recuperation, it will continue to require extraordinary monetary policy support," the BoC said in its statement.

If you haven't checked out the interest rates - see the Mortgage Section further on in the newsletter - it's amazing! Might be a good time to even renegotiate longer term mortgages at these new rates - feel free to reach out to Carrie Davidson for more information.
You may have heard of a slight softening in the condo market, which is not necessarily all Covid driven, it may also as a result of City of Toronto rule changes around AirBnB / short term rentals etc. Keep in mind it is more like a balanced market vs. Sellers market. Certainly in the long term immigrants will return in droves and prices will climb, so now is definitely the time to get into the condo market if you are looking for a good long term investment. Perhaps an opportunity for parents out there? If you are thinking of your kids growing up and wanting to help them get into the market, it might be a great time, especially with these bottom of the barrel interest rates. The funny thing is that many buyers wait for it to get super hot again, and then it is too late to take advantage of this more balanced market.


We had a very interesting listing that was flagged as an ideal candidate for laneway housing. Big changes have happened since 2018 in Toronto - The relatively new (2018) Changing Lanes program from the City of Toronto allows qualifying property owners to construct a laneway house "as of right" on their property, with simple building permit application and no political approval or committee of adjustment approval required.  No variances are required and no appeals or "neighbour vetoes" are permitted.  The city also waives development cost charges.
In this case our listing at 301 Evelyn Avenue in the Junction had a laneway behind and was 158 feet deep lot. "While the exact maximum size of a permitted build cannot be determined without an accurate property survey, it's safe to say the range would likely be 1400 to 1500 square feet (over two floors), with the ability to include an optional car garage on the lower floor, with vehicle entry off the laneway. Above info is from the report we commissioned by: Laneway Housing Advisors.
There are also many questions for those individuals and families who are home owners and have been negatively affected financially by the pandemic.
Some clients have been asking about the Open House policy these days. Our team takes Covid-19 precautions seriously and are not recommending public open houses for clients who are still living in their homes. Open Houses are technically allowed in Phase 3 in Toronto. The really good news is that our team has been successfully selling numerous properties since Covid without them, with strong prices.
There are also many questions for those individuals and families who are home owners and have been negatively affected financially by the pandemic. I did a video recently reminding everyone that we are here to help. Our value system is and we are happy to have a deep, honest discussion to give you or your loved ones trusted advice on how to navigate best for each specific situation. With the mortgage deferral program coming to an end, it may be time to have a discussion. Feel free to reach out for a confidential analysis at any time.
Personal updates - aside from happily selling up a storm, Holly & Porch have had a good summer getting to know their new home in the different seasons. Jay has been enjoying being closer to his mother Bunny Banks, and finally getting a golf game in! Claire and her family have been loving their new home in Wasaga Beach, and Jen and her dogs (and horse) have been mostly self isolating at her home in Belfountain, commuting into the city for appointments. I spent some nice quiet time at the cottage with Mary - enjoying stand up paddle boarding, puzzles and cycling in the Haliburton Highlands. Very happy to have Brenda and Jay in Toronto, can't believe it's already been a year!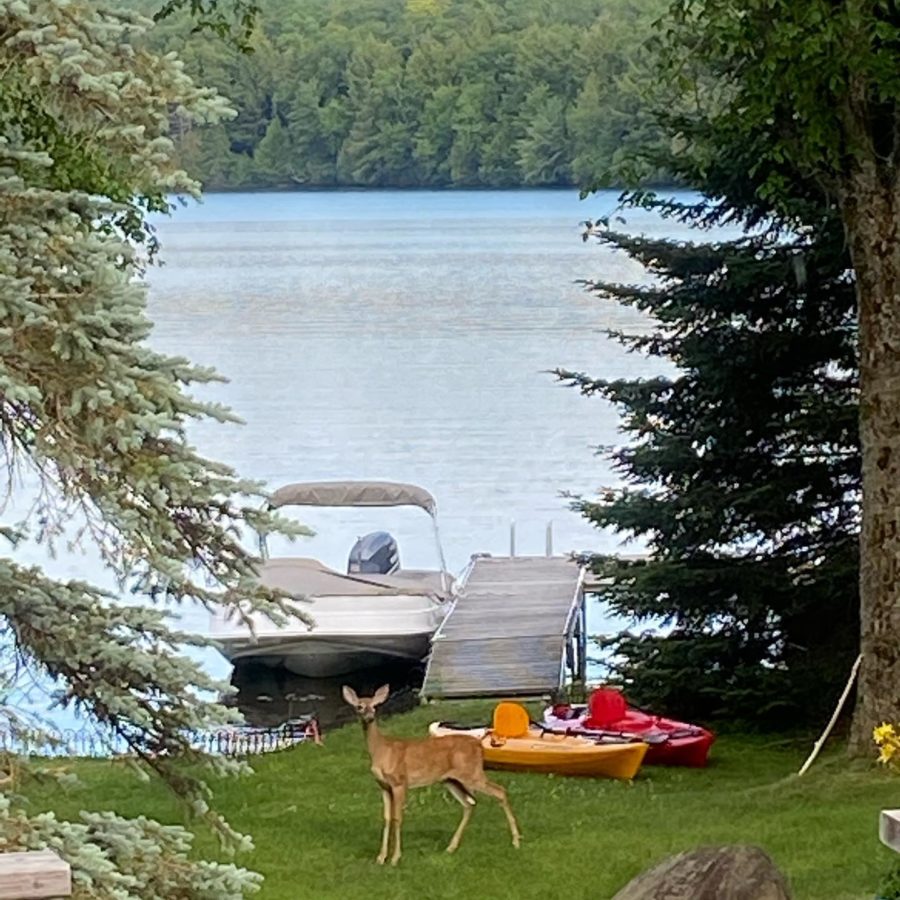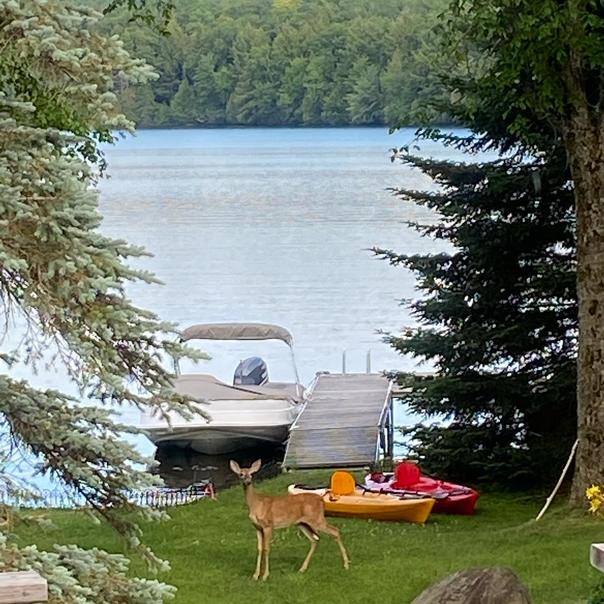 Yes that is actually a little deer that showed up this summer on the lawn of Julie & Mary's cottage!
guiding you home™,
Julie
P.S. Lots of good news and interesting updates in the market. If you are needing trusted real estate advice from our team, (who prides itself in guiding and protecting our peeps), please reach out today!
---

Our clients are looking for the best quality information about deciding on best schools and neighbourhoods - that is why we've partnered with a SchoolQ providing invaluable resources! Visit schoolQ.ca/juliekinnearteam & let us know what you think!
---

---
We missed our annual "We Love Our Clients Night With The Jays"! In lieu of our annual favourite Blue Jays event together, we wanted to celebrate the Blue Jays return to action, so we created an online contest with these three questions required to be answered:
Tell us about your first Blue Jays game!
Who is your favourite player and what makes them so awesome?
What is your favourite Blue Jays playoff memory?

July's Krazy Kontest winner was Massimo Davanzo who won a $50.00 gift card to Petro-Canada!
 
The August winner was Katie Fisher - hope you and the family enjoyed your Baskin Robbins gift card!
Toronto Regional Real Estate Board (TRREB) President Lisa Patel announced that the strong rebound in Greater Toronto Area (GTA) home sales continued with a record result for the month of August. GTA REALTORS® reported 10,775 residential sales through TRREB's MLS® System in August 2020 – up by 40.3% compared to August 2019.
Sales were up on a year-over-year basis for all major home types, both in the City of Toronto and surrounding GTA regions. It should be noted that the low-rise market segments, including detached and semi-detached houses and townhouses, were the drivers of sales growth. Condominium apartment sales were up on an annual basis for the second straight month but to a lesser degree.

"Increased demand for ownership housing has been based on improving economic conditions, in terms of monthly GDP growth and job creation, and the continuation of very low borrowing costs. In addition, fewer households have chosen to go on vacation as a result of COVID-19 and instead have remained in the GTA and been active in the housing market, satisfying pent-up demand from the spring," said Ms. Patel.
Both the number of new listings entered into TRREB's MLS® System during the month and the number of active listings at the end of the August 2020 were up on a year-over-year basis. While new listings were up strongly for all home types, growth in new condominium apartment listings far outstripped growth in the other market segments.
"Generally speaking, market conditions remained very tight in the GTA resale market in August. Competition between buyers was especially strong for low-rise home types, leading to robust annual rates of price growth. However, with growth in condominium apartment listings well-outstripping condo sales growth, condo market conditions were comparatively more balanced, which was reflected in a slower pace of price growth in that segment," said Jason Mercer, TRREB's Chief Market Analyst.


Sales & Average Price by Major Home Type in the TORONTO 416 area for August 2020
The MLS® Home Price Index Composite Benchmark was up by 11.1% in August 2020 compared to August 2019. Over the same period, the overall average selling price was up by 20.1% to $951,404. Annual detached and semi-detached sales growth was stronger in the comparatively more-expensive City of Toronto compared to the surrounding GTA regions, which helps explain why growth in the overall average selling price outstripped growth in the MLS® HPI Composite Benchmark.
 
Ernestine's Women's Shelter is an organization run by women, providing support and shelter for women and children escaping violence. Ernestine's has expanded support during COVID-19.


Ernestine's assists women and children in rebuilding their lives by providing crisis intervention and a range of holistic support services, while acknowledging the multitude of issues facing survivors of abuse. One of the biggest challenges of COVID-19 has been that, due to the quarantine, women in our Outreach community have been left with no escape from their domestic situations. Ernestine's adapts the services to honour diversity and the unique needs of the individual and promotes awareness, education and advocates for early intervention.
Please consider donating to such a worthy cause.
A company's success is strongly impacted by the customer reviews and for those of us in real estate, Google reviews and Facebook reviews create the biggest impact. We are asking for your help to go online and add your input and we will happily donate to a charity of your choice for your efforts!

You can do it on Google Maps here (it's very very important that you write a comment as well in addition to the rating), or you can also leave the same review on JKT's Facebook page here by clicking on "Yes" next to the "Do you recommend the JKT?" It's true, 5* reviews are almost as precious as a referral nowadays!


---

Interested in new build condos and townhouses? We have access to pre-public sales of new developments. Be sure to get in touch to take advantage of this leg up!
---
This Month's Featured Property ~ 570 Runnymede Road
Gorgeous & Spacious Detached Nestled Between Bloor West Village & The Junction.

A lasting first impression inside and out! This renovated 2 storey, 3 bedroom, 3 bathroom home mixes modern amenities with old world charm and ready for a new family! Set on an extra-deep almost 150 foot lot provides privacy and plenty of outdoor space we all crave these days. True pride of ownership is evident from the moment you enter the house.
Julie's Top Reasons You Will Love This house!
Walk everywhere - so many amenities at your doorstep
Pretty exterior façade and landscaping boasts great curb appeal. Elevated from the road for extra privacy & quiet.
Keep an eye on the kids in the super spacious open concept main floor. Space for a piano too!
Rare main floor powder room
Renovated kitchen with den/sitting area
Entertain on the 200 sf party deck, play basketball or garden to your hearts content!
Separate side entrance to professionally finished basement. Could have extra bedroom / nanny suite. Also convenient to enter from driveway.
Detached garage via lane and up to 3 car parking, which is big bonus in the area
Awesome wide laneway for learning to ride a bike / play hockey or walk the dog!

---
A continuing column of the Julie Kinnear Team's sales...
32 Trolley Crescent #1120 ~ Waterfront Communities

Sold For Almost Asking


281 Mutual Street #2006 ~ Downtown Corridor


Sold Under Asking

90 Tarragona Blvd ~ Junction


Sold Over Asking

1555 Avenue Road #503 ~ Bedford Park

Sold Under Asking

 

33 Lombard Street #4204 ~ Junction

Sold Over Asking


15 Shaver Ave North ~ Etobicoke

Sold Over Asking
---

Did You Know? We have a large number of awesome trusted realtors in different towns and communities across Ontario, Canada and Internationally. Just get in touch so we can introduce you.
---

Our Purpose
Our purpose is for you to be so outrageously happy with the service we provide that you gladly refer us to your friends and family before you've even bought or sold with us.
As the saying goes "Health is wealth", this week's video goes along this line with Holly sharing an important reminder with us.
Watch more of our videos on our Youtube channel!
---
 
 

Jen

Televised Sports – I didn't think that I would miss watching sports as much as I have during the pandemic. It is so nice to have the tennis US Open to watch. Loved watching Shapo! FAA! Vashy!   Not to mention the Raps! And Brooke Henderson!
 
 

Holly

Trupanion Pet Insurance has been so beneficial and Roncy Village Veterinary Clinic has been wonderful with their treatment of my cat Porch.

 

Jay

Loved the Immersive Van Gogh Exhibit! Be sure to check it out - they have really done a nice job of retrofitting it for social distancing.
Another one of my favourite things is going to the International Cheese Company in Toronto's Stockyards District and buying their fresh, warm ricotta cheese.
It is one of my favourites for breakfast or a late afternoon snack. I usually put in on toasted sourdough bread with a dash of cinnamon and enjoy! Pure bliss!

 

 

Julie

RTCC - getting together with my cycling team the Proud Mary's for the Ride to Conquer Cancer, as even without the big crowds at the group event, it was pretty inspiring and so much fun. Keeping our distance outdoors worked out well to ride and picnic together. It felt a bit of "normal" since I have done it annually for 12 years now!


Brenda

Hanging out at the cottage with family and dogs.
Enjoying parks, gardens and sunny summer days in Toronto.
Celebrating birthdays with fabulous Carrot Cake from Mabel's Bakery on Roncy.