16 LAIDLAW ST., NO. 912, TORONTO
ASKING PRICE: $409,900
SELLING PRICE: $1,450,000
PREVIOUS SELLING PRICE: $325,000 (2009); $234,399 (2007)
TAXES $2,373 (2012)
DAYS ON THE MARKET: 6
LISTING AGENT: Julie Kinnear, Royal LePage Real Estate Services Ltd.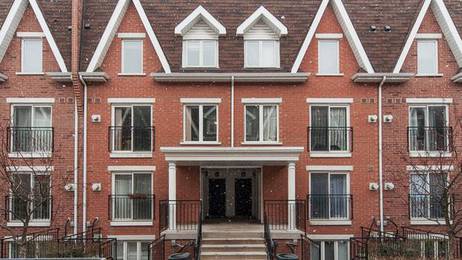 16 Laidlaw St No 912 Toronto
THE ACTION:
Many young couples were fixated on acquiring larger units in the King Town community, where only a couple of units become available each month. So this two-bedroom-plus-den suite sold to one of the first visitors through the door as soon as it was listed this spring.
WHAT THEY GOT:
Just outside Liberty Village, there is a condominium complex composed of single- and multi-level units, which includes this three-storey version with more than 1,000 square feet of living space with direct street access, a locker and underground parking, plus monthly dues of $249, which covers water costs.
Through the front door is a set of stairs leading up to the main entertaining space outfitted with laminate floors, a gas fireplace, sliding doors to a Juliet balcony and a U-shaped kitchen.
The second floor is divided up for two carpeted bedrooms, the larger of two bathrooms, and an office area with 17-foot ceilings that opens to a third-floor landing with access to laundry facilities and a walkout to a 10-by-17-foot deck.
THE AGENT'S TAKE:
"You get your own entrance – it's not like a condo – so it feels like a house," says agent Julie Kinnear. "So if you have a dog, it's very dog-friendly around there with a dog park at the end of the street, and Dufferin Street has all changed, so it's much better there now."
This suite's design also improves on older townhouses nearby.
"Most of them have closed staircases," says Ms. Kinnear. "What's good about this is that the foyer on the second floor has cascading stairs that [go] to the top level and a little area for a bookshelf and desk, so it's nice, light and bright, and feels big with high ceilings."