Toronto homeowners continue to change keys fast. A total of 7,411 homes sold through the Toronto MLS system in September — a 30 per cent increase from last year, when tighter mortgage rules were introduced. The sales increase helped push the average price of a house in the Greater Toronto Area to $533,797. Properties in the City of Toronto sold for $571,410 on average, and the rest of GTA's house prices averaged $511,100.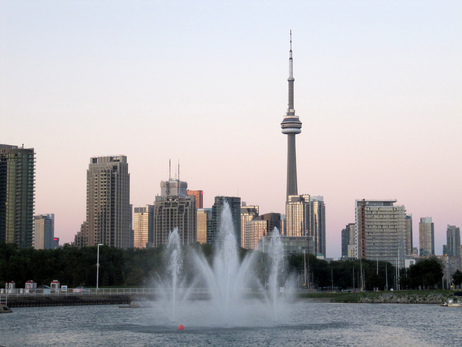 Toronto Skyline by Loozrboy
The City of Toronto
Condo apartments led sales last month, with a total of 1,203 units sold. Sales rose 31.5 per cent, while the average price slipped 3.7 per cent, to $363,149.
Detached properties were the second-bestsellers this month. A total of 972 houses sold, which is 31.7 per cent more than the year before. The average price jumped accordingly to $856,169, and is currently 10.2 per cent higher that in September 2012.
Semi-detached house sales improved 13.3 per cent, and a total of 298 properties sold. The average price changed only slightly compared to the year before. A 1.9 per cent increase moved the average price to $616,049.
Townhouse sales increased 18.3 per cent, and 291 properties sold, for $455,518 on average. The selling price rose significantly, by 7.5 per cent in one year.
"The price growth story in September continued to be about strong demand for low-rise home types, coupled with a short supply of listings,"
Jason Mercer, senior manager of market analyst at TREB (the Toronto Real Estate Board) said.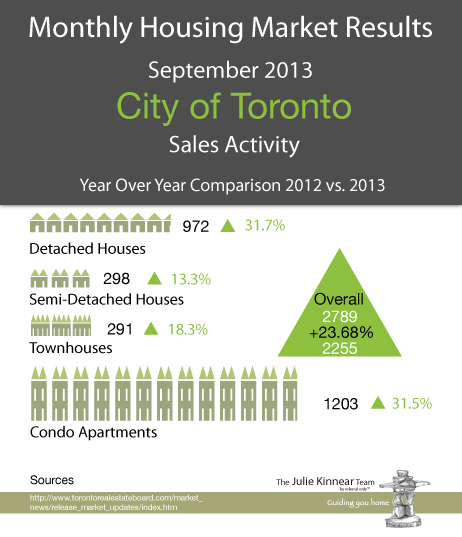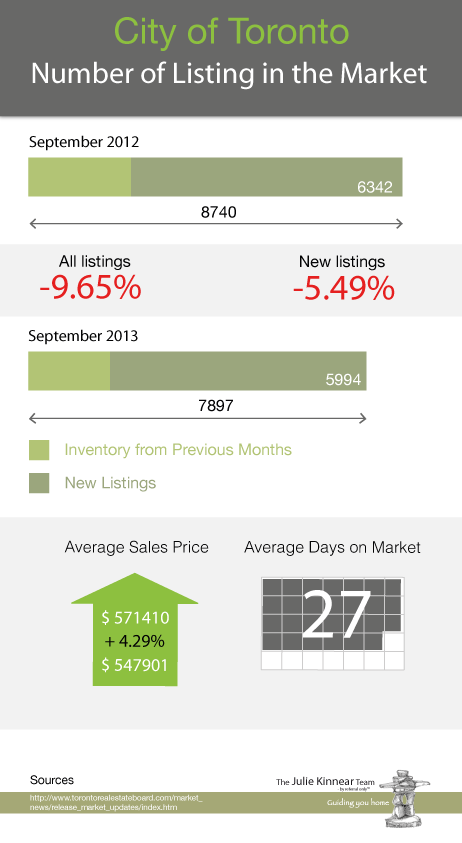 The Rest of the GTA
A detached home in the rest of the GTA now fetches an average of $608,866 — up 7.1 per cent from a year ago. Last month, a total of 2,717 houses sold, which is a 34.6 per cent sales jump.
Townhouse sales figures were the second bestselling last month, with a total of 877 properties sold for $388,727. Sales improved by 35.8 per cent, while the average selling price went up 11.5 per cent.
Condo apartment sales continue to rise. Last month, a total of 467 units sold — 22.3 per cent more than last year. The average selling price rose as well, by 2.9 per cent to $290,239.
Semi-detached properties recorded the smallest rise in year-over-year comparison of all property types, even though they were 25.5 per cent higher than in September 2012. A total of 458 contracts were signed with an average price of $405,920 — up 3.2 per cent.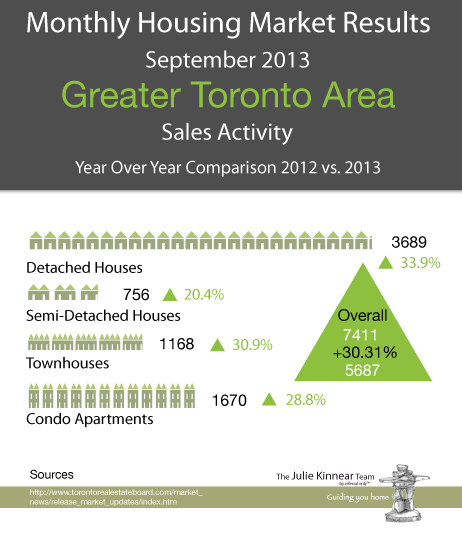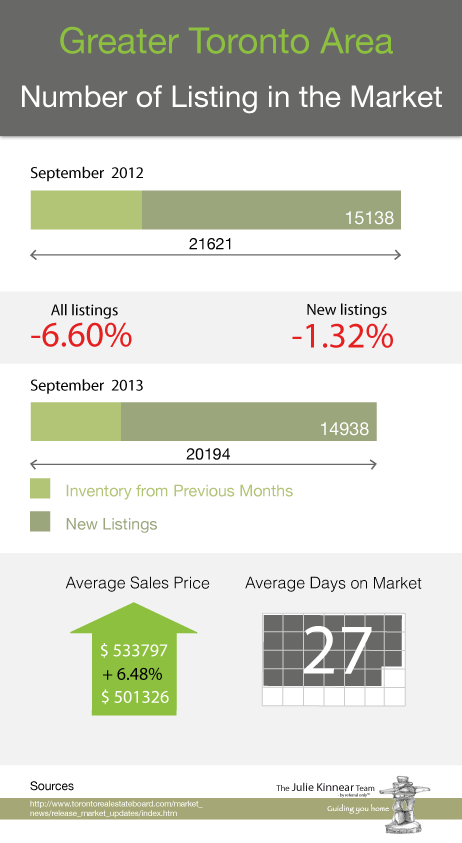 The GTA as a Whole
Detached houses were the most expensive and also the bestselling property last month. Throughout the GTA, 3,689 houses sold, for $674,027 on average. Sales increased almost 34 per cent, and prices rose nearly 8 per cent.
The condo market has witnessed serious improvement, too. A total of 1,670 units changed owners, fetching $342,760 on average. While sales rose 28.8 per cent, selling price slipped by 1.8 per cent, showing that developers and sellers are motivated to move units and willing to shave percentage points off the sale price or offer other incentives.
Townhouse sales rose by 30.9 per cent, to 1,168. The average price townhouse properties increased as well, by 9.7 per cent to $405,368.
Semi-detached houses sales figures remained almost unchanged. A total of 756 houses sold — up 20.4 per cent compared to last year's results. Semi-detached houses sold on average for $488,749, up 1.5 per cent.
KK00SK